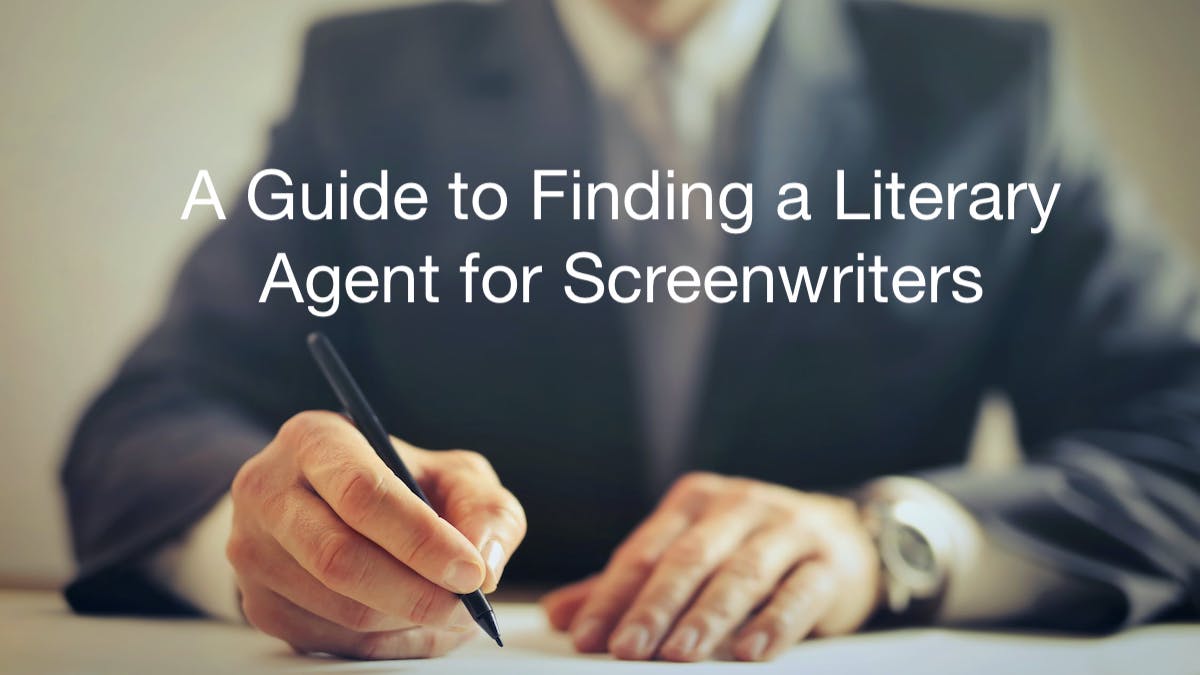 Not all agents are created equal. That's the first thing you need to know if you're reading an article on agents from me.
In my experience, I've found that assumption to be among the most common mistakes made by many early-stage screenwriters.
I hear variations of this frequently: "If only I had an agent, I'd sell my script tomorrow."
Not so fast.
***
Ask yourself first, "Why do I want an agent?" Maybe you have a reason for not wanting a manager or entertainment attorney instead. Before embarking on your quest, honestly answer that question, and go from there.
Related article: 8 Differences Between Agents and Managers
For perspective's sake, I've been in the business as a writer and producer for over 25 years. I speak around the country (well, I did until the pandemic) to writers and filmmakers about their craft and the business behind it. I am a current WGA member who consults with many artists on a daily basis over Zoom and the phone presently, and … I've been repped by the best: two years with CAA, and two years with Gersh prior.
I've also been repped by … not the best.
Today I am happily on my own. No agent, no manager.
I sell more that way. But that does not mean or imply that you should follow what works for me.
***
More real talk.
I was a small fish in an immense pond at CAA. TNT purchased my pilot and bible for what was to have been M. Night Shyamalan's reinvention of "Tales from the Crypt" at the time, which became mired in rights issues and was never produced. However, for an agency of that size, I needed to have more projects of that quality. While I had some scripts in which they expressed interest, I quickly discovered I needed considerably more to be in line with their other clients.
I left the agency when my agent became a manager. I retained him for a few weeks, then decided being on my own was in my better interests. Besides, I used to be a telemarketer. I cold-called numbers found on IMDbPro to attain script meetings, and that worked for me.
Gersh was a similar experience a few years prior to CAA. Again, I had better luck on my own. Conversely, I also had other small agents for awhile who were too small and did not get many of their calls returned.
So what can you do? How can an effective agent truly further your career?
***
The first thing you need to know is the reality behind another common misconception: There are always exceptions, but too many agents (in the experience of myself and many associates) will wait for you to bring them a deal. It may sound cynical, but it's true. They will then negotiate the finer points of your agreement and accept their 10% commission.
Gilbert Adler, a close friend and business partner who produced "Valkyrie" with Tom Cruise, "Constantine" with Keanu Reeves, "Superman Returns," and every episode of the HBO version of "Tales from the Crypt" once said to me something that resonated:
"Don't waste time looking for a good agent," he said. "A good agent will come to you."
In other words, many screenwriters will spend months and sometimes years looking for an agent, when they could have been networking and making calls on their own. Contrary to popular thought, you can break into the business without an agent.
Still, you would want at least a lawyer on your side to look at any paperwork. In terms of the "no unsolicited material" retort, the reason is this: If a company reads your script and passes on it, and they purchase a similar script from someone else years later, you can sue them and quite possibly win. If a script is solicited by these companies, and it comes through an agent or manager, or an effective entertainment attorney, you're in the door. Think of it this way: These companies are finding their scripts from somewhere. That's because, in reality, solicitation happens. You just need to be prepared, and that's an example of where an agent can come in handy.
Here's the rub: There are innumerable companies out there who will take meetings and hear pitches without the "unsolicited" quagmire. You just need to find them. Regardless, you can avoid that headache with a proven agent.
Further, due to the current WGA dispute with the ATA (Association of Talent Agents), many agencies who would not previously look at the work of non-WGA writers are now open to them.
Here is what you need to look for in a good agent for your current career status:
1. Signing with an agent that is right for you is like a marriage.
If you are a newer writer, interview several by setting up meetings. Kind aggression equates with respect in this business. Look for rapport. If you are a mid-level writer with some sales, go for someone bigger but not too big as to where, like me, you'd get lost. For established writers, your track record makes you a commodity. In all cases, perform due diligence! Make sure that the agent has a track record.
2. If you are looking to produce your own work, make calls on your own.
If you are looking to sell or set up a script, an agent will be of more use. Again, however, you need to do a heck of a lot of work on your own. Once you become a commodity, that is when many agents will work on your behalf and actively solicit you for work. But … you can find smaller agents who will do the same. You just need to call them. If you receive no call back from your solicitation, that should give you your answer.
3. Ask the agent bluntly:
"Will you send me out for work and actively submit my material? Or, should I do the work myself and you'll help when the time comes?" There is nothing wrong with an honest query.
4. Be relevant.
Speaking of, if you are querying an agent via email, please be sure to only incorporate in your letter items that may be of interest to said agent. Your experience working as a manager at a supermarket will not matter (I did that years ago in my quest for my first agent, thinking my "managerial" experience would serve me). If you do not have practical screenplay sales experience, list any contests in which you have placed, or the screenplays you have written with their proper loglines. All agents know a writer needs to start somewhere. To receive a call back from an email query, you need to be very impressive for them to bother. Review that query letter, and send out only when convinced.
5. Be ready. Actually ready.
To reiterate something not to do: Don't spend too much time looking for an agent if you are starting out. Put in that time with time spent working on your craft and making calls on your own. The more you work and get out of your comfort zone, the less mystical the process becomes and the more steps you will have taken for your own success. Winning a highly respected screenwriting competition can be a tremendous help too. Resources like ScreenCraft, Coverfly, WeScreenplay and Script Magazine are very helpful for writers who are in their first few years of developing their craft and knowledge of the industry.
ScreenCraft has a strong track record connecting talented emerging writers with agents and managers.
***
Finally, to Gilbert's point about "a good agent will come to you," you need some mileage behind you for that to happen. I am in complete and utter agreement with the comment, as an agent works for you and not vice-versa.
And please note: A good agent for you can absolutely be a godsend for your career. You can certainly make more money and receive more work with a solid agent-partner who believes in you. The more money you make, the more money they make. They need to be convinced they can earn with you. That's the psychology. I am very blunt about agents because they need you, or they would have no clients from which to attain a commission. Your work is their asset. You land a solid agent who will work on your behalf, there is nothing whatsoever wrong with that picture.
But too many writers fall into the trap of believing the writer needs the agent more. Try to avoid it. Too many agents realize exactly this, which opens the door to slogging off.
In the meantime, get some experience under your belt, network and meet as many people in and out of the business as possible, and hopefully soon the agent you never knew you have been looking for will solicit you.
Thank you for reading.
—
Joel Eisenberg is an award-winning writer and producer, and partner in Council Tree Productions, a television development company. He writes and edits a publication for Medium, "Writing For Your Life," which you can follow here.  
Related ScreenCraft articles:
How to Get Representation for Your Writing (by ScreenCraft winner Anna Klassen)