The Writer's Journey 25th Anniversary Event with Christopher Vogler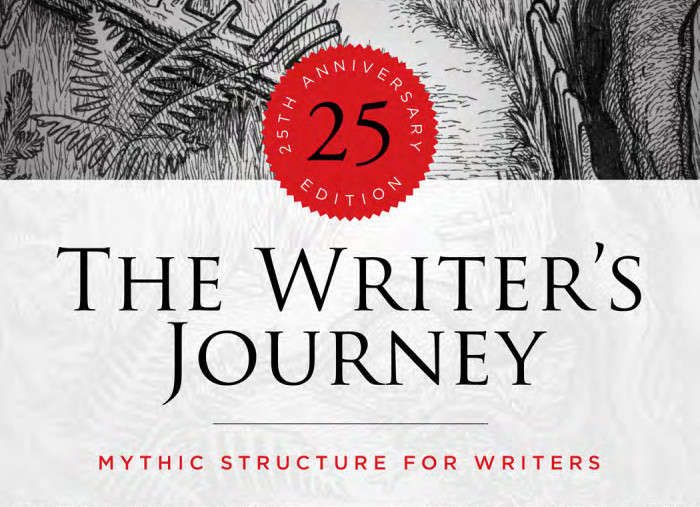 ScreenCraft and Michael Wiese Productions are thrilled to announce a free virtual event celebrating the 25th Anniversary of The Writer's Journey. This book tops our list of the 16 Top Screenwriting Books.
This event will feature The Writer's Journey author, Christopher Vogler and industry panelists:
Darren Aronofsky, Oscar-nominated filmmaker of Pi, Requiem for a Dream, The Fountain and Black Swan
Jeffrey Kripal, Professor of Philosophy and Religious Thought at Rice University, author of Kali's Child and Esalen: America and the Religion of No Religion
Will Linn, Ph.D. in mythological studies with an emphasis in depth psychology from Pacifica Graduate Institute in Carpinteria, CA; a BA in philosophy from the University of the South.
Moderated by Corinne Bordeau, co-founder of the Esalen Inspirational Film Festival
Join this free virtual event for an in-depth talk about the importance and influence of myth on film and a look at how the Hero's Journey continues to shape our stories.
This event will not be recorded, so if you want to hear from this lineup of speakers, be sure to join the live event. Sign up by October 20th to be entered into a raffle to win a hard bound edition of The Writer's Journey 25th Anniversary Edition.
October 22, 2020 5pm Pacific Time / 8pm Eastern Time
The Writer's Journey: 25 Years & Counting
Myth has always shaped our stories. From the amphitheaters of Athens to star-studded Hollywood, how we define our place in the larger world around us has engaged writers, philosophers, and filmmakers for untold eons. In the 25 years since its publication,
The Writers' Journey
has become one of the most formative text for all manner of storytellers. And now more than ever, we are clamoring for new voices, new perspectives, and
new heroes to take us on their own unique journeys
.
Join this expert panel of storytellers for a night of inspiration and investigation into the mythic roots of the stories that drive us, from Aristotle's Poetics to Joseph Campbell's The Hero with a Thousand Faces to George Lucas' Star Wars. Celebrate what makes the purpose and power of telling stories.
This Mythosophia event is presented by Michael Wiese Productions & ScreenCraft with the support of our partners: Myth Salon, Mythology Channel, Mack Sennett Studios, Conscious Good, Hollihock, and Hussian College in Studio.
Visit the ScreenCraft Facebook Page, this Thursday, October 22nd at 5 pm (PST) for the free live-streaming event: The Writer's Journey 25th Anniversary with Chris Vogler, presented by Michael Wiese Productions & ScreenCraft
Related ScreenCraft blog post: The 12 Stages of the Screenwriter's Journey