8 Big Takeaways from ScreenCraft Writers Summit Day 2
The following is written by Mitch Olson, who was with us all weekend at the ScreenCraft Writers Summit in Atlanta. If you're interested in attending next year's summit, pre-order your badge here. Read Mitch's take on the opening of the summit here. Below is his recap of Day 2.
---
We're still alive, people. We still have one more day. And we still have coffee (thank goodness). Not going to bore you with an elaborate intro, so here's the breakdown of what we learned:
1. You don't need to live in Los Angeles to be a writer.

 
Day two of the summit taught us that agents and managers rep clients from all over the world—Italy, Brazil, India, Korea, and Kenya. These days they get good content wherever they can find it. We live in an age of global communication that allows us to connect with reps, executives, and decision-makers of all kinds from anywhere. This is probably music to the ears of the people from all over the world that attended this event.
As writers, we've always been told you need to be in Hollywood in order to make it. And while you still need to be able to access LA for meetings two, three, four times a year, you don't have to live in a 300 square foot closet for $2200 a month to find a rep, shop your script, or to get your project made. This also doesn't mean that you're going to win an Oscar by sitting at home in your underwear. You have to be willing to take the chance on yourself and your work to fight for the next level. The good news is, at least now we have options. The problem is, then, because of this access, the competition and the number of people trying to break in or get projects made has grown exponentially. And the competition is fierce. So how do you set yourself apart?
2. Find ways to validate your work.

 
We heard several panelists say they get excited when an emerging writer comes to them with a script or project that has accolades— meaning contest wins, high coverage scores, recognition from the Black List or Red List, and/or word of mouth from assistants and other reps. Winning contests, ending up on these lists, or getting referred by someone all work as third-party validation that "checks off boxes" for agents, managers, and producers. It's a vetting system. The work has already impressed someone, so there's more of an incentive to read it. So, submit to contests, tell people about your work, get feedback from anyone and everyone who's willing to read it, and most importantly, don't ever stop working to get better.
3. Work ethic and ambition go a looooong way.

 
Reps and producers want to work with writers and filmmakers that always have something in the hopper. Writers and filmmakers that are always mining new ideas and working on new scripts or projects. They want to see that you're going to have a long career, not just one great script or film. "What are you doing next?" and "what else do you have?" are questions you need to have answers to whether you're fifteen years into your career or coming off of your first contest win. 
Learn how to train yourself to be ready for screenwriting success with this free guide.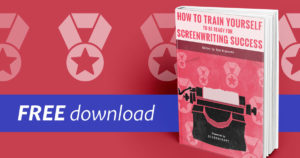 4. Be you. Always.

 
Writers get feedback from all over the place. Some of it is great, some of it not so much. We all want to get better, but sometimes the notes from production companies or managers or agents start to suck you out of the project. The thing that makes your script great is that it's yours and no one else's. So through all the revisions and drafts, be sure to stay as true to who you are as much as possible in the material, even when it starts changing.
5. Don't write for trends.

 
If you're writing for a trend, you've already missed it. Period.
6. Film and TV want you.

 
Fresh material and fresh voices are the hottest commodities in the business, especially these days. Diverse perspectives and interesting ways into stories and characters are what keep the industry thriving. Companies can't keep going back to the same well and expect audiences to keep getting excited. That's where you come in. You're new and exciting and people want to hear what you have to say. The industry is looking for you, but first you have to give the decision makers reasons to say yes, not no.
7. Always be honing your craft.

 
Chances are you're not going to sell your first script. Or even your second, or third. But while we stare at our computers, grinding out pages when the effort sometimes seems wasted, we can take solace in the fact that there's always something new to learn about the craft and our own writing. And there's always something new to learn from fellow writers and creators too. Your material and your projects can always get better. So, when the struggle feels real, don't ever forget that there's success in failure too. Channel it. Never stop learning, and never stop creating.
8. People are AWESOME.
Day two was full of interactions with talented writers and filmmakers – from all walks of life – who welcomed each other with open arms. At the end of the day, this is what it's all about. Meeting people. Meeting fellow writers. Starting conversations and forming relationships with a community that just want to connect with other writers and share their story. And, after all, stories are what bring people together. 
Keep the energy going. Keep those smiles on. Keep delivering great pitches. Keep your learning hats on (that's a thing, right?). And keep shaking hands!
---
Mitch Olson is the Founder and CEO of Point South Productions, a literary management and development company based in Georgia. Prior to moving to out east, he worked in Los Angeles in development and on shows for NBC, Fox, CBS and Netflix. In addition to Mitch's work at Point South Productions, he teaches Screen and TV Writing at Kennesaw State University where he is building a Screen and TV Writing MFA program and training the many diverse and talented writers that he hopes to one day represent and work with. Additionally, he has partnered with Georgia Film Academy to develop high school curriculum aimed at providing students with skills and career opportunities in dramatic writing.
---
Photo credit: Dan Rutkowski
---
For all the latest ScreenCraft news and updates, follow us on Twitter, Facebook, and Instagram.