Top Ten Fastest Screenplays Ever Written
For most of us, writing a screenplay can take months, even years. Sometimes, just getting a working outline can be a Herculean effort. We've all heard of a 'vomit draft' but for me, even that can take weeks. You may be surprised, however, to learn that some of our favorite screenplays were written in just a couple weeks, even a couple days. What does it take to finish a draft so quickly? Great dedication, focus and perhaps even locking yourself in a hotel room as many successful writers have done. For one writer, a looming WGA strike was all the motivation he needed to bang out a draft. 
Here are 10 of our favorite screenplays written in just three weeks or less.
1.

Swingers
For writer and star, Jon Favreau, the process of writing Swingers, a comedy about struggling actors looking for love in Hollywood's trendy nightclub scene, writing the screenplay was a breezy, fun experience.
"I wrote the screenplay in about a week and a half," he tells Grantland.com. "The writing process wasn't filled with any sort of turmoil. If you really do the math, it's 10 days, 10 pages a day. It's not like you're chained to the computer. I was just entertaining myself and really enjoying it, sort of giggling at it as I was writing it. I couldn't wait to share it with my friends more as, like, doodles in the notebook than saying, 'Hey, here's my big movie.'"
2.

Ferris Bueller's Day Off
Former advertising copywriter, the late, great John Hughes was known for his quick turnaround writing style. In an interview with the Chicago Tribune in 1986, he explained his writing process for Ferris Beuller's Day Off. 
''How did I come to write 'Ferris?' Well, let's see. There was a writer's strike coming up in a week and my agent called and warned me so I thought, 'Gees, John, you better write something' and so I got this sentence… out of the ozone. 'I am 17 years old and I know exactly where my life is going' and then I thought, 'I am 17 years old and I have no idea where my life is going,' and I thought, 'That`s it!'" 
Apparently, Hughes wrote in 20-hour binges and would typically finish a screenplay in about four days.
3. 

The Breakfast Club
Another teen classic from speed-writer John Hughes, he claimed to have written the script for The Breakfast Club in two days, according to IFC.com. 
"Hughes was a notoriously fast writer, leaving behind dozens of unproduced movies after his death. During his productive peak, he was known to knock out a whole screenplay in a weekend."
4.

Scream
In the mid-1990s, screenwriter Kevin Williamson was struggling to pay his bills. He knew if he could just focus, he could pound out an idea he had for a horror flick. 
According to the IMDb, "Williamson secluded himself in Palm Springs and focused on the development of his 'Scary Movie' treatment, hoping for a quick sale to meet his financial needs. Over the course of three days, Williamson developed a full-length script, as well as two separate five-page outlines for potential sequels, Scary Movie 2 (2001) and Scary Movie 3 (2003)."
5.

Taxi Driver
Known for writing tragic male anti-heroes, Paul Schrader was apparently dealing with depression when he wrote Taxi Driver. According to the IMDb, he, "wrote the script in ten days via two drafts, one after the other. As he was writing, he kept a loaded gun on his desk for motivation and inspiration."
6.

Cabin in the Woods
Writers Drew Goddard and Joss Whedon (who met when they both wrote for the TV show Buffy the Vampire Slayer), spent months working on the outline for Cabin in the Woods. Goddard told FilmmakerMagazine.com, "Once we got the outline to a place we were happy with, we locked ourselves in a hotel room. I had the upstairs and he had the downstairs, and we just wrote as fast as we could. We didn't allow ourselves to leave that hotel until we were done… It was three or four days, something like that. But writing 8AM until 1AM. It was the most intense writing I've ever done. We knew we needed a ninety-page script, so that meant each of us had to do fifteen pages a day. It was hard. Certainly after those initial three days, we revised the script a lot. But it was nice to get the structure right initially, because Cabin is very much a structure dependent movie. The things that need to happen come from a skeleton. And once we locked all that into the script, things really started to come alive."
Learn the best way to structure your screenplay with this free guide.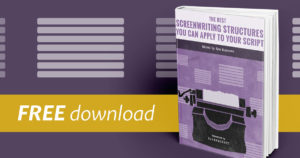 7. Do the Right Thing
For writer/director Spike Lee, writing the screenplay for Do the Right Thing wasn't about binge writing, however, he told Rolling Stone he did write the first draft in about two weeks. "I'd wake up in the morning and write three or four hours, then I'd quit, carry on with the rest of the day, and come back the next morning."
8.

Barton Fink
Brothers Ethan and Joel Cohen were working on the screenplay for Miller's Crossing, but hit a wall. "The story of Barton Fink's conception is a curious one. Faced with writer's block, even though they refuse to call it that, Ethan and Joel decided to put their work on Miller's Crossing on pause, and spent three weeks 'washing out their mind.' What came to existence was the screenplay for Barton Fink, with the central role written specifically for Turturro, with whom they were working on Miller's Crossing," according to CinephiliaBeyond.org.
9.

Rocky
According to the New York Times, Rocky, written by and starring Sylvester Stallone, was inspired by a real boxing match between Chuck Wepner and Muhammad Ali in 1975. 
''I was watching the fight in a movie theater,'' Stallone said, ''and I said to myself, 'Let's talk about stifled ambition and broken dreams and people who sit on the curb looking at their dreams go down the drain.' I thought about it for a month. That's what I call my inspiration stage. Then I let it incubate for 10 months, the incubation stage. Then came the verification stage, when I wrote it in 3 1/2 days. I'd get up at 6 A.M. and write it by hand, with a Bic pen on lined notebook sheets of paper. Then my wife, Sasha, would type it. She kept saying, 'You've gotta do it, you've gotta do it. Push it, Sly, go for broke.'''
Rocky earned Stallone both a Best Actor and Best Screenplay Oscar nomination. 
10.

Sex, Lies and Videotape
This powerful indie film was written by Steven Soderbergh in eight days, according to Mental Floss magazine, but he doesn't recommend writing at such fast pace. 'I don't think I will ever write another script in eight days, and that's fine," Soderbergh said. "Normally, once I have an idea in my head, it takes me about four to five weeks. See, what worries me about it is that someone will think they ought to be able to sit down and write a script in eight days, because they shouldn't. Ultimately, I don't think it's a good way to go about it."
---
Shanee Edwards graduated from UCLA Film School with an MFA in Screenwriting and is currently the film critic for SheKnows.com. She recently won the Next MacGyver television writing competition to create a TV show about a female engineer. Her pilot, Ada and the Machine, is currently in development with America Ferrera's Take Fountain Productions. You can follow her on Twitter: @ShaneeEdwards
---
For all the latest ScreenCraft news and updates, follow us on Twitter, Facebook, and Instagram.
Tags