THE Motivational Quote to Make Your Screenwriting Dreams Come True
What is the most applicable and productive motivational quote that screenwriters can use to make their screenwriting dreams come true?
Anyone that embarks on a screenwriting journey in hopes of becoming a professional screenwriter is going to need all of the motivation and direction that they can get. It's a difficult venture — but far from impossible.
There are thousands of working screenwriters at various levels and tiers in and out of Hollywood around the globe. To say something is impossible merely because it is difficult goes against the hopes and values of anyone trying to chase a dream.
A screenwriting career is within reach of anyone with that goal and dream — but it takes more than a declaration of want or need. It takes work.
Click here to see the latest deadlines for ScreenCraft's Screenwriting Competitions.
Famed motivational speaker Greg Reid has published, co-authored, and has been featured in over fifty books — twenty-eight best sellers in forty-five countries. He is also the founder and former CEO of Work$mart, Inc. an innovative advertising firm he sold in 2004 and is the current CEO of two rapidly growing corporations in San Diego — The Millionaire Mentor, Inc. and Mui Fina, Inc.
While he has many inspiring motivational quotes, there is a single one that has taken on the internet and social media by storm. You've likely read it in memes on Facebook, Pinterest, Instagram, and Twitter.
"A dream written down with a date becomes a GOAL. A goal broken down into steps becomes a PLAN. A plan backed by ACTION makes your dreams come true." — Greg Reid
We take this quote and break it down in ways that you can apply the wise and motivating advice to your screenwriting journey.
1. "A dream written down with a date becomes a GOAL."
People that pursue their screenwriting dreams are an uncommon breed.
Most people in this world don't pursue their dreams. They earn a living, raise a family, and they die, perhaps dealing with the regret later in life or on their death bed, asking themselves, "What if I would have pursued that dream."
You are not that person. You're an uncommon breed because of the mere fact that you're trying. That means something. In fact, that means a whole lot because you're doing what most of the population doesn't and never will. You're pursuing a dream despite all of the odds against you.
But having the dream isn't enough. The moment you present yourself with concrete deadlines is the moment that your dream transforms into something tangible — it becomes a goal.
By definition, a goal is the object of a person's ambition or effort — an aim or desired result.
When your dream becomes a goal, it's no longer a thought or hope flying like a feather in the wind.
It's real. And that goal is created when you set dates — deadlines — for your dreams.
You'll set many such dates in your screenwriting journey.
You need to set personal deadlines. When you're writing on your own — on spec — with no deadlines to answer to, you get complacent. Since there is no one looking over your shoulder, it doesn't matter what you churn out in three months, six months, or a year. There are no ramifications.
That's what can cause you to get bored. There's no such thing as Writer's Block.
Read ScreenCraft's 7 Reasons Why "Writer's Block" is BS!
It's you being complacent and that complacency causes boredom. Boredom causes you to be disengaged from your writing. When you're disengaged from your writing, your creative mind isn't connected enough to offer answers to story and character issues you'll surely be struggling with. And when that happens, you lose interest. And when you lose interest, you lose your drive. And when you lose your drive, that dream begins to float away.
So in your screenwriting journey, you need to start by giving yourself some deadlines and attaching those dates to your dream.
Here are a few to get you started:
Give yourself 6 months for your very first screenplay and then with each additional script, compact your deadlines down to 3 months, which is generally how long screenwriters working on assignment get, as stipulated by most Hollywood contracts.
Give yourself no more than 2 years to hone your screenwriting skills enough to be able to have a stacked deck of 3-5 outstanding screenplays. We strongly recommend that you avoid marketing your screenplays until you've taken this time and have written 3-5 exceptional scripts. And know that your first couple of scripts may not be part of this deck.
One you have 3-5 great scripts, give yourself 3 months for a major marketing push where you use IMDBPro to find companies that make movies similar to yours, as well as agents and managers that represent writers that write similar projects.
When you attach dates and deadlines to your dreams, they become real. And you'll be energized by the notion that your dreams are no longer things you merely daydream about. You're taking those first real steps. You're doing what most people never do with their dreams.
Learn the best way to structure your screenplay with this free guide.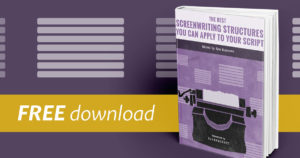 2. "A goal broken down into steps becomes a PLAN."
You've already started a plan to achieve your goal.
The first step is to start the learning process of writing by taking on that first couple of screenplays. Your first screenplays will be your worst. That's not to say that they'll be no good — you're just using them as a way to get better.
The second step is taking upwards of 2 years to hone that writing to the point where you achieve the goal of creating a stacked deck of 3-5 outstanding screenplays that work as your resume. The reason you do this is so that you can answer that first industry question that comes your way once you have gotten into a room full of industry insiders — "What else do you have?" If you've wasted time marketing that first screenplay and have lucked out enough to get into a meeting or two, this question will come. And if you have nothing else to offer them, most will be turned off.
The third step is the beginning of your marketing phase, where you take that great body of work and introduce it to the industry.
Read ScreenCraft's 7 Marketing Strategy Hacks for Screenwriters!
3. "A plan backed by ACTION makes your dreams come true."
When you set your dates and deadlines and takes steps to create your plan to achieve your goal, congratulations, you're doing what most people in life never do — you're taking action to make your dreams come true.
But making a plan isn't enough. You have to execute those steps. And make no mistake, it won't be easy.
If everyone accomplished their dreams, dreams wouldn't be dreams — they'd represent an expected reality like applying for a fast food position and being on the registers within a week.
Dreams are hard to realize. They are difficult to attain. They require hard work and dedication. Yes, they require action.
When you write your dream down with a date and set those necessary deadlines throughout your screenwriting journey, you have to back that up with the action necessary to meet those deadlines.
When you take steps to create a plan, you need to act on those steps with action and purpose.
And when you do all of that, you'll be that much closer to making your dreams come true.
---
"A dream written down with a date becomes a GOAL. A goal broken down into steps becomes a PLAN. A plan backed by ACTION makes your dreams come true."
THE single best motivational quote to make your screenwriting dreams come true.
---
Ken Miyamoto has worked in the film industry for nearly two decades, most notably as a studio liaison for Sony Studios and then as a script reader and story analyst for Sony Pictures.
He has many studio meetings under his belt as a produced screenwriter, meeting with the likes of Sony, Dreamworks, Universal, Disney, Warner Brothers, as well as many production and management companies. He has had a previous development deal with Lionsgate, as well as multiple writing assignments, including the produced miniseries Blackout, starring Anne Heche, Sean Patrick Flanery, Billy Zane, James Brolin, Haylie Duff, Brian Bloom, Eric La Salle, and Bruce Boxleitner. Follow Ken on Twitter @KenMovies
---
For all the latest ScreenCraft news and updates, follow us on Twitter, Facebook, and Instagram.
Tags