Screenwriting Insights from JURASSIC PARK Screenwriter David Koepp
Most of us grew up on David Koepp films. Death Becomes Her (1992), Jurassic Park (1993) and Mission: Impossible (1996) were all game-changers in the film industry and made us love movies. Now, Koepp has a new book called Cold Storage that he's adapting into a screenplay. Lucky for us, he sat down with Robbie McKane, Phil Hawkins and Christian James to be interviewed for the Filmmaker's Podcast. Regular host, Giles Alderson, was mostly absent because he's on location in Wales, making his new film Arthur and Merlin: Knights of Camelot.
Listen to the full episode below.
Getting Started
Koepp went to film school at UCLA. After that, he worked for a film distributor and producer's rep out of his kitchen. He then met a writer/director named Martin Donovan and together they wrote Apartment Zero (1988). Koepp then sold his first screenplay, Bad Influence (1990), on his own and got an agent. He says someone at Universal read that script and Casey Silver hired him to be a contract writer for the studio.    
Death Becomes Her
Universal sent Robert Zemeckis a package of about 20 scripts, including Death Becomes Her. Zemeckis liked it and wanted to make it. 
"In the early 90s," says Koepp, "studios were very different than they are today -- no surprise there. Though they were starting to be parts of multinational conglomerates, they weren't fully taken over by the MBAs and they were still full of quirk and personality… They were making 25 to 30 movies a year, which they don't do now."
Death Becomes Her didn't score well with test audiences, according to Koepp. "It was dark and had an ending that didn't work so they reshot the ending. Before the final test screening, before reshoots, someone called and said Sid Sheinberg [a Universal film exec] is coming to the test screening." 
Koepp started to pitch the new ending to Sheinberg, who started to scowl. "Then, halfway through the pitch, he says, 'You sir, are not satisfying your audience!' I couldn't think of anything to say so I said, 'I'm sorry.' Then I feel Bob's [Zemeckis] hand on my collar and he just pulls me out [of the room]." 
It was Death Becomes Her that caught the eye of Steven Spielberg. Universal suggested Spielberg consider Koepp as a screenwriter for Jurassic Park. 
Pitching
Koepp admits he's pretty bad at pitching. These days, Koepp says he won't go into a cold pitch meeting. He'll write a 10-page summary of the idea or he'll just write the script. "The person who can pitch a story well is not often the person who can write the story well. So you can have a great pitch, lousy script. I tend to hope I'm lousy pitch, great script," says Koepp.
There's a lot of pressure directing films, even low budget ones. "The lowest budget I've had was $5 million but that's still an enormous amount of money." 
Panic Room
Koepp talks about Panic Room (2002), which was meant to be a self-contained thriller, able to be made on a small budget. But David Fincher had big ideas and the budget ended up at $48 million. 
"Sorry Wrong Number was exactly what I was thinking of when I was working on it," says Koepp, "because it contains my favorite Barbara Stanwick line ever. She's on the phone, she's trapped in the house, she's paralyzed from the waist down and she's calling the operator because someone's in the house. She says, 'Can you hear me? Operator? Operator, I'm a hopeless invalid.' I love that she describes herself as hopeless."   
Set-piece Driven Action Films
The podcasters asked Koepp about movies that are set-piece driven and wanted to know how to balance the set pieces with characters like in Mission Impossible. 
"You've got to create a character who's going to find himself in those sorts of situations. In Mission Impossible, he's a big international spy so it's pretty easy to figure he's going to be in perilous situations. Big set pieces or big action pieces are like the songs in a musical and they need to complement and advance the story. 
The best moments you have writing is when you find some character reveal within that piece. Then you're doing everything at once."
Koepp admits that sometimes, doing research isn't helpful, especially in the case of the scene in Mission Impossible where Tom Cruise is suspended from the ceiling. 
"The CIA break-in in the middle of Mission Impossible is beautiful, but what was fun about that was Brian [De Palma] and I worked it out in some detail then I went and wrote it. We did a bunch of research, we had a lot of CIA advisors so we talked to them about what their actual security protocols would be." 
The real protocols were pretty boring, at least from a movie perspective. It boiled down to security guards watching video surveillance footage in a tiny, cramped room so they decided to throw out the boring reality and just make it all up. 
"We decided to have this huge room and he lowers himself from the ceiling, the floor lights up like that Michael Jackson video, there's a temperature sensor, there's a dead rat and sweat is dripping. So we just made a bunch of stuff up which was way better than the reality." 
Koepp also says he hates it when he's reading a screenplay and the writer says, "A massive chase ensues." "It's an absolute dereliction of duty. It's your job to write the massive chase even if you know they're going to completely redo it. New locations will be found; you'll write that chase scene 16 times before it's done. But your responsibility is to present it on the page in a way that feels like you're watching a movie and will give the director lots of ideas." 
While Koepp says big, CGI set pieces are very hard to create, "It's still harder to write a really good dialogue scene between two people you care about 
Learn how to write great movie dialogue with this free guide.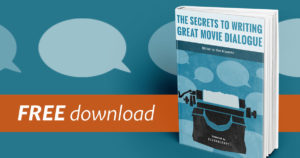 Location Scouting

 
Actually going to a real location can give you ideas for action scenes. "If I'm on [a movie] before a director, I'll go look at things myself. Nothing gives you ideas like going to places," says Koepp.
He cites a recent visit to the cemetery to help him write a current project. "It gives you specifics. Those specifics are very hard to think of on your own. You can make them up, but what a crypt might actually look like and what a mausoleum is and what's carved on top -- that carving can become a clue for something."
Writing Sequels
Koepp says writing sequels is really hard. He wasn't keen on making a sequel to Jurassic Park, but Spielberg really wanted to make one. "Going back, you've used your best ideas the first time… I found sequel writing really difficult."
Screenwriting is Half an Art Form
Koepp says that to truly keep your voice as a writer you have to direct your own movie, which he's done six times now. 
"The director necessarily has to interpret your script. A bad director just records your script. They have to see it and it has to be theirs. I used to think that was a bad thing. If I would have an idea and I'd tell it to a director and he'd go, 'No, that's no good' and three days later he'd call up and pitch me back my idea as his – I used to get upset then I'd directed myself and that's absolutely a necessary part of the process. The director has to own it because it's so arduous to get it up there and it has to come right out of their head… A film will always show the personality of the director far more than it shows the personality of the writer. Screenwriting is half an art form and you have to okay with that." 
His First Novel,

Cold Storage
Screenplays are all action and dialogue, but writing a novel allows the writer to go deep into a character's consciousness, says Koepp. 
"Until I was writing in prose, I didn't realize how beautiful it is to fully go inside a character's mind and to be able to editorialize at will. Screenplays are all about concision. They are all about what characters say and do. If you want to express someone's inner longing, you better have them stare at a bowl of soup – you know the famous Russian editing experiment." 
Koepp continues to share his writing process for his first novel. "I loved that I could go into the point of view of a fungus. It was the villain of the piece. There are certainly a couple of humans who behave badly and hopefully get what's coming to them, but the fungus was the monster and you have to know what a monster wants. In this case, the monster wants to spread. It was such a simple objective and simple character objectives are easy to write so I could get into the specifics of how it does that in a pretty detailed and biologically accurate-ish way." 
He says he wanted the first draft of Cold Storage to be about characters and story, and less about scientific accuracy. "I wrote a first draft based on things I could research myself. I didn't want to go talk to someone first because that really influences your thinking. You self-impose limitations based on what they say is true."
He then found a microbiologist and asked him to read the draft. "He said, 'Well, the science isn't terrible.' But he had some major quibbles. One was that I was confusing benzene and a fungus and I must never do that again." 
Overall, Koepp says the advice from the microbiologist was enormously helpful. "I wanted it so that if someone had a biology degree and they were a critic, they wouldn't go to town on it."
Koepp is now adapting Cold Storage into a screenplay but will not be directing the film. He's also in post-production for a movie he directed called You Should Have Left with Kevin Bacon and Amanda Seyfried.   
---
Shanee Edwards graduated from UCLA Film School with an MFA in Screenwriting and is currently the film critic for SheKnows.com. She recently won the Next MacGyver television writing competition to create a TV show about a female engineer. Her pilot, Ada and the Machine, is currently in development with America Ferrera's Take Fountain Productions. You can follow her on Twitter: @ShaneeEdwards
---
For all the latest ScreenCraft news and updates, follow us on Twitter, Facebook, and Instagram.