ScreenCraft's 2021 Holiday Gift Guide for Screenwriters
Writers are notoriously tough to buy gifts for. Odds are, they already have the tool of their trade — a laptop — and you can't exactly wrap up some motivation, inspiration, or extra writing time.
So, what do you purchase for those pesky screenwriters on your list who want nothing more than to hit their writing goals for the new year?
Read on for gift ideas for the screenwriters in your life, no matter the budget. (Product info is linked in the price.)
Stuff to Read
Every screenwriter — and their bookshelf — can use a few more books on the art and craft of screenwriting. Not only do screenwriting books provide new and enlightening techniques for formulating compelling stories, but looking at our work through different lenses also gives us the crucial perspective we may need to jumpstart or finish a project.

Notebooks!
Writers. Love. Notebooks. Honestly, gifting them a dozen basic composition books would keep them happy (and busy) all year long. But if you want to go above and beyond, here are a bunch of cool and very not basic notebooks worth checking out.
Subscriptions, Software, & e-Courses
If wisdom is what your writer friend seeks this holiday season, then these gifts will certainly sate their thirst for knowledge.

Script Coverage & Competitions
Light a fire in your screenwriter with the gift of a deadline and professional feedback on their script! There are so many great screenwriting competitions and script coverage services out there, so surprise them with something that could take their career and/or their project to the next level. (Warning: Could also lead to them feeling rejected and full of self-doubt...)
Competitions
Selecting a screenwriting competition can be daunting, especially if you're not a writer yourself. That's why you should check out Coverfly, which features contests that are vetted, reputable, and lead to success stories. Expect entry fees to be anywhere from $30 to $70, so make sure to load up a gift card with enough funds so they're ready to rumble!
Script Coverage
What better way to show your special screenwriter how much you care than by gifting them the blessed experience of getting their script torn to absolute shreds by a professional script reader. Okay, okay...that's a bit of an over-exaggeration. Sometimes readers fall madly in love with the stories they read -- before tearing them to absolute shreds.

Fun Stuff
Whether it's apparel, mugs, or the hottest (and pretty expensive) keyboard on the market for writers, we've got you covered for fun and quirky stocking stuffers. (Hmmm...you might need a pretty big stocking for that keyboard.
Finding the perfect gift for a writer is no easy task. You may not be able to present them with the perfect line of dialogue or more time to write, but hopefully this list has given you ideas for a gift that will inspire, motivate, and help them reach their writing goals.
No matter what you choose, gifting the screenwriter in your life something that shows you support their writing is what really counts.
---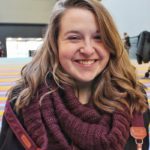 Britton Perelman is a writer and storyteller from the middle of nowhere, Ohio. She's had jobs in travel writing, movie trailers, and podcasting, and is currently getting her MFA in Screenwriting at the University of Texas at Austin. When not writing, Britton is most likely belting along to Broadway musical soundtracks, carefully making miniature bookshelves, or napping with her dog, Indiana Jones. Find more of her writing on her website or follow her on Instagram.
Tags