Inside the Mind of The New Yorker's TV Critic: Emily Nussbaum
The New Yorker's Pulitzer Prize-winning TV critic, Emily Nussbaum, has her own rules about how to engage with different genres of television. She won't write about a network sitcom during its first six episodes, for instance, because she thinks the show is like a newborn developing neck strength.
"I once wrote this piece about it where I said they're a little bit like the burned pancake, the first pancake. Because even in a great show, the first six episodes aren't representative," she said recently on the To Live and Dialogue in LA podcast. Screenwriter Aaron Tracy (TV's Sequestered) hosts the podcast, sponsored by ScreenCraft. "I don't feel that way about certain kinds of cable and streaming shows, through that really varies. I will say that the more episodes that I get, the better." 
Nussbaum, who has been with The New Yorker since 2011, first dipped into criticism writing poetry reviews for The New York Times Book Review while in graduate school. She found that intimidating, because "even a mixed review, let alone a negative review, had this impact in this huge way because very few people read poetry. One person writes it; it's highly personal; they make no money."
To her, TV is the opposite:  "People look down on it; it's made collaboratively for enormous amounts of money. And when you write a pan, you're praising the medium by saying that you expect that it could do something great."
But reading and listening to her reveals a poetry about television itself. As Tracy noted, Nussbaum pinpoints social critiques in shows, such as the survivor story underlying The Unbreakable Kimmy Schmidt, or what it means to be excluded from power in the worlds of Game of Thrones, Mad Men and Downton Abbey.
She asks Twitter users for viewing suggestions, and she's quite witty. Take this description from a New Yorker piece about a turn of events in Game of Thrones Season 6: "Tyrion Lannister—a salty dwarf with a Wildean wit—cuts a deal with some powerful slave owners on behalf of his boss, the flame-resistant abolitionist desert queen Daenerys."
Nussbaum ultimately views arts criticism as a conversation. Here are six observations about how she says the medium has changed, the repeated character dynamic she notices, and what she hopes for creators and other critics.
1. A TV season as a "ten-hour movie," so to speak, is a frustrating concept.
Television critics like Nussbaum enjoy TV's serialized quality. HBO changed that when it released the fourth season of The Wire at once in 2006, which "radically affected the way that show was perceived."
That "ten-hour movie" model now is popular on cable and streaming services, but Nussbaum says it creates a different viewing experience than a three-season or five-year TV show. "I do think it is a significant structural change in terms of what TV is, and it's something that, certainly, people who write about TV are wrestling with all the time," she said. "It does make it a little bit like a ten-chapter book. … For a long time, I've thought of TV's distinctive quality as the fact that it has this relationship with the audience over time. Episodes used to come out every week and then every year, and you have a relationship with the show for years, and the people making the show would keep … responding to how the audience responded." 
David Simon, creator and showrunner from The Wire, "was constantly being driven crazy by people reviewing things episodically," she said. "But there is this level at which to me, the television audience, the way that people experience TV, is a conversation, and you want to have a conversation as the show is going on."
Learn the best way to structure your screenplay with this free guide.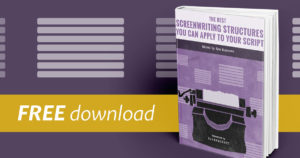 2. She thinks that TV shows set in the workplace represent writers' rooms.
Sitcoms have a history of meta shows, such as Your Show of Shows and The Dick Van Dyke Show, Nussbaum said. One of her favorites is 30 Rock because of its "kind of mathematical" joke writing, but she notices the same character dynamic across different genres.
"What I always appreciated about 30 Rock is it's not really a warm show. I mean, the people do care for one another, but they're incredibly damaged characters who also sort of waver between being people and being archetypes, and their relationship with work is completely screwed up but celebrated," she said. "I have this obsession with how many workplace shows there are on TV, which I'm convinced are about the fact that TV is so frequently written in writers' rooms. So TV creators keep creating shows that are either, in this case, a direct portrayal of a writers' room, or in the case of CSI, a metaphorical [one]. … A lot of shows have a crazy boss and a bunch of eccentric people that they're trying to get to work together."
3. There are so many TV series now that she binge-watches to catch up.

 
"A lot of the TV critic's job at this point is triage because there's so much to watch," Nussbaum said. "There are shows that I watch multiple times. There are shows that I just love so much that I watch them multiple times for no good reason, wasting time, watching things that I like."
Nussbaum said she binge-watched Lost while on maternity leave during a season where lots of fans thought it had flown off the rails. (She couldn't remember which, but said, "Binge-watching it while having no sleep, it seemed like a perfectly good season of TV. There was something very nice about being detached from the rage of a fanhood.") To get up to speed, she's binge-watched Breaking Bad, which she enjoyed, as well as Key & Peele and It's Always Sunny in Philadelphia. (Doing that with The Walking Dead? Not so much.) 
She'll also watch shows wherever and in whatever format she can: big screen, computer, DVD, thumb drive. "I do watch things on my phone, thus angering my colleague Richard Brody and other movie critics."
4. She refuses to rank shows on a scale, even when asked outright by showrunners such as Ryan Murphy (

Glee

,

American Horror Story

).
Ryan Murphy, she noted good-naturedly, ranks everything. "He's obsessed with awards and Oscars, and this is his thing. I am a person who every year in December writes a piece for the website about how I refuse to rank shows from one to ten. So we were in a natural, like, showdown about this." 
5. Before choosing what to review, she'll weigh what she can contribute to the conversation.
Nussbaum loves to draw people's attention to shows that are off the beaten track, highly original, and worth talking about because they change the medium. "A particularly satisfying thing is to be able to bring to life a piece of art for people that I do want people to watch."
Although she thinks it's valuable to have mixed to negative reviews ("I really don't think it's great as a critic to only review things that you're like, this is good. This is good. This is good"), she also has her rules for panning something—specifically, what thoughts she can bring to the table. "I had mixed feelings about Insecure. I thought about writing about it this year, and honestly, I thought to myself, I don't think there's a real desire to read a white woman's ambivalent feelings about Insecure right now in the third season. I have to choose which things to criticize, and frankly, I have mixed feelings about that decision," she said. "It sounds a little chicken-hearted, like I don't want to be criticized … but I was also like, What is my perspective on this? Is this valuable in this conversation right now?"
She'd rather feel satisfied with her reviews than aim for a viral reaction. "I want to feel like I contributed something original to the conversation, that it's well written, that it is honest, maybe that it's witty or that it's moving in some way, and that it served the art. Even if I was writing something negative about it, that I was writing something that actually treated it with some kind of … I don't even know how to describe this. That took it as it was."
6. The more voices, the better.
Nussbaum said one of the best periods of her working life was after she'd panned the first season of True Detective—not for the seven-page handwritten hate mail but because of the debates she had with female critics who disagreed with her take on the show.
"It was, to me, a good example of how a more varied and diverse critical body enables people to disagree and not just have to represent who they are. So that one person doesn't have to be just a set of labels," she said. "Ideally, the criticism that you write should be self-aware of where you come from and your position, but at the same time it should be, you know, personal and determined by a whole set of different experiences and values and ideas."
---
Valerie Kalfrin is an award-winning crime journalist who now dives into fictional mayhem as an author (Quicklet on The Closer: Season 1), essayist, film critic, screenwriter, and emerging script consultant. She also writes for The Guardian, Bright Wall Dark Room, ScreenCraft, Hazlitt, Signature, and the blog for Final Draft, the top-rated screenwriting software used by the filmmaking industry. A member of Screenwriters of Tomorrow, she's collaborated on short films and features, and she's affiliated with the Tampa Bay Film Society. She lives in Florida. Find her online at valeriekalfrin.com.
---
For all the latest ScreenCraft news and updates, follow us on Twitter, Instagram and Facebook!