How to Shoot a Feature Film in Two Days
A home renovation inspired writer-director Grant Pichla's sci-fi romance Making Time, a feature film he shot over two days with a cast and crew of about two dozen people.
Although that schedule sounds like a recipe for chaos, Pichla said pulled it off the same way filmmakers do on any project: with planning and improvisation. 
Plus an understanding spouse, a helpful cast and crew, and little sleep.
The Detroit, Michigan, filmmaker recently spoke with The Filmmakers Podcast, sponsored by ScreenCraft, to talk with host Giles Alderson about his "all-or-nothing-type gamble" and the decisions he made early and on the fly that helped it gel. 
First and foremost: respect the story. Then prioritize the rest.
"The filmmaking medium itself requires massaging scenes and testing things and trying it out. But at the same time, sometimes the general audience member out there has no idea … and they don't care if your light is slightly off … if they're invested in the story," Pichla said. 
He knew this type of production needed to sacrifice certain things, so he developed a hierarchy: "Number one, story matters most. Number two, acting. Then number three, sound and score. … If you had to scrap anything, you couldn't scrap those top three or four things."
In Making Time, workaholic inventor Nick (Mason Heidger, Batman v Superman: Dawn of Justice) has been so focused on crafting a time machine that he's neglected the rest of his life, including his wife, Jess (Tori Titmas, The Girls of Summer). When he tests the machine after he and Jess have divorced, he finds himself on the night he proposed. Getting back to the future involves asking this woman he no longer loves to marry him while weighing some hard truths about what he left behind. 
The compressed production schedule influenced the shooting style and the performances; it became more rushed and frantic as Nick does in the plot. The project also created a close-knit go-for-broke atmosphere among the crew and cast, who worked for free and pitched in doing various jobs behind the scenes when inclement weather kept some crew members from the set. (Pilcha raised about $4,300 in a Kickstarter campaign for the project, which went toward equipment, food, and of course, coffee.)
Listen to the podcast episode here:
Here, we've highlighted three more insights from Making Time that could apply to features and shorts.
1. Let your location inspire your plot.
Pichla shot his first feature, the crime mystery Niner (2014), in graduate school. In the years since, he and his wife, Lyndsay, have started a wedding videography business. He also produces corporate videos. That busy schedule meant that he couldn't have a shoot like he did with Niner, which wrapped after about 30 days, using roughly 20 locations and a cast and crew of about a hundred.
An admirer of the 2015 indie crime thriller Victoria, shot in a single continuous take, Pichla brainstormed about genres and locations that could work within a tight time frame. "It pretty much has to be at one location. Then that location needs to be sort of a plotline in itself. It has to hold immense weight." 
As he and Lyndsay planned to redo their house's first floor, complete with a new kitchen, inspiration struck. 
"I was thinking about comedies and stuff, and it just dawned on me—and with my wife's blessing, thank God. What if I bring a whole bunch of actors here right now before this house changes, and we shoot the past? Someone flies into the past, and they land here, and this is what they see," he said. "It would almost be like this magic trick we could pull that was real. It wasn't like, 'Oh, let's move some picture frames.' Our cabinets are wiped out; tables are gone. There's nothing painted; the floor looks like crap."
2. Ask "what if?" to further the story.
Pichla is researching distribution options for Making Time but had the foresight to document behind-the-scenes footage and interviews, as well as photograph a proper poster. He said the time travel idea allowed him to capitalize on the "thousands of dollars of set design and production value" built into his home's renovation. 
"The story should be about the most important moment of a character's life," he said. "I won't spoil much of the story, but basically, I thought, Wouldn't it be interesting if someone had spent much of their time trying to time travel to the point that they started neglecting everyone else around them, even divorcing their wife? Then boom—they go back in time. …  And here's your ex-wife who's no longer, you know, full of conflict, but she's genuinely in love with you. How would that night go? And then what if all the friends you've been neglecting start showing up and patting you on the back? So it just started snowballing. I kind of went in the direction of, What if this guy has to repeat his past footsteps in order to return home again, but … he's divorced and has pushed everyone away?"
Nailing Nick's character arc was paramount, Pilcha said. "I wrote [the script] in about three months," he said. "The minute I had the inspiration, I was like, the longer it takes for me to write this, the more our house is already going through the renovation. So I need to get this script really good, really fast."
Learn how to train yourself to be ready for screenwriting success with this free guide.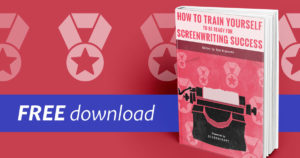 3. Surround yourself with good collaborators.
Pichla had met most of the actors on other projects, including Niner, in which Heidger appeared. He hadn't worked with Titmas before and first spoke with her at length after picking her up from the train station; she'd traveled from Chicago and been delayed because of a snowstorm. He and the two leads chatted the night before the shoot to work out the characters' relationship. 
The leads were so agreeable, they didn't mind a final revised scene when Pichla realized that the film would benefit from showing what Nick's time in the past had wrought. "Everyone was just on board, like, 'Let's just try and make a film for film's sake.' One of those scenarios."
In retrospect, Pichla said he wished he could have given all the actors a proper rehearsal. "If they don't have time to settle in, it's like asking them to act with one hand behind their back." But he also feels grateful for how professional, enthusiastic, and good-natured everyone was.
"If you've got talented people, you trust them," he said. "You can't even get close to micromanaging. You just trust and let good people do their thing."
---
Valerie Kalfrin is an award-winning crime journalist turned essayist, film critic, screenwriter, and emerging script consultant. She writes for The Hollywood Reporter, CC2K, Script magazine, The Guardian, Film Racket, Bright Wall/Dark Room, ScreenCraft and other outlets. A member of Screenwriters of Tomorrow and the Tampa Bay Film Society, she's available for story consultation, script editing, coverage, and collaboration. Find her at valeriekalfrin.com or on Twitter @valeriekalfrin.
---
For all the latest ScreenCraft news and updates, follow us on Twitter, Instagram and Facebook!