How to Edit a Star Wars Movie
In the first part of a two-part series, Colin Goudie joins The Filmmakers Podcast to discuss his extensive career as a film editor. Working his way up from runner, to editing assistant to full-time editor on feature films such as Monsters and Star Wars: Rogue One, Goudie offers insights into editing as a constructive and collaborative process and challenges in the cutting room amongst many other topics from his métiers d'art.
Listen to the podcast below.
Unpaid paved the way…
Like many of us, Goudie's career path started in film school, but unlike most of us, he left "regular" school at a very early age: fifteen to be exact. He attended a local art college in Northampton doing a two-year foundation course that taught him 35mm black and white still photography, with which he quickly fell in love, and then moved onto film school proper at Bournemouth. But, film school in the 70s was structured differently than it is today. Nevertheless, Goudie took what he learned and applied it to his career in the film industry. 
"The first year at Bournemouth you were only allowed to do stills photography because it was so expensive to teach a film student… only nuclear physicists were the people who were apparently more expensive to teach. We learned about composition, lighting and even storytelling… it really is a great way to learn how to tell a story in twelve pictures: you have very little chances to make a mistake." 
Looking to graduate from still photography courses to filmmaking courses, Goudie knew that he would have to submit an original Super 8 film to get a spot in the coveted course. To stand out, he went to all the second and third-year students offering to be their Unit Stills Photographer on set.
Stay ahead of the game…
"You all know this because you're all filmmakers, there's never enough people on a film set… People go can you get a matte clapperboard, can you hold this boom mic and you build up that skill set and when you don't mess up – because that's the golden rule of filmmaking: when you get an opportunity, don't mess it up – then they'll give you more and more responsibility. By the time I finished my first year, I had been working as an assistant editor in the edit suites on the second and third-year student's films." 
Have action, adventure — or both — inspired your screenplay? Enter the ScreenCraft Action & Adventure Screenplay Competition here.
By the time Goudie inevitably became a second-year student, he was editing third-year student's films. By the time he became a third-year student, he was already working as a camera operator, editor and much, much more. 
After graduating, Goudie was able to get free work at Ridley Scott's commercial production company without losing sight of his goals. "I would sit in reception… going through the Rolodex, writing down the number and address of every production company in London so I could put my CV in." When his friend at Scott's production company had left for a few weeks, he took over for her and started getting paid, which to him wasn't even the best part. "The great thing about [that job] was in the vault were all the deleted scenes from Alien and a Moviola, so at night I loaded up those scenes and watched them."
Sending out his CV also paid off, because he got a job at the BBC working with Gareth Edwards on the program Attila.
The takeaway: no two paths are alike, but when you're starting off, learn as much as you can by taking as many jobs as you can, work hard and eventually it will pay off in dividends.
On Constructive Editing…
Before going into further detail on Goudie and Edwards' working (and personal) relationship, Goudie re-visits the road he took to becoming an editor.
"When I was at film school, I thought I wanted to direct. I directed a number of documentaries and dramas… but what I learnt was… directing is a destructive process. I start off with a really great idea and how it's going to look. Then I'll get onto set and the actors that I could've afforded aren't quite good enough and the weather's terrible and every single thing you do is compromised… this brilliant idea I had gets progressively worse and worse… 
Then I learned what an editor was. I'd be sitting in the cutting room with the rushes the directors would bring me in and they'd go I didn't get it, the weather was terrible, the actors weren't good enough… and so you start off with something that is unwatchable by the general public and… it's a constructive process because the longer you work on your rushes, the better the final product gets."
Today, Goudie works primarily as an editor, but still dabbles as a director. As he puts it, "these days I try and use everything my editor self is yelling in my director's ear."
Learn the best way to structure your screenplay with this free guide.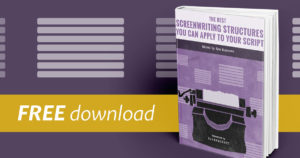 Diversification leads to dexterity…
After Goudie and Edwards developed a collaborative relationship together, Edwards pitched his next film, which would eventually become Monsters. One initial meeting with the producers led to Goudie being hired as the editor and they embarked on the film together. Heavy on improv and action, cutting the film proved to be a welcome challenge for Goudie. 
"I didn't know it at the time, but the twenty-six years of being an editor before cutting Monsters lead me up to the moment of opening up the Arc of the Covenant. I could not have edited that film if I hadn't cut a lot of documentaries and dramas beforehand. That was the luxury of my CV; I have always alternated (and still do) between documentaries and drama. Without that skillset of looking at documentary rushes, I wouldn't have been able to cut that film because… you never get the same take twice. You learn how to cut around things where the continuity doesn't exist, and you learn how to listen to what people are saying and find the moment of story within that scene.
Always maintaining a "no-job is too big, no task too small" kind of mentality is what got Colin Goudie to where he is today. His hard work on a vast array of projects has proven to be a driving force in his prosperous career. In part two of his episode, Goudie goes on to explain what it was like editing Star Wars: Rogue One.
Listen to part two of the podcast episode below.
---
Andrew Schwartz is a marketing professional and script reader working in the entertainment industry. He has written and read for outlets such as The Blcklst, BlueCat Screenplay, Final Draft and more. Find him on Twitter at @writingshorts or his Instagram page dedicated to The Sopranos, @sopranosgram.

---
For all the latest ScreenCraft news and updates, follow us on Twitter, Facebook, and Instagram.
Tags