From a Producer's Perspective: Telling Your Own Story
Writers and producers spend most of their time finding and developing stories. We toil over the finest details of character and plot. Draft after draft, we obsess until we feel the script is perfect. Many of us spend so much mental energy in the world of our screenplays that we neglect to focus on another important story, our own. 
Hollywood is a relationship-driven town. People need to buy into you before they can buy into your ideas. As much as your concept might be amazing, to get into business with a studio or producer they ultimately have to believe in you. This is especially true if you are selling a pitch or applying for an open writing assignment. 
In industries like film, that are firmly rooted in human capital, investment ultimately comes down to trust. In order to build trust, express passion, and succinctly explain your credentials, you'll need to have a firm grasp on your story and why you are the right fit for a project. 
So how do you develop your own story?
Start by thinking deeply about who you are and the decisions in your life that have brought you to this point. This can seem like a daunting task, but it's an opportunity for you to organize the events of your life into a concise timeline that reflects strong decision making towards an ultimate vision. To successfully tell your story means to express your choices with passion and show decision makers why you are uniquely suited to be their partner. 
The best thing about developing your own story is that it is uniquely yours.
No one else can define the events of your life and the choices you have made better than you. Every superhero has an origin story. Think about yours. 
Telling your own story allows you to craft your narrative. In order for it to resonate, it needs to stem from authenticity. This is not a chance to tell people who you wish you were, rather it's a time to express what really makes you tick and what drives you to success. Trust is built from truth, so be yourself. 
Just like in developing a script, get notes and be open to feedback. See what parts of your story resonate and which don't. Refine it. While executives always want to learn more about you, remember that they are not your therapists. Keep your story short. It should have a beginning, middle, and end and build off of itself to show character growth and vision. Don't memorize it. Make it a part of yourself so you can deliver it in the course of a conversation, not as a speech. If an executive has more questions about your background, they'll ask. If they start asking questions, that's a good thing. It means that they are interested in you and you're on your way to building a great professional relationship. 
In addition to your own story, be sure to listen to the stories of others. Hollywood lives are always fascinating and being a good listener is as important as being a good speaker. 
Learn how to train yourself to be ready for screenwriting success with this free guide.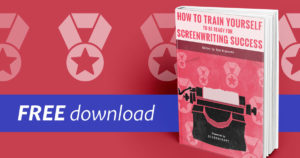 If you are going to a meeting to discuss a specific project, think about if you have any personal connections to it. In an earlier blog about team building, I wrote about the importance of passion. Showing your personal connection to a piece of material can help a producer see how passionate you are to help tell it. If you don't have a personal connection, don't grasp for straws. This will show and you'll lose whatever trust you've built over the course of the meeting. 
Defining a great personal story will allow you to begin building your own personal brand.
When producers and writers can match a great personal brand with a track record of strong work, amazing things happen. You'll need both for success so while you continue to elevate your craft, don't forget to continue to develop your own story. The better you get at telling it, the easier it will become to kick off a new meeting with a quick summary of your accomplishments, interests, and vision. 
With your personal story in hand, you'll be able to use all of your focus to nail your incredible pitch and sell your project. 
---
David Kaufmann is an independent film and television producer living in Los Angeles. He began his career as an NBC Page at Saturday Night Live. He spent over nine years handling film and television licensing and development at Major League Baseball where he helped create critically acclaimed films like Moneyball and 42. He has an undergraduate degree in Journalism from the University of Richmond and holds an MBA from NYU Stern with a focus on the media business and creative producing. He is an active member of the Producers Guild of America. For more on David, please visit his IMDB or LinkedIn.
---
For all the latest ScreenCraft news and updates, follow us on Twitter, Facebook, and Instagram.
Tags