From a Producer's Perspective: Team Building
Making an idea real takes a team. A great director will struggle to make a special film without a talented cast. An actor will have a tough time giving an emotional performance if the script has sub-par dialogue. The audience will be distracted if a film lacks strong cinematography or has jumpy editing.
Learn how to write great movie dialogue with this free guide.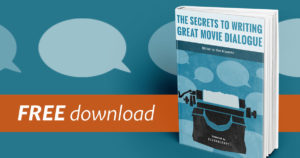 As a producer, it's my job to find an idea, establish a vision, and then build the best artistic team possible to make that vision a reality.
The idea of connecting talent in Hollywood is often referred to as packaging. I personally dislike the term because it makes people seem like commodities. We aren't pulling together industrial supplies to form an assembly line. We are connecting living, breathing human beings towards a common purpose. This is why I prefer to refer to the industry practice of packaging as team building.  
In sports, you'll often hear general managers or coaches refer to the power of creating a strong locker room. When I was in business school, my entrepreneurship professor used to continually hammer home the idea that in order to build a great company, you need the right group of people. It's like a three-legged race. When both parties are moving in the same direction in stride, you win. If one partner is moving in a different direction, you won't get very far. 
So how does one build a successful creative team?
Building a great creative team means juggling four main components, talent, passion, fit and timing. 
Talent
It goes without saying that if you don't put together a talented group of artists you won't succeed. As a producer, your ability to evaluate the work of others as it relates to your vision is the core of your skill set. Evaluating talent requires a producer to juggle two basic tenants, their personal perception of the skills of a potential team member and the industry's perception of those skills. If the industry believes that someone is bankable, it will help your ability to sell your project. This is why it's tough for talent to break in. Most producers want someone who has done the job before to help move the needle and push a project forward. An ideal team will likely include a couple of members who have the star power to make a financier/studio happy and some up and comers whose talent you really believe in. 
Harkening back to my days as a baseball executive, the best possible player you can find for a ball club is a star on a rookie contract. They have talent and they've got something to prove. They are dripping with the next core component to team building…
Passion
If any member of your team lacks passion, you will run into problems. It's incredibly difficult to push a film or TV show to the finish line. If you aren't working with others who genuinely believe in your idea, you will likely fail. 
In my book The Producer's Brain, I discuss the importance of finding an undeniable idea. Undeniable ideas can be different things to different people. The power of an undeniable idea comes from your own personal passion for it. As a producer, once I find an idea that I believe to be undeniable I try to surround myself with partners who share the same belief. 
If you feel like a potential team member is only interested in your project for a paycheck, they are probably not a good fit. When you invariably hit roadblocks, you'll want partners that are going to stand behind you. Those who share your passion always will. 
Sometimes the person who seems like the most bankable partner on paper might not be the right fit. If you feel that your project will just be a chip in their large stack, you are probably better off searching for a collaborator who shares your passion and will give their all to bring your collective vision to life. 
As a young producer, I know that I can't compete with the name recognition and financial resources of the major players. My passion for the ideas I choose to shepherd is core to my success. I always promise to work ten times harder than anyone else and I do. 
Once you've found someone who has talent and a passion for your idea, you'll need to think about the next factor…
Fit
Creating a film or a TV show takes immense amounts of collaboration. Just like how oil and water don't mix, sometimes personalities and artistic taste don't jive. Just because someone is talented and passionate doesn't mean they are the right fit. A great director may be in love with the IP you've optioned but have a different creative vision. An actress may be perfect for a part but lack chemistry with a co-star. In order to build a great creative team, you need to be sure that everyone will be able to work well together. In an ideal world, by the time you wrap shooting your team will feel like a little family. If you've achieved this, you've found fit. 
The last element is one that drives producers mad and makes this business one of the most difficult in the world…
Timing
Finding the right group of talented, passionate people who will work well together is hard. It only gets harder once you realize how crammed schedules are. You need to be able to hold your team together and find a window when everyone will be available. You also need to catch people at the right point in their careers. An actress who is perfect for your film may pass because she just signed on to play a similar role. Had you managed to get your materials in front of her earlier, things might be different. Alas, you can never control timing… that is up to the universe. 
During development, most of your job as a producer revolves around getting the right five or six people in a room together. This can happen quickly or it can take years. Often interest from one party leads to interest from others. Momentum builds and you reach your goals. Managing this process can be frustrating, but when you finally build a great team it is always worth it. 
As a screenwriter, it is important to understand how producers build teams so that you can empathize with their process. Good producers will make sure to explain their outreach plans and choices to their partners and always look for new ways to move a project forward. 
Based on this understanding of how producers build teams, it's a good idea for you to use the factors of talent, passion and fit to evaluate a producer before you get in business with them. Early in your career, simply having a producer option your screenplay may seem like a success, but if you hope to see your script produced you'll face a lot of frustration if your producer is not the right fit. Be sure that they have the passion, talent and network to successfully achieve the goals of your project. If so, you'll be well on your way to being a part of an amazing team. 
Next time we'll explore the power of persistence and how it can help you to will your project to the finish line. 
---
David Kaufmann is an independent film and television producer living in Los Angeles. He began his career as an NBC Page at Saturday Night Live. He spent over nine years handling film and television licensing and development at Major League Baseball where he helped create critically acclaimed films like Moneyball and 42. He has an undergraduate degree in Journalism from the University of Richmond and holds an MBA from NYU Stern with a focus on the media business and creative producing. He is an active member of the Producers Guild of America. For more on David, please visit his IMDB or LinkedIn.
---
For all the latest ScreenCraft news and updates, follow us on Twitter, Facebook, and Instagram.
Tags