From a Producer's Perspective: Enjoying the Journey
Pursuing a creative career is a journey. There's an old saying that for every overnight success, there are a thousand sleepless nights. It takes time to accomplish big goals. There will only be a handful of huge wins and dream days over the course of your career. Behind each one of them will be a steady stream of small victories and incremental progress. 
In order to keep your head in the game and continue to fight for your ultimate vision, it's important to embrace your path and appreciate the little wins along the way. If you don't, it's going to be even more difficult when you start to hit roadblocks. Here are some tips for making sure you embrace the simple joys and realize just how far you've come, even if you haven't reached your ultimate goal…
1. Have A Vision
Before you set out on your creative quest, think about what your ultimate goals are. What role do you want to play on a creative team? How will you be perceived by others? What skills and relationships do you need to acquire to become that person? 
Once you have a good vision of where you'd like to be, hold tight to it. Don't worry about having a specific plan to achieve it. It's likely that your actual path to your goals will look a lot different than you imagine at the start. The key is to continue making decisions along the way with that ultimate goal in mind. If you are always striving towards your vision, you won't get too bogged down when your best-laid plans go out the window. You'll simply regroup and keep going. 
2. Know Where You've Been
Once you've set out on your journey, it can be easy to become mired in the problems of the day. If there is anything that I've learned about creative pursuits, it's that once you climb one mountain, there is always a bigger one standing in your way. This can become wearisome, especially when you feel like you've been stuck on a specific problem for a long time.
When you get frustrated, think about how far you've come from the start. If your goal is to become a screenwriter and you've completed two scripts that haven't sold yet, instead of getting angry with the process, appreciate the fact that you've managed to complete two scripts. That's a huge accomplishment. You've also improved your skills as a writer along the way, so be kind to yourself.
3. Take Time Out
If you are an ambitious person with big goals, it can be easy to get overly wrapped up in what you hope to accomplish. Don't lose sight of the little things in life. If you are waiting on a call back after a pitch, do something to take your mind off of it. Find a hobby you love that gives you simple joy. Most of life is about appreciating the joy in every day and spending time with those that love you. The more you are able to do that, the more upbeat you'll be about your creative pursuits and the better equipped you'll be to deal with the uncertainty of the world. 
When I get frustrated, I grab my surfboard and catch a few waves. I always come back feeling refreshed and ready to tackle my next challenge. The more you love your life no matter what, the more successful you'll find yourself in the long term. 
4. Share Your Progress
The people who love you want to see you succeed. If you care about something, share it with those around you. Don't talk their ear off but let them know about your accomplishments. Often times they will be able to see your progress better than you can, since they are looking at it through an outside perspective. 
Learn how to train yourself to be ready for screenwriting success with this free guide.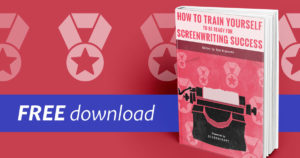 Curate a personal board of directors. When hard decisions come up, don't dwell on them yourself. Discuss them with your friends and partners and then make a choice. The more you can get things off of your chest and the more encouragement you receive, the easier it will be to keep going. 
5. Always Continue Learning
It's not a question of when you'll face failure in your pursuits, but a matter of how you deal with it. This is an ever-changing industry and the best opportunities often come up when you least expect them. If you are solely focused on one way of doing things, you'll miss out on new and innovative chances to find success. If you are committed to learning something new every day, you'll always find new ways to attack your goals. 
Every person who has found success in entertainment has a different story. It's a challenge for everyone, but the best thing about pursuing big dreams is that your life is never boring. Take every day in stride and keep working at your craft. Even if things don't work out the way you imagined, you'll still have a lot of fun along the way. 
---
David Kaufmann is an independent film and television producer living in Los Angeles. He began his career as an NBC Page at Saturday Night Live. He spent over nine years handling film and television licensing and development at Major League Baseball where he helped create critically acclaimed films like Moneyball and 42. He has an undergraduate degree in Journalism from the University of Richmond and holds an MBA from NYU Stern with a focus on the media business and creative producing. He is an active member of the Producers Guild of America and is the author of the book The Producers Brain. For more on David, please visit his IMDB or LinkedIn.

---
For all the latest ScreenCraft news and updates, follow us on Twitter, Facebook, and Instagram.
Tags