From a Producer's Perspective: Avoiding Roadblocks
Selling your first script is hard. As an unknown entity, the execution of your ideas needs to be flawless for your work to rise above the fray. A buyer getting into business with an unfamiliar writer is always taking a risk. If you are lucky enough to be in a position to set up a project with a major production company or studio, it's important to understand where you stand in the pecking order and avoid getting in the way of your own success. 
Learn how to train yourself to be ready for screenwriting success with this free guide.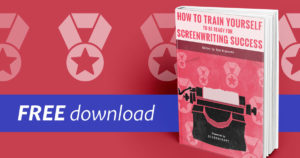 If there is anything that I've learned about negotiating, it's that leverage is always king. Your skill as a negotiator is always secondary to who holds the power in a given deal. It's important to understand that early on in your career as a producer or screenwriter you are going to be in a low leverage position. There are a lot of aspiring creative people trying to break into entertainment. Only a small handful will make it. 
In order to bring your career to the next level, you will likely have to partner with someone who has more industry clout than you do.
Many studios and production companies have a list of trusted producers that they feel comfortable buying from. Any time a project goes into production, the financier/studio is taking a huge risk and they want to feel that they are taking every precaution to ensure success. 
The producers and writers who have reached a level of success to command the respect of buyers have worked hard to get there. They've likely taken their share of low leverage deals to build their credit list and work their way up to the point that they are viewed as bankable. As an aspiring creative with a long-term plan, it's your job to build yourself up in a similar way so you can also enjoy industry leverage later on in your career.
So what does this mean for your first deal?
Regardless of the amount of work that you have put in, it's likely that you'll be the low man on the totem pole. This doesn't mean that you can't fight for what you and your representation believe is a fair deal, but it does mean that your first deal isn't likely to make you a multi-millionaire. The most important thing about your early deals in the entertainment business is getting them done. If you push too hard and can't finalize your first deal, you won't have much of a career to speak of. 
There are enough roadblocks on the way to a career creating art, so don't be one of them.
The more projects you sell and are able to put into production, the faster your star will rise and the more leverage you will be able to build for yourself. Once you have leverage, you'll be in a position where you'll have an established fee and be able to command it when you have a good idea. You'll also be in the enviable position where you can champion other people's work.
Knowing that you hold low leverage on your first deal doesn't mean that you shouldn't stand up for what you believe is fair, it just means you should be cognizant of your negotiating position and focus on finalizing your deals rather than fighting to the point that you blow them up. 
Once you get to the point of deal making, don't negotiate your deals yourself.
If you have an agent, they'll be invaluable in this process. If you don't have an agent, hire a lawyer and let them handle the negotiations. If things get a little heated, it's better to have an outside representative advocating for you so you don't do harm to your creative partnerships. 
Don't get overly concerned with how much money everyone else is earning from a given deal. Instead, focus on what is fair for you at this particular junction in your career and always think long term. Once you nail your first deal, you'll be on your way to many more, so make sure it gets done and don't be the person who stands in the way. There are enough road blocks out there already.
---
David Kaufmann is an independent film and television producer living in Los Angeles. He began his career as an NBC Page at Saturday Night Live. He spent over nine years handling film and television licensing and development at Major League Baseball where he helped create critically acclaimed films like Moneyball and 42. He has an undergraduate degree in Journalism from the University of Richmond and holds an MBA from NYU Stern with a focus on the media business and creative producing. He is an active member of the Producers Guild of America and is the author of the book The Producers Brain. For more on David, please visit his IMDB or LinkedIn.

---
For all the latest ScreenCraft news and updates, follow us on Twitter, Facebook, and Instagram.
Tags