What Is it Like to Visit Pixar Animation Studios?
What is it like to visit Pixar Animation Studios?
Back in the late 1930s and through the 1950s, Walt Disney led the charge in what was later deemed the "Golden Age of Animation." Animated movies like Snow White and the Seven Dwarfs, Pinocchio, Dumbo, Peter Pan, Fantasia, and Cinderella captured the imaginations of not just children, but adults as well.
Imagine being able to go back in time to witness the creation of those classic tales that still have a hold on multiple generations today — if not to be just a fly on the wall for a few moments.
Well, a new golden age of animation began in 1995 when a small company of innovators, lead by John Lasseter — a former Disney animator — created the first all-CG animated feature, Toy Story. The rest is history, and the future still in the making.
Pixar stands out not just as a mere animation company, but as the most innovative storytelling collective of our time. Like Walt Disney before them, Pixar captures the imagination of children and adults while telling stories filled with equal parts of humor, character, heart, and story — and pushing the envelope of concept while doing so, whether it be a tale of toys that come alive when the humans are away, or the myth of monsters in the closet being real with the twist that they're more scared of us then we are of them, or a world of talking cars, or a single robot and a cockroach left along on the planet, or an elderly man traveling to South America in a house lifted by thousands of balloons, or within the mind of a young girl as her emotions struggle to balance her life and happiness.
2015's Oscar-nominated Inside Out reigns as one of the most unique storytelling ventures by any platform — live action or animated.
Unlike other studios, Pixar's goal whenever developing and creating a new project centers solely on the development of the story. There is no secret Pixar formula. Their success is grounded in the willingness to keep pushing their stories and concepts to be better, even if they have to take two steps backward to go one step forward.
Their 22 Rules of Storytelling is just the tip of the iceberg as to how far they go to tell an amazing story.
John Lassetter, Andrew Stanton, Pete Docter, and other Pixar giants are this generation's Walt Disney. So needless to say, both as a screenwriter and father of two children equally obsessed with their stories, the thought of being a fly on the wall of Pixar Animation Studios was a dream I've had since 1995, which was right around the time I started writing screenplays. And while many dream of going back in time to see the likes of Walt Disney and his animators create the magic of yesteryear, I was thrilled to have the chance to make a more realistic dream come true.
In the summer of 2015, I was invited to Pixar Animation Studios. The dream came true, and this is my experience.
Note: Many elements within the studio have likely changed, but this is how it was in Summer 2015. 
An Exclusive Place to Visit
Now, it must first be known that while many have obviously been able to step behind the walls of Pixar, this is a studio that is not open to the public. There are no studio tours that you can pay for. You clearly have to know someone to get in and all too often you're not allowed beyond the expansive and famous atrium of the Steve Jobs Building. Thankfully I was.
Consider this a virtual and descriptive tour through Pixar Animation Studios. I took as many pictures as I could, and while my camera wasn't allowed beyond the doors leading to the animation and story offices, I'll do my best to articulate what that truly magical and awe-inspiring feeling was like.
Whether you're a screenwriter, filmmaker, animator, artist, film buff, Disney or Pixar fanatic, adult, or child, hopefully, you'll get a taste of what it is like to be a fly on the wall and witness the magic of Pixar first hand.
The Outside
Pixar Animation Studios is located just outside of Oakland in Emeryville, CA. When driving towards the studio, you'll likely be looking around wondering how such an iconic animation giant can be located near such a poverty-stricken community until suddenly you see the environment change as you get closer.
Emeryville, at least surrounding Pixar, is a charming neighborhood. In fact, you could look at Monster's Inc. — and other Pixar films — and see many reflections of the town within the story.  It's a noted fact that their surroundings inspired the animators on many occasions.
As you drive through Emeryville, Pixar Animation Studios suddenly comes about.
You patiently await your turn in a long line of cars. I later learn that the reason for the traffic is the friends and family screening of Inside Out, which hadn't debuted yet. I had the chance to attend, but my boys were already jealous enough that I was visiting Pixar. To see the next Pixar movie — which they were eagerly awaiting — without them would have been just cruel.
You approach the gate, give them your name, perhaps say a little prayer under your breath hoping your contact inside didn't forget about you, and then you receive your pass.
It should be noted that this pass is still on my messenger bag that goes with me wherever I write. It is a badge of honor and an excellent conversation starter.
It should also be noted that I've been lucky enough to work at a major film studio, Sony, during my studio days as a liaison between incoming film and television production and the studio, and later as a studio script reader and story analyst. Heck, I even worked as a security guard before that to get on lot. So the studio experience was nothing new to me at the time I arrived at Pixar. I also had, as a writer, visited Warner Brothers, Universal, Dreamworks (part of Universal), and yes, even Disney.
But the experience of walking onto the Pixar lot was different. I can't articulate it as much as I should as a writer beyond saying that it was magical.
Once you park in the open lot, you proceed down this path...
The birds chirp. The grass is ever so green. And if you pay attention, you may even feel like you're floating as the anticipation builds.
Here's what first catches your eye as the treeline opens up...
Fans will instantly recognize the Luxo Lamp and Luxo Ball, two of Pixar's earliest icons that have appeared in almost all of their films.
The campus is beautiful.  In the back of the above picture, you'll see an amphitheater that they likely use for events.  To the right is a soccer field.
When you walk past the main building, which we'll get to soon, you'll see a full basketball court with sand volleyball courts behind it.
Nearby you'll find a charming and casual grill area.
And such a fun paradise wouldn't be complete without a lap pool and a fitness center (not pictured).
But the truth is, you likely wouldn't go beyond the Luxo Lamp and Ball without seeing the main Pixar Animation Studios building, which is rightfully called The Steve Jobs Building.
The Steve Jobs Building
This is the core of the campus.  The original building.  Steve Jobs, if you didn't know already, was the former head of Pixar many, many years ago. He oversaw the design of this very building from beginning to end.
With the butterflies fluttering in your stomach, you take a deep breath and open the doors.
Ladies and gentlemen, the now iconic atrium that you've likely seen on many Pixar Blu-ray special features.
You first check into the security desk using an iPad system.
You're then greeted by some familiar faces.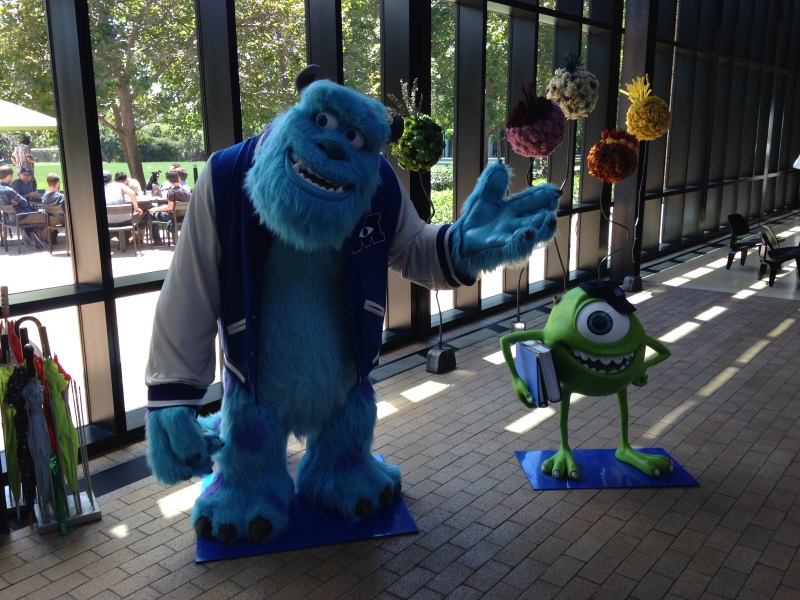 To your right, as you gaze at the atrium, you'll see the Pixar Academy Awards as well as many other accolades they've received.
There's a Pixar Store where you will surely spend a lot of money on yourself and the family, as did I.
Beyond the store, you'll find many commons areas showcasing some amazing Pixar Animation art. What was most impressive, as well as very representative of how much of a fantastic community Pixar really is, was this display of each and every Pixar employee.
You'll see a mail room as well (forgive the poor picture quality).
And then, directly facing the front doors of the building, you'll see the amazing screening room that, at the time of this picture, was full of friends and families of employees, both adults and children, watching Inside Out before it hit the theaters.
And what would any grand atrium be without Cafe Luxo, where employees and guests can sit down for fabulous breakfasts, lunches, and dinners. In Silicon Valley tradition (in this case miles away from it mind you), for employees, the food is likely free.
Now, before I get to the magic and the behind-the-scenes aspects of the Steve Jobs Building, let's rewind a bit, back outside, past the giant Luxo Lamp and Ball, past the soccer field, and to Pixar's newest building.
Brooklyn
The Brooklyn name comes from the New York theme that started in the Steve Jobs Building, back when it was the only building, and just called "Main." The wings divide easily as Upper West Side, Lower East Side, etc. So the building just to the west of it, once Pixar bought and remodeled it, was named West Village. Leased space a few blocks to the North was Jersey. When this new building was constructed, it was just natural to call it Brooklyn — thanks to former Pixar Camera Artist Craig Good for that explanation.
Here is a brief peek inside this immense building.
And the old school mode of transportation throughout each Pixar building...
Now that you've seen the sights of Pixar Animation Studios, I'll take you on an expanded descriptive tour, as cameras were not permitted beyond certain points that I was lucky enough to venture, but before I do that, here's some interesting trivia behind the design of the Steve Jobs Building.
Pixar thinks of this whole building as a brain. And as you know, each side of the brain is responsible for various functions of the whole.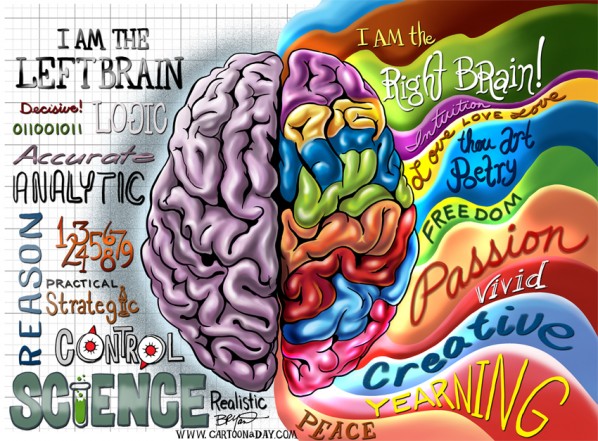 That's how the Steve Jobs Building is primarily set up, with the left side of the building representing the more technical side of the studio while the right side of the building houses the creative offices.
So to your left, behind locked security doors, you'll have the various technical departments — servers, computers, functionality, etc.
And then to the right, behind locked security doors, you'll have all of the creative offices, which includes animation offices, development offices, story department, motion capture (the "acting room" where animators can film themselves or other beings for animation references), etc.
On the upper level of the off-limits area, there is a gallery of art for whatever film is about to be released. Again, this isn't open to the public and isn't even open to most guests. We walked through the endless gallery of conceptual drawings, models, and artwork. It's a visual feast as you watch the concept grow and evolve into what it would eventually become in the upcoming film — in this case, it was Inside Out.
It's magic. Present day magic encompassed by imagination. Imagination that seems to be ever-so distant and unfamiliar to most these days yet here we have hundreds of talented people that get to explore and "exploit" their imagination hour after hour for the later benefit of all.
No Pictures Allowed
So it's time to take you behind those locked doors now. We'll obviously focus on the right side of the brain of Pixar Animation Studios, and I'll do my best to convey the setting.
Behind those locked doors is a maze of Disneyland-like facades, with each section of the area representing its own theme. All with attached offices for animators, story department, etc.
Now, I say "offices" loosely because a majority of them are Disneyland-like exhibits. You know when you are entering a Disney ride, and the design of the area building up to the actual ride is an experience onto itself? That's how many of these offices are.
Employees are given freedom to do with their offices as they'd like, within reason.
One office was built into a tiki cabin.
Another employee constructed a whole second floor to his office, complete with a bed, television, etc. I managed to find an earlier image of it online.
Most impressive was one where an animator utilized foam to create what appeared to be a Mayan Ruins facade. Both the outside and inside of his office resembles, in amazing detail, a Mayan Ruin, complete with ferns coming out of the "rocks."
So basically, it looks as if he works in a cave. It was amazing to see. And believe me when I say that it truly rivals much of what you'd see at Disneyland.
Next door, two animators turned their office into the cabin of an old plane that crashed into the jungle long ago. I walked in and felt like I was on the set of Lost. It was complete with real tree branches coming out of the walls and into the office — and, oh, it also had a mist machine to complete the image.
Spread throughout this side of the building are hallways leading to commons areas that each have different themes. Their video game area was under development at the time and will apparently have a spaceship facade in place.
And for you Wine and Spirits people out there, there are many bars throughout the area, each with their own themes as well. These are utilized for after hour celebrations and relaxation, and yes, they are fully stocked.
There was even a full replica of the classic Muppets Show stage where animators would make their own Muppets and display them.
The Magic
My animator friend then guided me to his office and showcased where the real magic happens.
Pixar was working on a Saturday, which is unusual. They were in overtime putting the final touches of The Good Dinosaur.
My friend cued up a scene that he was animating for the film. Keep in mind that at this time, the film was still six months from its debut. I felt an instant jolt of guilt as my sons would have loved to have seen what was unfolding before my eyes.
I watched as he utilized the software to manipulate the images in any way, shape, or form that he choose. He went on to demonstrate the process of injecting the character emotion, heart, and soul that we've seen in so many amazing Pixar films. Animation is clearly not just about moving animated pictures. It's so much more. The attention to detail that Pixar exhibits is impressive, and I can't put into words how utterly enthralling it was to see how they do it.
As a writer, it was the perfect visual interpretation of the writing process that goes on in the writer's mind. We envision different emotions, actions, character types, etc. And we play with various differences. We try things out, delete them, and start anew until we see what works. In the case of animators, they are doing the same exact thing, but without the words. The software gives them instant visual answers.
A Dream Come True
As a storyteller, as a kid at heart, as a film lover, and as a father of two boys that love movies just as much as I do, this experience was a dream come true.
As I mentioned before, imagine going back in time and getting a tour of Walt Disney Studios during those golden years. Imagine being able to peek behind the curtain. I did that during my visit in the summer of 2015. I walked through a magical world of imagination.
And if you happen upon anyone that works there, I highly recommend you put a foot forward and try to step into that magical realm called Pixar Animation Studios.
And, yes, my favorite picture of the day...
Learn more about Pixar in ScreenCraft's The Secret Screenwriting Themes Behind All Pixar Movies!
---
Ken Miyamoto has worked in the film industry for nearly two decades, most notably as a studio liaison for Sony Studios and then as a script reader and story analyst for Sony Pictures.
He has many studio meetings under his belt as a produced screenwriter, meeting with the likes of Sony, Dreamworks, Universal, Disney, Warner Brothers, as well as many production and management companies. He has had a previous development deal with Lionsgate, as well as multiple writing assignments, including the produced miniseries Blackout, starring Anne Heche, Sean Patrick Flanery, Billy Zane, James Brolin, Haylie Duff, Brian Bloom, Eric La Salle, and Bruce Boxleitner. Follow Ken on Twitter @KenMovies
---
For all the latest ScreenCraft news and updates, follow us on Twitter, Facebook, and Instagram.
Tags