5 Writing Tidbits from TV Showrunner Michael Rauch
"There are going to be showrunners in TV that are more talented than me and less talented than me… and I can't care about them. All I can care about is my work and how hard I do it," TV creator and showrunner Michael Rauch says while sitting down for a recent interview with Yale Podcast Network's To Live and Dialogue in LA.
Rauch has been around the industry block, having written for the successful Royal Pains and most recently creating Instinct, based on a James Patterson novel. He took time out of his hectic writing schedule to talk with Aaron Tracy in front of a live audience on the campus of Yale University. Below are some snippets from the insightful conversation.
1. Taking Advantage of Constructive Criticism
The first season of Royal Pains had ended and Rauch and the rest of the writer's room were feeling pretty good about themselves. But they were hit with a reality check: a key character was pretty much universally despised. (Really no other way to put it, as Rauch admits.)
"After season one… everyone hated a character. And it was a very important character. Men, women, old, young, you name it, no one liked this guy," Rauch remembers. "And so, it was very important to kind of get smacked in the face with that because what we did was spent the first week or two in the writer's room in season two just working on dimensionalizing that character, making him a real person. Clearly, we hadn't done our job in season one and it wasn't the actor's fault, it was our fault."
2. Adapting (and Reshaping) the Work of a Very Successful Author
James Patterson is arguably more machine than author. The man publishes multiple books a year for both adults and children and has sold over 300 million of them to boot. He has a gigantic fanbase that eagerly awaits the next read. To say that this was intimidating to Rauch as he embarked on adapting Patterson's work for TV (for the show Instinct) would be an understatement.
"I felt a very strong responsibility [to James Patterson's massive fanbase] in the pilot because they were using his name to sell the show… I didn't want to completely corrupt it with hacky-ness," Rauch says. But he also didn't want to feel bound and tied down. He wasn't afraid to take risks and to make the show his own. Rauch explains, "At this point, now, the show is the show… there are characters that came out of his books so clearly, he's still a part of it but people are going to watch the show based on the stories we're telling not based on whether it's going to be Patterson-esque or not."
3. All That Matters is the Quality
Rauch was asked his thoughts on writing for the season versus writing for the episode -- basically an argument that has turned into writing for streaming versus writing for a network (in a way). Rauch finds merits in both outlooks, but at the end of the day, all that matters is if it's good. Which may seem obvious but… harder than you think.
"On CBS, every episode has to be close-ended and one of the reasons why is because it's much easier to sell shows like that internationally because they can run out of order," Rauch explains. "But at the same time, when we start the writer's room each year, we have our overarching story for each character and our big story we want to tell throughout the season."
Rauch elaborates, "To me, if the episode of the show is funny and captivating and draws me in, I couldn't care less if it's one unit or part of a much bigger piece. Whether it's The Crown or Mindhunter or really anything that is good, to me, I want to watch it."
4. What You Can Control: Your Work Ethic
Rauch's advice for anyone aspiring to a similar job as his (or any job, really, he says, whether it's acting or you name it), is to simply work for it. As Rauch puts it, "The things that you can control are how hard you work, how much you care, your attitude and being on time."
He goes on to say, "No matter how much time you have to practice your craft or how little time because you're paying student loans and you're waiting tables, and you've got six kids at home… everyone has different things we have to manage… Some people are born with a ton of talent and they waste it, and some with little talent and they figure out a way to nurture it… but those are things that are out of our control. But the things that we can control are the things I mentioned."
Learn how to train yourself to be ready for screenwriting success with this free guide.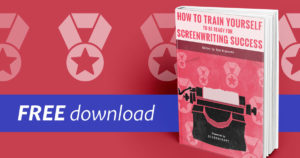 5. To Film School or Not To Film School? That is the Question.
Film school's expensive. No doubt about it. Expensive enough for some people to give up on a dream -- or, rather, find their own way to do it. But if one is willing to take out loans (or has the money to pay for it), is it still worth it? Rauch, a Columbia film school alum, says the answer to that question is subjective. But he definitely doesn't regret his own experiences in film school. It was there he had experiences he never would have gotten anywhere else.
"I found film school incredibly helpful," he admits. "You had to take an acting class. So, you know, I'm a horrible actor but it taught me how difficult acting is, it taught me how to approach words from an actor's point of view, and it taught me how to communicate with actors. As a showrunner and as a director, that's invaluable…"
"You can act with friends for free and you can write for free -- it's really hard to direct for free… so to have the opportunities to make movies, whether they're thirty-second movies or a thesis for fifteen minutes, it's very hard to get that experience anywhere [other than film school]," he says. But Rauch is also realistic. He's not promising film school is the golden ticket into the industry. "I don't think it's going to make a difference in terms of getting a job -- no one's going to say, you went to film school, I'll hire you." But to Rauch, that shouldn't be the main reason a person goes to film school. It's about the experience. "It might make you better at what you're doing, you'll definitely meet people there. I went to film school with people who have been very successful in the film industry and I know them and we're friends because we went through that together."
---
Travis Maiuro is a screenwriter and freelance film writer whose work has appeared in Cineaste Magazine, among other publications.
---
For all the latest ScreenCraft news and updates, follow us on Twitter, Facebook, and Instagram.
Tags