5 Ways to "Break Story" for Your Movie or TV Show Idea
What does it mean to "break story" and what does it take to accomplish that goal for your movie or TV show ideas?
Everyone in the world that watches movies and TV — at one point — believes that they have an excellent idea for a movie or TV show. Yet having an idea is not enough.
You need to inject the essential storytelling elements of story, plot, and characterization into the idea — and you need to do that well. But your work isn't done yet.
You have to figure out how you're going to inject those elements into the concept by conjuring the many story, plotting, and characterization possibilities — followed by the difficult decision of choosing which ones you're going to employ within your script.
When you "break story" you figure out the blueprint of your screenplay. In television, you figure out the story and character arcs of your episode, season, and eventual series as a whole.
The term is taken from the construction industry term of when a crew breaks ground and later installs the foundation of the structure they are tasked with building.
Before a construction crew builds a building, they start with the concept drawings, diagrams, and blueprints. But that structure is nothing until the crew breaks ground.
The same can be said for a screenwriter having an idea for a movie or TV show — it's nothing until you break story and have a sense of what is going to go into that screenplay when you start writing it.
You can't possibly begin to write a script just from a general idea or concept. You can't rely solely on the logline to get you through the process of writing the screenplay.
With that in mind, here we present five ways that you can begin the process of breaking story with your movie idea or TV show.
1. Explore the Concept's Validity
Before you pursue any new project, you need to make sure that you're choosing your concepts wisely.
Has the movie or TV show idea been done before?
Does the concept stand up to scrutiny?
Is this concept something you're passionate about?
Is the idea something that calls for a story or is it just an interesting gimmick without story legs?
These questions and so many more are vital to breaking story, because if the project has already been done before, if it is overly silly or implausible and doesn't stand up to scrutiny, if you're not passionate enough to go through hell and back to write and market it, and if the idea is gimmicky and doesn't have any narrative legs, then there's not going to be any story for you to break.
2. Answer the Whos, Whats, Whens, Wheres, and Whys
The answers to these five questions represent the true foundation of your screenplay.
Who are the characters involved with the conflict of the idea — for every idea or concept has to be built around a conflict that your character(s) must deal with and overcome.
What is at stake? What is the central conflict? What is the genre (see below)?
When is this happening — past, present, future? When is this story taking place in the lives of the character(s)?
Where is the story set?
Why are the characters acting and reacting like they are within the script?
There are more development questions to be asked (see below), but these represent the fundamental essentials.
3. What is the Genre?
We mention genre twice because every story can be told within so many different genres.
You need to choose the right genre for your story — and that choice can make a world of difference.
Matt Damon and Ben Affleck initially developed Good Will Hunting as a thriller about a blue-collar mathematics genius that was being pursued by the government, recruiting him to be a crypt-analyst spy.
Rob Reiner reviewed the script. He immediately told Damon and Affleck to get rid of the FBI plotline and focus on the characters.
Later on, legendary screenwriter William Goldman was given the same draft of the script to read and review in a single day. When he sat down with Damon and Affleck, he said, "Rob's right. Get rid of the FBI stuff. Go with the family, go with Boston, go with all that wonderful stuff."
The script went on to win an Academy Award.
Could it have been successful as a thriller? Sure. But that simple choice of changing the focus of the script to the characters and their dramatic arcs dictated the genre switch.
The decision of what genre or subgenre your script will fall under is essential. It will be vital to the tone, atmosphere, characterization, and story arcs of your eventual screenplay. It will be critical for the marketing and market potential of your eventual screenplay as well.
If you choose to write a dramatic version of your concept, the characters and their arcs will take center stage as you focus on the cathartic aspects of the concepts.
If you choose horror, some of that characterization will be either pushed aside by or paired with psychological or physical horror moments.
If you choose suspense thriller, the plot often takes center stage as the characterization amplifies the suspense and thrills within the scripts.
If you choose comedy, the tone shifts away from the dramatic aspects of the premise and focuses on the hilarious elements of the characters in that situation.
Take a concept like the one found in Bruce Almighty.
Almost every original concept can be handled in multiple ways. And deciding which genre or subgenre that is right for the story you want to tell is one of the most important decisions you'll make as a screenwriter.
And most important — it can help you break story.
4. Mapping Out the Beginning, Middle, and End
Breaking story is about establishing the foundations of the story and character arcs, and then mapping out the journey of the characters through those foundations that you've set.
You've seen gurus write and talk about The Hero's Journey, The Heroine's Journey, and Save the Cat's beat sheets. These are all different types of maps that can help you break story. None of them represent the ultimate solution, but they offer a way for you to find the trajectory of story and characters arcs from beginning, middle, and to the end.
So you, the writer, need to map out that beginning, middle, and end.
Beyond using formulas and narrative structures as a launching pad, you can visualize the trailer for your movie or series in the form of those otherwise horrible movie trailers that give away all of the major plot points, including the ending.
Learn the best way to structure your screenplay with this free guide.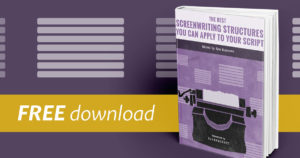 Go on Youtube and watch movie trailers that are similar in subject, genre, tone, and atmosphere to your idea — and then begin to apply the foundation of your story (and the chosen genre) into a visual map that lays out the beginning, middle, and end.
The beginning often shows the character(s) in their original world — until they are presented with the conflict of the concept you've created. That leads you into the second act (the middle) where the character(s) are forced to deal with the conflict at hand. Then when they begin to deal with that conflict, something changes — heightening the stakes and pushing them into even more conflict than before. This leads into the third act where your character(s) are forced to confront the highest stakes.
This is a general breakdown, of course. There are many ways to tell a story. But once you get an idea of your story and character trajectory, your mind begins to map everything out.
And then you can apply any screenplay structure that you'd like to employ.
Read ScreenCraft's 10 Screenplay Structures That Screenwriters Can Use!
5. Exploring the Finer Details of Your Story and Characters
Now that the story is coming together, you haven't entirely broken story until you venture into the details.
You accomplish this by asking yourself a wide variety of story development questions.
The answers to the Whos, Whats, Whens, Wheres, and Whys — as well as some help from the aforementioned formulas, narrative structures, and beat sheets — can help determine what your stories need, but the wise and most talented screenwriters take the time to ask themselves as many questions as they possibly can.
Questions force your mind to search for answers. And the answers your mind and imagination conjure then encapsulate your story and your characters.
Those questions — and the answers they provide — will guide you through your story development process and help you create the most compelling, engaging, and cathartic stories for readers and audiences. In short, they'll help you break story.
Read ScreenCraft's The Ultimate List of Story Development Questions!
---
These five practices will lead you to your coveted break story moment within your writing process, whether it's for a feature film script idea or TV series concept.
This is the necessary work that needs to be done before you type a single word of your screenplay.
Best of luck and keep writing!
---
Ken Miyamoto has worked in the film industry for nearly two decades, most notably as a studio liaison for Sony Studios and then as a script reader and story analyst for Sony Pictures.
He has many studio meetings under his belt as a produced screenwriter, meeting with the likes of Sony, Dreamworks, Universal, Disney, Warner Brothers, as well as many production and management companies. He has had a previous development deal with Lionsgate, as well as multiple writing assignments, including the produced miniseries Blackout, starring Anne Heche, Sean Patrick Flanery, Billy Zane, James Brolin, Haylie Duff, Brian Bloom, Eric La Salle, and Bruce Boxleitner. Follow Ken on Twitter @KenMovies
---
For all the latest ScreenCraft news and updates, follow us on Twitter, Facebook, and Instagram.
Tags
Screenwriting Newsletter
Get weekly inspiration delivered to your inbox - including industry news, popular blog posts, sponsored podcast episodes, contest deadline reminders, and more!