5 Things Screenwriters Should Know About Copyright Law
For screenwriters who pour endless hours watching the cursor dance back and forth on blank pages as they create a new world of characters for an audience, I have great news for you: you are simultaneously creating a protectable work and building an intellectual property asset.


However, understanding the basic legal aspects of copyright law to protect and commercially exploit your work is critical to navigating the entertainment business. Here are 5 things screenwriters should know about copyright law: 

1. Copyright law does not protect ideas, but it protects the expression of the ideas.
There is a common misconception that copyright law protects ideas or concepts, which is not the case. I have clients who sometimes ask how they can protect the concept of their show or movie. I hate to break the news, but copyright law does not protect ideas but the expression of those ideas. Having a mere logline and general story concept is not enough for copyright protection. For greater copyright protection, it is better to flesh out your story either through a synopsis or treatment.  
Learn the best way to structure your screenplay with this free guide.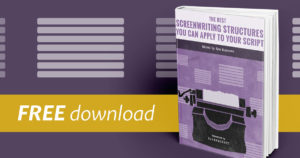 2. Copyright law can protect not only your script, but also your treatments and characters.
Copyrighting your scripts before pitching or sharing them with third parties is critical. However, copyrighting your treatments and character descriptions/analysis is just as critical to protecting the expression of your ideas in narrative form. In some cases, a fictional character becomes an even bigger entity separate and distinct from the story in which the character is placed that would warrant separate copyright protection apart from the script. In cases where a story is very much character-driven and/or the character(s) can create a spinoff or a whole franchise than the project in which the characters initially appear, it is best to file a separate copyright to receive broad protection over the character.    
3. To enforce a copyright, you must register with the U.S. Copyright Office.
Writers generally have a question on whether it is better to register scripts through the Writers Guild of America (WGA) or the U.S. Copyright Office. There is a key difference between these two organizations. The WGA is a labor union for writers. The WGA's focus is on advocating on behalf of writers by entering into collective bargaining agreements with the Alliance of Motion Picture and Television Producers (AMPTP) to set minimum wages for writers, pension and health benefits, and to assist in the collection of residuals. The WGA also provides a service for writers to register their scripts (either through the WGA East or WGA West), which provides recordation of when the WGA has received the script and to provide proof of authorship of the work. However, it does not provide writers with the enforcement mechanism that the U.S. Copyright Office provides. 
The U.S. Copyright Office is a federal agency that actually files and records a copy of protected works with the Library of Congress. The central function of filing a copyright application and copy of your treatments, scripts, and/or character breakdowns is to put others on notice that you are the author of the work(s). Not to minimize its critical role, but I liken the U.S. Copyright Office as the equivalent of a county clerk's office in registering deeds. Recording a deed to a real estate property in the county clerk's office puts others on notice that you are the record title owner of that real estate. Similarly, registering a copy of your literary work puts the world on notice that you are the owner of that intellectual property. 
As a general matter, a copyright is created the moment your literary material is created in a "tangible medium" (i.e. a treatment or script form). A copyright registration certificate, however, grants you access to the courts to enforce your copyrights against any infringers of your work. The U.S. Supreme Court just recently rendered a decision in a recent case, Fourth Estate Public Benefit Corp. v. Wall-Street.com, LLC, that now requires a copyright registration certificate in order to access the courts. Whereas in the past, the mere filing of an application was enough to establish a rebuttable presumption of your authorship of a literary work, under the Fourth Estate case, copyright owners must have a copyright registration certificate to establish copyright ownership, but may sue for infringement that took place prior to registration. Such proof of registration not only grants you court access, but also grants copyright owners statutory fees of approximately $150,000 per infringing activity and reimbursement of attorneys' fees in the event the copyright owner prevails. Sounds like a great deal for just a mere $35-$55 to file such registration right? 
So even though it is a good idea to register your scripts with the WGA, it is better to register your literary works with the U.S. Copyright Office to have the ability to enforce your rights under U.S. Copyright law. 
4. Copyright registration grants you several exclusive rights.
There is the old age metaphor that the bundle of rights a copyright owner has in his/her works is the equivalent to a "bundle of sticks." Yet in this day and age of new technological ways to distribute your works through multiple platforms, I say that the exclusive property rights granted are the equivalent of a "bundle of toothpicks." To expand upon the benefits conferred upon owners of registered literary works, the following rights are exclusive to literary copyright owners of registered works: 
To reproduce the copyrighted work
To make derivative works (i.e. prequels, sequels, plays, web series, etc.)
To distribute copies of the work (through sale, assignment and licensing arrangements (the bread and butter of monetizing your works)

 

To publicly perform the copyrighted work; and

 

To publicly display the copyrighted work.

 
These are the property rights you can either sell or license to production companies, networks and distributors contractually. Through careful negotiation and contract drafting, you can broaden or limit the ways in which your works are disseminated to generate multiple streams of income to pay off the endless hours poured into creating such works. Depending upon the type of literary work you have, you can build a franchise in exercising these exclusive rights. Shows like The Walking Dead are great examples of how you can monetize on your specific copyrights and build additional revenue streams (which also may dabble into the world of trademark law, which will be addressed in a future article). 
5. Literary works created by more than one author should certainly be copyrighted as well.
If your literary work has more than one author, it is certainly beneficial to copyright such work with the U.S. Copyright Office to establish the division of property ownership over the literary copyright. The concept of authorship is the foundation of who is designated as the owner of any copyright in any literary work. Under the U.S. Copyright Act, the Act provides joint authorship when a work is prepared by more than one author "with the intention that their contributions be merged into inseparable and interdependent parts of a unitary whole." U.S. Copyright Act, §201.  If joint authorship exists, by default, each writer will be recognized as co-owners of the copyright in the work created. By default, each writer owns an undivided equal interest in the literary material, unless the co-owners outline their ownership percentage in a written agreement. It is the equivalent of two parties owning a real estate property as joint tenants. Each co-owner has the right to grant a non-exclusive license to others to commercially exploit the literary work under the copyright without consulting the other co-owner, but all co-owners would need to consent to the assignment/sale of the literary work to a third party.  
However, in the world of freelance writers, this may not be the intended goal of a writer who may hire another writer on a "work made for hire" basis to provide scriptwriter services. Having multiple co-owners who can grant rights without the other owner's consent can also create problems between the authors on how the work gets commercially exploited or other creative and business issues regarding the literary work. 
Registering the copyright in works created by multiple authors is certainly critical, but having a contract between the authors is essential to address the percentage interests of each author, and address other issues between the authors. For instance, a written agreement between writers can outline whether both are considered joint-authors and their respective percentage interest in the copyright of the work; who would be listed as the copyright claimant on the copyright application (which would be the person responsible for negotiating on behalf of the authors regarding the potential sale or license to third parties); and who would be financially responsible for collecting the results and proceeds from the sale or license of the copyrighted work.
---
Copyright registration is the first step to protect your works - especially if you intend to enter into any agreements with third parties and/or sharing your work with others. To protect and monetize your works, it is certainly a wise decision to invest the time to quickly register your literary works through the U.S. Copyright Office. It is a painless process that reaps great monetary benefits in the long run. ScreenCraft provides a great resource on its website to help register your works. If interested in learning more ways to protect your works or for assistance in drafting and negotiating agreements to commercially exploit your works, contact Crespo Law Office, P.C.  
---
Marissa Crespo is an entertainment attorney and principal of Crespo Law Office, P.C. Her practice focuses on intellectual property registration, branded entertainment licensing, and representing content creators in the television, film, theater, and music industries. For more information about her practice, check out www.crespolawoffice.net

---
For all the latest ScreenCraft news and updates, follow us on Twitter, Facebook, and Instagram.