5 Screenwriting Lessons From Prolific Screenwriter Aline Brosh McKenna
Academy Originals' Creative Spark Series features prolific screenwriter Aline Brosh McKenna as she takes viewers inside her screenwriting process.
McKenna is one of Hollywood's most prolific female writers. She wrote the scripts for The Devil Wears Prada, 27 Dresses, We Bought a Zoo, and Annie. She's also the Co-Creator, Showrunner, Executive Producer, and Writer of the hit show Crazy Ex-Girlfriend.
Here are five screenwriting lessons that screenwriters can learn from McKenna, accompanied by our own elaboration on her wise words.
1. Set Specific Goals for the Day
"I've always done this. I try to set specific goals for the day. I need to write five pages today or edit ten pages today or finish this scene or get to the end of this act... so I like to feel like I go and I move the boulder from here to here, and that's what I have to do today."
When you go into the writing process, for each writing session, you should have some specific goal that drives your work during that allotted time frame. Otherwise, you're likely going to find yourself wandering.
It doesn't always have to be the same goal, mind you. One day it can be finishing a specific scene that leads to a particular sequence, which you can work during the next session.
If you're focused on a hard deadline, you can assign a particular number of pages that you have to write with each writing session, which helps you to make those strict deadlines that you either appoint to yourself or that are assigned by producers, executives, or representation waiting for a draft.
Whatever the case may be, it's vital to your process to set goals for each writing opportunity.
2. Where Do You Get Ideas?
"The coming up with ideas doesn't happen when you're trying to think of ideas. I don't know that I ever sit somewhere and think, 'Oh, I have to think of ideas now.' An idea just sort of floats into your brain when you're living your life. It's not like you have ten ideas a day. If you have two good ideas for a movie in a year that's amazing." 
Screenwriters need to remember to choose their concepts wisely. An idea isn't always a great idea for a movie. Sometimes it's just a gimmick. Sometimes it's just a character. Sometimes it's just a situation. Those aren't enough to encompass being thought of as a "great movie idea".
There is no secret answer to where those great movie ideas come from. They come from your life. They come from movies, and television shows that you watch as you notice story and character elements that weren't explored or how you would explore them in different ways and different settings. They come from things you've read, places you've seen, and people you've met.
She goes on to describe how she feels that ideas are like animals in nature that are born. And when they're born you have to unwrap them and see what they are. Sometimes they are perfectly formed, and sometimes they need work — and it's your job to mold them into what they should be.
3. Find the Ideal Writing Space
"I need to feel like I have my own space and an expanse of time that's just mine so I can do my thing... if you're in a room where there aren't other domestic activities and other people, there's not as much stuff that you can procrastinate with."
When you're writing, you need to find that special place where you can escape into the worlds that you are creating. This is a vital element to your writing process and something that you need to figure out early on.
While McKenna has her own office at Henson Studios, an option not likely realistic to most budding screenwriters, the point is that you need to find a writing space which offers as few distractions as possible.
While that downstairs home office or computer tucked in that back corner of the kitchen may seem like a great option, having children continually coming up to you, roommates in your space or family members coming and going are distractions that you and your story can't afford. You're either going to have to find someplace outside of your own home or you're going to have to find the right time of day or night when that traffic has ceased.
If you're looking at "setting up shop" in a coffee shop or bookstore, you're going to have to find a way to stay centered — music in your earbuds is often a great option.
Read ScreenCraft's How to Use Music to Write Better Screenplays!
Your writing space may be one specific location or you may have a few to choose from. Regardless, find it and escape to it as often as you can.
4. Use Bullet Points to Visualize Your Movie
"For me, I started doing [bullet points] instead of cards because the cards, to me, started to feel like it was really defuse and all over the place. I started doing [bullet points] more that way, and it felt more organic to me."
It's so important to visualize your movie before you sit down to physically write it. Film is a visual medium. How can you write a scene within a visual medium if you haven't actually visualized what you are going to write?
Index cards or notecards have always been a popular option for screenwriters. However, there are many other different approaches to accomplishing the same goal — seeing the movie before you type a single word.
McKenna takes sheets of paper and writes Act I, Act II, and Act III as headers, dividing them into three separate sections. She then writes simple bullet points of scenes and moments in sequence, using a pencil.
By the time she does this, she has had much of the story worked out and visualized in her mind.
This visual aid grows as she adds notes and arrows pointing to specific sections. These collected sheets help her to visualize the flow of the movie she is about to write. She can also fold them up into reference materials for development meetings.
Another option is using Word or different Apps to organize your scenes and moments digitally.
5. Story Structure Is Timeless and Universal
"Stories work because they have a structure that is satisfying and has always been."
McKenna brings up a great point when it comes to structure — that it's more simple than most believe it to be.
Learn the best way to structure your screenplay with this free guide.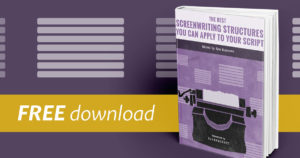 Storytelling is in our DNA as humans. We've been telling stories since the beginning of humankind. It started in grunts and gestures — later over the village or tribal fires. It evolved in direct speech and language. It developed even more through artwork on cave walls. It advanced to the written word, documented in plays and books. And then it was transferred to the screens in visual magic.
Screenwriting is in our blood — literally.
The important thing to do is find ideas, stories, and characters that are authentic. They can be new and original as well, but authenticity is key. Even if you're writing genre screenplays, you need to do your best to find authentic actions, reactions, and characterizations. Your worlds and the rules you set up within them need to be authentic as well. That's the key to great cinematic storytelling. You're not going to reinvent the wheel when it comes to structure.
Read ScreenCraft's 10 Screenplay Structures That Screenwriters Can Use!
---
Ken Miyamoto has worked in the film industry for nearly two decades, most notably as a studio liaison for Sony Studios and then as a script reader and story analyst for Sony Pictures.
He has many studio meetings under his belt as a produced screenwriter, meeting with the likes of Sony, Dreamworks, Universal, Disney, Warner Brothers, as well as many production and management companies. He has had a previous development deal with Lionsgate, as well as multiple writing assignments, including the produced miniseries Blackout, starring Anne Heche, Sean Patrick Flanery, Billy Zane, James Brolin, Haylie Duff, Brian Bloom, Eric La Salle, and Bruce Boxleitner. Follow Ken on Twitter @KenMovies
---
For all the latest ScreenCraft news and updates, follow us on Twitter, Facebook, and Instagram.