5 Most Common Questions Hollywood Has for Screenwriters
When screenwriters finally get their feet in the door of Hollywood by attaining a meeting or phone call with a film or television industry, what are the most common questions they need to be prepared to answer?
You've just won a screenwriting contest, competition, or fellowship and managers, agents, and development executives are emailing or calling you to set up a call or general meeting — or you've just worked your contacts, built your network, and have proven yourself enough for them to want to meet with you. Now what?
Read ScreenCraft's What to Expect with Your First Hollywood General Meeting!
Beyond knowing what to expect when you sit down with those industry power players (read above link), you're going to have to go in prepared.
And this isn't just about a pitch. This is about being ready to answer the most common questions these industry insiders will have for you.
Here we will cover five of the most common topics of discussion that you should be prepared for.
1. "Can you tell me a little bit about yourself?"
There will be many variations of this question. It may come off more like a statement — "Tell me about yourself..." —  or it will be more specific to your writing journey thus far. "So how did you get into writing?"
Whatever the variation may be, this is an ice-breaking topic. And too many screenwriters forget to prepare for this question because they think it'll be a simple answer to conjure because they're talking about a subject they know more than anyone about — themselves.
What happens is quite contrary to that belief.
You freeze. You don't know where to start. Do they want you to go all the way back to childhood? Should you start where you were born? What details should you include? What details should you leave out?
Avoid the freeze and be prepared to talk about your background leading up to the meeting. It's no different than writing a story. You have to pick a narrative. You have to decide what type of story you want to tell. You have to choose what window in the character's life (in this case, yours) you want to focus on.
It's already implied that you love movies, television, and writing. So this question isn't about what you love about writing and what your favorite movies are. Avoid those topics as much as you can until you're asked specifically.
Instead, focus on your writing career and the journey you've had to become a screenwriter. Find any specific anecdotes that you may have regarding any connection to the business. If you don't have any, just keep it simple and maybe focus on what brought you to writing the script they liked.
The point is to be prepared. When you are prepared, you won't freeze, and you won't go off on random tangents during your nervousness spell. Don't just wing it. Have a condensed, but interesting, story to tell.
2. "Can you tell me about your script?"
Your inner dialogue will scream, "You've read the script. Why do I have to tell you more about it?"
Read ScreenCraft's 3 Reasons Why Pitching is Necessary in Hollywood!
This question isn't about you telling your story to them. It's about them seeing how well you know your stories, your characters, the genre, the themes, etc.
You have to be prepared for any question regarding those elements of your script, and you start by knowing your logline and a short synopsis. Those are the bones of your elevator pitch.
When you answer the question, it's smart to weave all of that into a conversational tone. To accomplish that, you begin with why you decided to write that story and let that lead you into the elevator pitch elements.
"I've always been afraid of the ocean. Specifically the thought of what lurks beneath. And even more specific — sharks. My family and I used to go to this East Coast island for summers, and when we went to this aquarium museum, they had this display of shark jaws. One of them was that of a Great White Shark. And that's when it hit me. Jaws. The story of a great white shark that begins to menace a small island community during the height of their tourism season. And then I thought it would be interesting to have a police chief that was afraid of the water, partnered with an expert on great white sharks and a grizzled old fisherman — like Captain Ahab. And they are the ones that have to hunt this shark down before it kills more people."
This is much better than reciting a bland logline and short synopsis. You always want to make it come out naturally in the discussion, as opposed to stopping things, pausing, and then dictating your logline and synopsis as written.
The above example — obviously taken from Steven Spielberg's Jaws — showcases many responses that the question is trying to instigate. You share your theme (fear of the unknown), your inspiration, and your creativity. And you do so by telling a compelling story quickly.
When you prepare for your call or your meeting, be prepared for this question. And be prepared to adapt it to any requested elaboration.
Learn how to train yourself to be ready for screenwriting success with this free guide.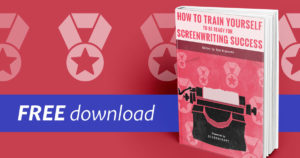 3. "Why should you be the person to tell this story?"
This is one of the most common questions that has come up in recent years. For many, it is the equivalent to the standard job interview question "What is your greatest weakness?" because it requires a lot of thought and preparation to answer. You have to look within to find a great reply.
If you were the writer of Jaws, you might say, "Well, this is a primal fear of mine — the fear of the unknown within the depths of ocean waters. I understand the fear and anxiety that comes with having that fear. So I'm able to explore that with each scene of suspense."
If you're writing a true story based on your own life experience, or that of someone you know, you can point to that fact as being the only screenwriter that can tell this story.
If you're writing under a particular genre you love, you can say, "I've seen every science fiction movie there is to see. It's my favorite genre. But I know that the genre needs something new and original. So I'm the only person to tell this story because I know the ins and outs of the genre and have figured out a way to offer audiences some of the same, mixed in with something they didn't know they wanted in the genre." 
There are too many variables to offer a single answer to this question, so you need to look within, ask yourself that question, and find a great response that proves your worth as the only writer that can tell this story.
4. "What types of scripts do you want to write?"
This question isn't about your future projects. It's about gauging what type of career path you want.
It's a question that will be asked more by managers and agents, but even development executives and producers may be trying to figure out where your passions lie. And that's what this inquiry is about. Where do your passions lie regarding what you want to write?
The worst thing you could do is rattle off a bunch of genres or say that you can write anything. That's part naivete and part arrogance.
They are looking to see if you have any specific focus and direction. They don't have time to help you figure yourself and your writing out. Managers and agents can help in that respect, sure. But they'd prefer clients that have a vision for where they want to be. That only helps those managers and agents understand if you are the right client for them and if they are the right manager or agent for you.
And here's a little tip — do everything you can to mention that you'd love to write for television and the booming streaming platform. That's what Hollywood is looking for right now. 
5. "What else do you have?"
If you've only written one script and you've been lucky enough to get this far, you're kind of in trouble.
Backing up a bit, screenwriters need to know that it is in their best interest to avoid marketing their work until they have three to five excellent scripts completed.
It's worth it to take the extra year or two to do the work, hone your craft, learn from your mistakes, and write some worthy screenplays.
Then, when you finally begin to submit and market your scripts, you'll not only be ahead of the game as far as being a better writer than most, you'll also be able to answer this question and sound like a screenwriting veteran.
"Yeah, I have five great specs..." is better than "This is my first script."
Having a stacked deck of solid samples proves to the manager and agent that you're a prolific and prepared screenwriter. And for them, that means more projects to pitch and hopefully sell.
For the producer or development executive, it shows that you're seasoned and are ready for rewrites or paid writing assignments.
---
These are the five most common questions you'll come across in industry calls and meetings. And you need to be prepared to answer them.
Don't just wing it. Prepare by asking yourself these questions and answering them in real time, or utilize a friend, family member, or peer to undertake a mock call or mock meeting, just to get you comfortable.
Avoid writing down what you'll say. You'll only come off as over-prepared. You need to dig deep into your soul and know these answers front, back, left, right, inside, and out.
And then, just be you.
Read ScreenCraft's How To Nail A General Meeting In 11 Steps!
---
Ken Miyamoto has worked in the film industry for nearly two decades, most notably as a studio liaison for Sony Studios and then as a script reader and story analyst for Sony Pictures.
He has many studio meetings under his belt as a produced screenwriter, meeting with the likes of Sony, Dreamworks, Universal, Disney, Warner Brothers, as well as many production and management companies. He has had a previous development deal with Lionsgate, as well as multiple writing assignments, including the produced miniseries Blackout, starring Anne Heche, Sean Patrick Flanery, Billy Zane, James Brolin, Haylie Duff, Brian Bloom, Eric La Salle, and Bruce Boxleitner. Follow Ken on Twitter @KenMovies
---
For all the latest ScreenCraft news and updates, follow us on Twitter, Facebook, and Instagram.
Tags