"State of the Scare" Late Night Horror Podcast & Panel
Horror films are known for relentless evils like supernatural curses, ghosts, and ghouls, plus blood, gore and screams—but that's not what really gets under our skin, say writers skilled in this genre. The stories that prove most unsettling confront the everyday things that scare us most, like hurting the people we love.
"Horror is the purest genre we have," said C. Robert Cargill (2012's Sinister, 2016's Doctor Strange) on Ben Blacker's The Writers Panel podcast, produced and recorded live at the 2018 Austin Film Festival in conjunction with ScreenCraft. "You go to see a science-fiction film, it's all about how great the special effects are. How big and awesome it looks. When you go to a romantic comedy, it's about what stars are in it. … You go to a horror movie not based on the cast, not based on anything else but, 'Hey, that looks like a good story.' That's what draws us in, if it looks scary, if it looks interesting. … There's something incredibly pure about that. And so you [as a writer] get to really pour yourself into it."
Have you written the next great horror film? Enter the ScreenCraft Horror Screenplay Contest here.
Cargill, Bryan Woods and Scott Beck (two writers of the indie hit A Quiet Place); Álvaro Rodríguez (From Dusk Till Dawn: The Series, Chicago Fire); and Yasemin Yilmaz (2017's TV series The Exorcist) all fell in love with horror before they were teens. Rodriguez and Cargill got hooked through Stephen King stories. Yilmaz watched Nightmare on Elm Street on TV on the sly while the rest of her family was asleep. Woods loved the action figures for Alien 3, so his mom showed him Aliens and Alien for context. Beck's uncle liked to share bits and pieces of horror flicks, "but only the grossest parts, like in The Fly when Jeff Goldblum vomits."
Regardless, that initial terror and curiosity lit a creative spark that's grown ever since—and informed a lively conversation where they talked about the common ground that gives us the creeps. Read on. (To listen to the podcast in full, scroll to the end.)
1. Find inspiration in what scares you.
Writers might say they fear a blank page the most, but for these scribes, their expectations and anxieties rattle them. In A Quiet Place, co-written with director John Krasinski (the Amazon Prime series Tom Clancy's Jack Ryan), alien creatures who hunt by sound have wiped out a chunk of the population, leaving the Abbott family in upstate New York walking barefoot on sand trails among other precautions to be as silent as possible. The family's daughter (Millicent Simmonds, Wonderstruck) is deaf, so they know sign language, but they don't communicate as well as they could thanks to a tragic event early in the film.
"One of the things Scott and I talked a lot about is how if there was no apocalypse, no aliens attacking or killing people, our family [onscreen] would still have communication problems. They still wouldn't be talking to each other," said Woods, who with Beck is adapting King's short story "The Boogeyman" from the author's 1978 Night Shift collection. "It almost worked as a metaphor of sorts, so that it felt like something we could put our heart and soul into and really latch onto as writers."
Beck co-wrote A Quiet Place before he became a parent, but now that he has a young daughter, the film "really touches a sensitive nerve in terms of how far will you go to protect your child and what does it feel like when you live with this constant fear of this kid dying any second."
Yilmaz, a writer on the Netflix series The Protector, out this month, said she's most afraid of hurting the people she loves. "It could be something as small as saying the wrong thing to something much more extreme," she said. "That's the real fear we have—being responsible for some kind of physical, spiritual pain in someone else."
Rodriguez loves films where he can identify with the fear on some level, such as Abel Ferrara's 1995 black-and-white film The Addiction. Starring Lili Taylor and Christopher Walken, it's a vampire film that "also has a really smart intellectual quality to it. It's a lot about our addiction as people to committing crime, to evil, this sort of sucking off each other's life force or whatever."
Rodriguez wrote the screenplay for From Dusk Till Dawn 3: The Hangman's Daughter, a prequel to 1993's From Dusk Till Dawn, a collaboration between director Robert Rodriguez (the upcoming Alita: Battle Angel), who is his cousin, with screenwriter Quentin Tarantino. But even working within that universe, "that to me was less a horror movie about scary vampires than it was a movie about how all of these characters are liars and they're not what they seem to be. And that our terror is sort of, we're discovering the truth about each other. It shows us something about ourselves in some weird way."
In Sinister, true-crime writer Ellison Oswalt (Ethan Hawke, First Reformed) finds a box of home movies that suggest the slaying he's researching for a new project is the work of a serial killer, if not an evil entity. Cargill and Sinister's director and co-writer, Scott Derrickson (Doctor Strange), knew the film's chief fear was that Oswalt's children weren't safe. "Every person who's a parent is afraid that something their kids watch is going to pervert them. Something they read is going to change them. And this is the idea of this demonic essence, this deity, that shows the kids these terrible things and it does, in fact, change the kids," Cargill said.
2. Get personal to make characters an audience cares about.
Dovetailing with those core fears, another part of what enthralls a horror film audience is its investment in the characters. "Great horror comes from the fact that if you create interesting enough characters, we'll care if they stub their toe. So if you put them in real mortal danger, the audience is going to be gripped," Cargill said. 
He and Derrickson tapped their own anxieties to shape Oswalt's character. "This is the character we're afraid of becoming: The guy that is willing to sell out his family and sell out his own soul in the pursuit of fame," said Cargill, who also is a novelist (Sea of Rust). "That's a very scary place to be because, especially for me and Scott, our families are everything."
Learn how to write great movie dialogue with this free guide.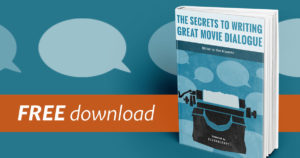 The writers on The Exorcist series, which followed three priests dealing with a demonic presence targeting a family and a foster home, focused on each character's perspective before hashing out story points so they could "find those scenes where, you know, the one kid who might be afraid of having to go into the woods is going to have to face that," Yilmaz said.
In addition, the writers added pieces of themselves to the characters, such as one newcomer with whom Yilmaz, a native of Turkey, identified. "Coming to America as an immigrant, it took me a while to recognize this as my home, and we had a character who came into the family later on and in her, definitely, I saw myself," she said.
3. Don't hesitate to put it all on the page.
You might feel self-conscious about what you create, but that's natural, Woods said, noting that he and Beck talk all the time about writing something "embarrassingly personal." 
The key is to not let that concern become a fear that stops you. "If I'm not embarrassed by the pages that I'm handing over to Scott to look at, then I know I didn't do it right," Woods said.
An audience loves flawed characters, Cargill added. "Our favorite writers aren't Mr. Rogers. And so if you're not being true, what the hell are we doing here? You've gotta kinda be real. You've gotta be unafraid to put that on the page and let people judge you. And really, they're not gonna judge you. They're gonna think, oh, you came up with this great character, and you're gonna be, Uh-huh, yeah, it's not me; not me at all."
Be brave in writing through the tough stuff, because that's what serves your story best and gives your audience that rewarding catharsis, Rodriguez said. 
"Younger writers or newer writers sometimes identify so closely with the characters that they're writing about that they end up protecting them in some way. We end up sheltering them in some way. We don't push those characters through the worst possible gauntlet, through the worst crucibles that they can endure, because we're protecting them. Because they're us in some way," he said. "[But] you also have to understand that the story suffers if it doesn't happen, if you don't make it not just personal but as intense, as devastating as you possibly can.… 
"Find that personal thing. Find the thing that scares you. Find the thing that is you at its core, and then let that thing be hurt," Rodriguez said. "Let that thing be scared. Let that thing breathe in that space that you've created and not protect it so much."
Listen to the podcast below:
---
Valerie Kalfrin is an award-winning crime journalist turned essayist, film critic, screenwriter, and emerging script consultant. She writes for The Hollywood Reporter, CC2K, Script magazine, The Guardian, Film Racket, Bright Wall/Dark Room, ScreenCraft and other outlets. A member of Screenwriters of Tomorrow and the Tampa Bay Film Society, she's available for story consultation, script editing, coverage, and collaboration. Find her at valeriekalfrin.com or on Twitter @valeriekalfrin.
---
Photo credit: Ben Blacker
---
For all the latest ScreenCraft news and updates, follow us on Twitter, Instagram and Facebook!
Tags