101 Epic Sci-Fi Story Prompts
Kickstart your creativity with these sci-fi story prompts!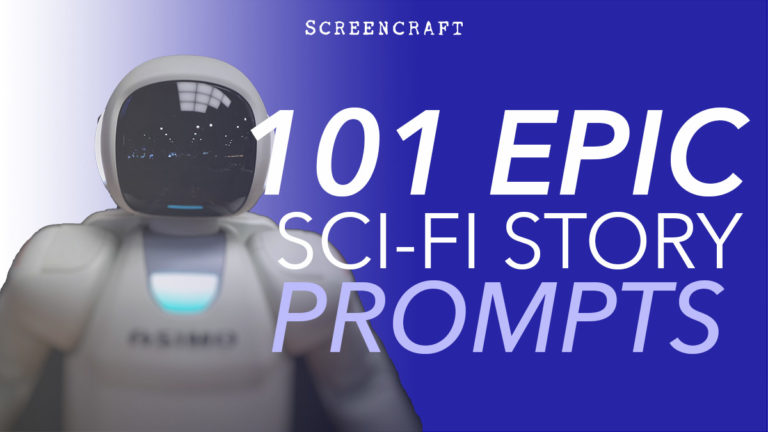 Do you want to write in the sci-fi genre but need help conjuring compelling stories and concepts? Sometimes reading simple genre prompts is the easiest way to get those creative juices flowing.
Read ScreenCraft's 7 Writing Workouts to Build Your Creative Muscles!
We get our ideas from many sources — news headlines, novels, television shows, movies, our lives, our fears, our phobias, etc. They can come from a scene or moment in a film that wasn't fully explored. They can come from a single visual that entices the creative mind — a seed that continues to grow and grow until the writer is forced to finally put it to paper or screen.
In the spirit of helping writers find those seeds, here we offer 101 originally conceived sci-fi story prompts that you can use as inspiration for your next science fiction story.
They may inspire screenplays, novels, short stories, or even smaller moments that you can include in what stories you are already writing.
Note: Because we're all connected to the same pop culture, news headlines, and inspirations, any similarity to any past, present, or future screenplays, novels, short stories, television pilots, television series, plays, or any other creative works is purely coincidence. These story writing prompts were conceived on the fly without any research or Google search for inspiration.
Read More: The Biggest and Baddest "Big Bads" of Sci-Fi & Fantasy
101 Epic Sci-Fi Story Prompts
1. What if the sun began to die, and surviving humans traveled back into time to survive? 
2. What if the sun began to die, and surviving humans traveled to another dimension to survive?
3. A scientist clones his family that died in an airplane crash — but soon learns the repercussions of playing God.
4. Earth suffers a planet-wide EMP surge, and all technology is lost forever.
5. An astronaut and cosmonaut are on the International Space Station when their countries go to Nuclear War with each other. Their last orders are to eliminate the other.
6. An astronaut jettisoned into the cold of space in a mission gone wrong suddenly appears at the doorstep of his family.
7. Someone discovers that we are all actually robots — who created us and why?
8. An astronaut is the sole survivor of a moon landing gone wrong — only to discover that the moon is infested with strange creatures.
9. An Artificial Intelligence begins to communicate with a family online to terrorize them through their technology.
10. Years after the zombie apocalypse subsides, survivors discover that the epidemic was caused by aliens that have appeared to lay claim to the planet.
11. A woman has memories of being abducted by aliens — but she soon learns that they weren't aliens. They were ____. 
12. A town is enveloped in unexplained darkness for weeks.
13. An alien invasion was actually meant to stop humans from destroying themselves.
14. Technology was a test given to us by aliens to see what we'd do with it.
15. Robots were actually here long before humans. 
16. Humans have been cloned by scientists for decades. 
17. Our reality is actually the imagination of an alien being writing a story. 
18. A tech company discovers that they can email people from the past. 
19. An underground species on Mars is discovered. 
20. Time travel is real and has been used by the government for years. 
21. A private group of scientists and historians are using time travel to create the ultimate historical record of human events. 
22. A small town in the middle of nowhere is actually a human zoo in an alien world.
23. Area 51 hides a wormhole to alien worlds.
24. Humans are actually organic robots that killed off their makers long ago.
25. A wormhole suddenly opens near Earth.
26. A newly elected President of the United States tries to find out the truth about Roswell.
27. A Star Wars fan discovers that the Star Wars universe was not a figment of George Lucas's imagination. 
28. Someone wakes up in a strange spaceship with no recollection of how they got there.
29. A stay-at-home dad discovers that he's actually a robot created by his wife. 
30. A stay-at-home dad discovers that he's actually a clone created by his original self. 
31. The first space flight to Mars discovers that the universe is not what they thought it was. 
32. A family discovers a space ship buried in their backyard. 
33. A little girl has a dream about a time travel formula and tries to bring it to scientists. 
34. Siblings discover that their nanny is an alien. 
35. Siblings discover that their nanny is a robot. 
36. Homosapiens are aliens that took over the planet. 
37. After the world is obliterated by nuclear war, alien humanoids claim it as their own. 
38. What we think are alien abductions are actually the future human race searching for a cure to a plague that is killing all humans 200 years from now. 
39. An interstellar war between alien races makes its way to Earth. 
40. A man discovers the real reason why we dream. 
41. Our dreams are actually a portal into a parallel universe. 
42. An alien poses as Christ returned, knowing that humans will follow him and his race. 
43. A woman discovers that our reality is actually a simulated game like The Sims. 
44. A group of outcast friends creates their very own robot. 
45. A space pirate crash-lands on Earth. 
46. A successful stockbroker accused of insider trading claims to be from the future. 
47. A scientist that invents time travel to travel into the future is transported into the past where technology doesn't exist. 
48. A high school student believes that his classmates are robots. 
49. A science fair team accidentally creates teleportation technology. 
50. A man that has uploaded his consciousness to a simulated reality fights to return to his real body and world.
51. A worker at a company discovers that she's actually a cyborg. 
52. An outcast nerd discovers that he's actually a revered prince from another planet, hidden by his royal family to escape an evil space lord. 
Got a script that's out of this world? The ScreenCraft Sci-Fi & Fantasy Script Competition is now open!
53. The story of the Titanic, but the Titanic is a luxury space cruiser that has hit a meteor made of ice. 
54. An astronaut stuck in cryosleep wakes up orbiting Earth during the 1960s space race. 
55. An athlete who loses his legs in an accident creates his own cybernetic legs to compete again. 
56. The world's first cyborg super-soldier goes AWOL to experience the life of an average person. 
57. The moon is actually an alien observation space station. 
58. The moon has been a NASA space station for decades. 
59. The dark side of the moon is a Vegas-like resort for aliens. 
60. A grade school student believes her classmates are aliens. 
61. A scientist discovers that diseases are actually glitches in a computer program that is actually our simulated world. 
62. Cyberspace is actually a real living and breathing world. 
63. Humans live on a forcefield-protected island floating in space. 
64. 200 years after the world is destroyed by nuclear war, surviving humans escape their underground world to discover a new ecosystem. 
65. Humans can download any skill set into their brains. 
66. Two male and female astronauts are stranded on an alien world — their names are Adam and Eve.
67. Criminals are now shipped into space on space prison ships. 
68. A gamer learns that the soldier he is controlling is actually a real soldier in a real war. 
69. A human man and a female alien have the first interstellar child. 
70. A sadistic tormentor holds people hostage in a virtual world. 
71.  A high school genius discovers anti-gravity technology, only to be hunted down by government agents. 
72. Asteroid miners struggle to survive an accident. 
73. Asteroid miners discover an alien space ship embedded within an asteroid. 
74. A scientist creates a way to download human consciousness into a computer. 
75. A high school genius discovers cloaking technology, only to be hunted down by government agents. 
76. A man is so lost in virtual reality that he can't comprehend what is real and what isn't. 
77. Wars are fought in simulation to protect lives. 
78. A slacker high school student stumbles upon a new energy source, only to be hunted down by government agents. 
79. Astronauts are tasked with preparing an alien planet for colonization. 
80. A generational space ship finally arrives at its destination after hundreds of years. 
81. A space trucker delivering goods to a space station discovers that service robots have taken over the station. 
82. A space trucker delivering goods to a space station discovers that the station is empty. 
83. A future space pilot arrives back on Earth after a mission to find it destroyed. 
84. A future space pilot arrives back to Earth after a mission, only to discover that he has somehow traveled back in time to his childhood years. 
85. A grade school student discovers that he's actually a robot.  
86. A pilot wakes up in a ship floating within a strange organic world, only to discover that he's actually microscopic within the body of the President of the United States that he is supposed to save via nanosurgery. 
87. A teenager discovers the power to create wormholes. 
88. A strange old man that has moved next door to a kid's family is actually that kid's older self that has time-traveled back in time to revisit his childhood before his death. 
89. A group of high school friends discovers portals to the past and future and uses them to ace their history and science exams. 
90. Two versions of the same high school student from different parallel universes discover each other through a portal and decide to swap lives for one week before the portal closes for good. 
91. An astronaut wakes up from cryosleep with amnesia on a ship traveling at light speed.  
92. A female alien always looking to the stars discovers a strange single from a planet called Earth. 
93. A space crew discovers a mirror planet of Earth. 
94. A space crew discovers that the universe is actually nothing more than the imagination of an alien child. 
95. A disenchanted genetically-designed man with no flaws struggles to find a flaw as he hitchhikes across America.  
96.  A boy rescues a dog in the woods and soon discovers that it's a robot. 
97. A boy rescues a dog in the woods and soon discovers that it's an alien creature. 
98. An alien robot falls from space into the backyard of a young girl's house. 
99. Astronauts land on a possible colonization planet, only to discover a human child living alone in the wild of the alien world. 
100. Scientists travel back to the world of dinosaurs to find a long-dead plant that could save humankind from extinction. 
101. A seismologist discovers a strange human signal from deep within Earth's core. 
Share this with your writing peers or anyone that loves a good sci-fi story. Have some prompts of your own? Let us know on Facebook and Twitter!
Read ScreenCraft's 131 Sci-Fi Scripts That Screenwriters Can Download and Study!
---
Ken Miyamoto has worked in the film industry for nearly two decades, most notably as a studio liaison for Sony Studios and then as a script reader and story analyst for Sony Pictures.
He has many studio meetings under his belt as a produced screenwriter, meeting with the likes of Sony, Dreamworks, Universal, Disney, Warner Brothers, as well as many production and management companies. He has had a previous development deal with Lionsgate, as well as multiple writing assignments, including the produced miniseries Blackout, starring Anne Heche, Sean Patrick Flanery, Billy Zane, James Brolin, Haylie Duff, Brian Bloom, Eric La Salle, and Bruce Boxleitner, and the feature thriller Hunter's Creed starring Duane "Dog the Bounty Hunter" Chapman, Wesley Truman Daniel, Mickey O'Sullivan, John Victor Allen, and James Errico. Follow Ken on Twitter @KenMovies
---
For all the latest ScreenCraft news and updates, follow us on Twitter, Facebook, and Instagram.