10 Comedy Scripts You Need to Read and Download for Free
Need a laugh? Read and download these hilarious movie and TV scripts.
If you are anything like me, you indulge in comedy when you need a break from reality...or at any time, really.
Comedy can not only lift your spirits but it can also bring people together, which is why we need great comedies (and comedy writers) now more than ever.
So, whether you're a writer trying to break into comedy or just a bummed out human in need of a little chuckle, here are 10 comedy scripts you need to read, like, yesterday.
Chewing Gum
Raunchy humor has long been a staple in British comedy and Chewing Gum is no exception. Focused on the antics of a religious 24-year-old virgin conflicted by her upbringing and her burgeoning sexual desires, this serial comedy by Michaela Coel tells us everything we need to know about the expectations of mainstream society, among many other things.
DOWNLOAD THE SCRIPT FOR FREE!
Dinner for Schmucks
There's always that one person that you try to avoid. Someone you find irritating, like a rock in your shoe. In Dinner for Schmucks, you meet that guy, Barry (Steve Carrell), and you learn a bit about how he fits into the life of his newfound friend, Tim. Meanwhile, Tim plans to show off what an idiot Barry is in exchange for a promotion at work. But what writers learn from movies like this one is the simple fact that with a guy like Barry around, you never get what you expect. Ever.
DOWNLOAD THE SCRIPT FOR FREE!
What We Do in the Shadows
Inspired by the feature film of the same name, What We Do in the Shadows is a comedy show about vampires written, funnily enough, by Jemaine Clement (who plays Kieran in Dinner for Schmucks) as well as Taika Waititi. These two New Zealand filmmaker-actors show how anything, even something steeped in centuries of folklore and horror, can be the perfect fuel for a mockumentary sitcom about vampires.
DOWNLOAD THE SCRIPT FOR FREE!
Fargo
This Coen brothers film has long been an indicative case-in-point for dark comedy, thanks to the comedic timing and the macabre nature of the plot's development. If you need to learn how to make a comedy that moves away from laughter-filled moments and instead uses serendipity (or lack thereof) as a dramatic tool, Fargo is a great script to study at length.
DOWNLOAD THE SCRIPT FOR FREE!
Shrek
Irreverence and fairy tales don't always go hand in hand, but when they do, Shrek is the paragon of such combinations. The writers of Shrek (there were many) made sure that the film accentuated everything from naughty rhymes to blatant puns to even the moments of understated satire. When comedy is done with the blessing of existing, long-standing material, movies like Shrek are exactly what you get.
DOWNLOAD THE SCRIPT FOR FREE!
PEN15
With a flawless blend of serial arcs and episodic junior-high drama, PEN15 revives the old standard of adult actors as kids, but with more honesty and clear depiction of the teen awkwardness that most writers try to forget about. This show shows a writer how to be unabashed, blue, petty, and unfiltered — just like those kids you ran away from in junior high.
DOWNLOAD THE SCRIPT FOR FREE!
BlackKklansman
Real history isn't all laughs. However, Spike Lee did his damnedest to write a tongue-in-cheek script that uses real-life events and real-life devils of America's recent past to recreate a real story for the big screen. Lee teaches writers that you can and should teach through your writing, especially when tackling heavy material, like racism — even if it's through comedy.
DOWNLOAD THE SCRIPT FOR FREE!
Fleabag
Serial comedies are already the future of television, and Phoebe Waller-Bridge is one of the staple writers/showrunners whose presence has become a mark of a damn good show. In her show, Fleabag, her portrayal as the titular character struggles through sex addiction, among other things. This series and its many dramatic climaxes create a brilliant and irreverent show that centers on a humanized, narcissistic rampage through the lives of others.
DOWNLOAD THE SCRIPT FOR FREE!
Bridesmaids
Blue humor, romcom tension, and a casual improv attitude of "yes, and" is all you need to create a masterpiece like Bridesmaids. This is a script where anyone above the approved age can laugh throughout, and between the cringe humor and the outright horrifying outcomes of certain lunch outings, this film has a right to be as dirty as it is funny.
DOWNLOAD THE SCRIPT FOR FREE!
Arrested Development
If someone told you "money isn't funny", they've never seen the Bluth family lose it all and then some. This cast of ridiculous characters fits the needs of an ensemble comedy show — teaching writers just how odd humans really are, and just how funny it can be to take the rich down a peg.
DOWNLOAD THE SCRIPT FOR FREE!
Conclusion
There's always something you can do to make an audience laugh or smile. Even if they're only acknowledging your dark humor with an equally dark chuckle, you've connected with your audience in one of the most powerful ways possible: through the art of comedy.
When you've read scripts like the ones above, you've equipped yourself with an arsenal of various comedic tools and story types. The rest, as they say, is up to you!
---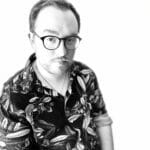 David Wayne Young is an independent film producer and screenwriter with years of experience in story analysis, even providing coverage for multiple international screenwriting competitions. David's obsessions include weird fiction and cosmic horror, and he's formally trained in the art of tasting and preparing gourmet coffee in various worldly traditions, from Turkish coffee to hand-tamped espresso — all enjoyed while writing, of course.