The past few years have been quite the doozy for screenwriter Anthony McCarten. Following a Best Adapted Screenplay nomination for The Theory of Everything in 2014, McCarten wrote Darkest Hour (2017), Bohemian Rhapsody (2018), and the 2020 Oscar-nominated The Two Popes.
Not only is it an impressive streak of acclaimed hits, but they all focus on biography, to which McCarten acknowledges a bit tongue-in-cheek: "It's turning into a very strange Mount Rushmore -- Freddy [Mercury] and the Pope and Stephen Hawking and Churchill."
McCarten recently stopped by The Filmmakers Podcast where he talked about his process, his recent success, and the way he approaches writing about real-life people. Below are a few insightful tips taken from the conversation.
ScreenCraft is proud to sponsor this episode of The Filmmakers Podcast, which you can listen to below.
1. Don't take inspiration for granted.
Inspiration can arise in the unlikeliest of moments as McCarten found during one vacation day in Rome. One thought led to another and McCarten knew he had to jump on his idea, which led to the writing of The Two Popes. "Winding back the clock about four years ago, I happened to be in Rome on a vacation, found myself in St. Peter's Square," he remembers. "And as fate should have it… Pope Francis was giving an open-air Mass… and having been raised Catholic in quite an intensely Catholic family, I knew about the other Pope, as well, the German Pope, the Shadow Pope, who had done the unthinkable and resigned in 2013. And the question sprang into my mind: 'when was the last time a Pope resigned?'... So I Googled it... And it was one of those … 'holy shit' moments, where you go, 'okay there must be a story here because the number that came up was 700 years. 700 years since a Pope resigned.' And I thought, 'why would the most traditional Pope of the modern era… have done the most untraditional thing imaginable and resigned?'"
2. Turning real life into drama with a capital D.
When McCarten first sat down to tackle The Two Popes, he zeroed in on differences, the parallels, and what unites us -- finding drama within something that, on first glance, may seem somewhat mundane.
"I started to see … a debate between these two [Pope Benedict and Pope Francis]. One a conservative, Cardinal Ratzinger who became Pope Benedict, and Cardinal Bergoglio from Argentina who took the name Pope Francis -- a true reformist... I thought it might even speak to the broader conversation in society between Progressives and Conservatives. We seem to be increasingly polarized, entrenched in positions, and can a middle ground be found?"
Learn how to write great movie dialogue with this free guide.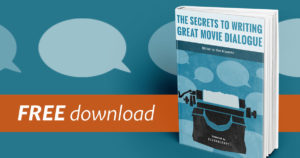 3. Research, of course. And after that, some more research.
McCarten enjoys the research process -- and a good thing, too, as it's a must for any respectable script about an actual person's life. "There was a lot of research," he says. "With all these things, you're always walking on sacred ground when you're doing anything about historical characters but [The Two Popes] was especially sacred -- literally sacred ground… so you have to get it right. And the way you try to get it right is to absorb all the information you can -- the broad picture stuff, the political attitudes, the statements, but also then the eccentricities, the personal foibles which… give you a real insight into their deeper character."
McCarten adds, "I'll do more research when I'm done just to check that I have strayed too off piece."
4. Meeting your script's subject -- if you can.
McCarten acknowledges the great privilege he had in being able to set up meetings with some of the people he was writing about. Not the Popes, for sure, and obviously not Winston Churchill. But McCarten was able to sit down with Stephen Hawking and some members of Queen.
With Bohemian Rhapsody, McCarten says, "My first thing was I said I want to meet the band. And they said, oh they'll be very happy to hear that because none of the other writers… at that point had spent time with the band. They had, it seemed to me, gone off on their own take without going to the horse's mouth. I had a wonderful experience of sitting with Brian May over several days… Brian would play songs and just tell me how he put the songs together, play a few chords and then say, Freddy would suggest this…" It was a very beneficial opportunity for McCarten to learn about and gain insight on a band that he admits he wasn't a massive fan of to start with.
But meeting your subject doesn't always have to be because of research. Sometimes it just provides relief. "It was only a month before shooting [The Theory of Everything] that Stephen asked for a copy of the script," McCarten recalls. "I was summoned to Cambridge and I was very nervous. [Hawking] could well have typed into his computer the words: 'Lawyer up, dude.' But actually he said, the ending of your film is too sweet…. And I said, 'Well that's Hollywood, Professor,' and his face broke into this huge beatific smile. And so that was the blessing that we needed."
---
Travis Maiuro is a screenwriter and freelance film writer whose work has appeared in Cineaste Magazine, among other publications.
---
For all the latest ScreenCraft news and updates, follow us on Twitter, Facebook, and Instagram.