If you haven't yet heard of Jim Cummings, you will soon.  A powerhouse filmmaker with wins at Sundance and SXSW for his indie hit Thunder Road, Cummings is a one-man studio—writing, financing, directing, producing, and distributing his own films, digitally and theatrically. Did I mention he also stars in Thunder Road? There's seemingly nothing this guy can't do. 
Read: 6 Filmmaking Lessons from THUNDER ROAD Writer/Director/Star Jim Cummings
Cummings also cultivates an active social media following—he has nearly 70,000 followers on Twitter who benefit from his daily inspiration and encouragement. Here are 5 Jim Cummings tweets with his signature advice—indie filmmakers, take note!
Your film heroes would have been thrilled to have the filmmaking technology in your phone.

— Jim Cummings (@jimmycthatsme) June 20, 2019
There are no excuses anymore for not making films. Look no further than your smartphone for all of the equipment you'll need to get started as a filmmaker. If you're feeling like you're in a creative rut, write a two-page script, gather some friends to act, and shoot a film in a day. Just be creative and see what comes out of it. Remember that the Duplass Brothers launched their careers with a short they shot in their kitchen in a few hours. 
Don't let your script die as a PDF on your desktop. Record it as a podcast. We're in the golden age of audio, people are far more likely to listen to 100 pages of screenplay format than read them.

— Jim Cummings (@jimmycthatsme) June 17, 2019
As a screenwriter, it can be disheartening to write something you love and not be able to find a home for it.  So why not produce it yourself? If you have the ability to shoot the script, great, but if not, you can easily write and record it as a podcast and get your story out to the masses. 
Reputable podcast script competitions are also springing up, such as the Austin Film Festival's Fiction Podcast Script Competition. So dust off that script that hasn't yet sold and see if you can give it new life.
Learn the best way to structure your screenplay with this free guide.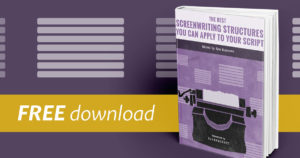 If you learn how to shoot, edit, and distribute, you have become a studio. Don't wait to be taken seriously, take yourself seriously.

— Jim Cummings (@jimmycthatsme) May 9, 2019
Everyone knows how hard it is to break into the business. These days, shooting your scripts yourself is the best (and quickest) way to become a produced screenwriter and build your credits. 
If you take yourself and your writing seriously enough to put your own money, time, and sweat into it, others will too.    
It's not who you know, it's who knows you. Make things, don't wait for someone to pay you to.

— Jim Cummings (@jimmycthatsme) April 2, 2019
The old adage "it's who you know" simply isn't true.  People in positions of power want to know people who are making things happen.  Make your work worth their attention, and people will want to know you. Doors will open without your constantly having to force it.  
It can start with something like waking up at 5 AM to write that script in your PJ's, and then shooting it on weekends around your full-time job. Just don't wait around for someone to pay you at the start—pay yourself first by investing in your own work, and the dividends will come later.
There is great happiness and fulfillment in making things, even if they turn out worse or different than you imagined, remember that many people spend their whole lives just talking about making things. Go make! pic.twitter.com/TQixE7xOSi

— Jim Cummings (@jimmycthatsme) June 24, 2019
If you're out there writing and making films, you're ahead of 100% of people who talk about writing things and filming things, but never do. 
Just the act of creating a piece of art is joyful and satisfying in and of itself. So what are you waiting for?
---
Rebecca Norris is a producer, writer, and filmmaker with her production company, Freebird Entertainment. Her recent award-winning feature film, Cloudy With a Chance of Sunshine, has been distributed on Amazon Streaming and DVD. Rebecca is also a script analyst and consultant who has read for many companies, including Sundance, ScreenCraft, Bluecat, and the International Emmys, as well as her own script consultancy, Script Authority. Rebecca blogs for ScreenCraft, The Script Lab, WeScreenplay and Script Magazine, exploring the film writing and production process and encouraging writers to produce their own work. Follow Rebecca's posts on Twitter at @beckaroohoo!
---
For all the latest ScreenCraft news and updates, follow us on Twitter, Facebook, and Instagram.