Guy Goldstein is founder & CEO of WriterDuet, which he founded in 2013 to improve the creative process for himself and fellow screenwriters. In his non-existent free time, Guy enjoys thinking about weird ideas and writing screenplays that will never be produced.
We had the opportunity to ask Guy a few questions about Writer Duet and his journey to get to where he is today. His answers are below.
ScreenCraft: What's this new free version of WriterDuet screenwriting software that we've been hearing about? 
Guy Goldstein: FreeScreenwriting.com and the WriterSolo desktop app are a cloud-free version of WriterDuet Pro. All the same professional formatting and tools, but offline (or stored to your personal Google, Dropbox, or iCloud storage).
And we're launching these new options under a pay-what-you-want model! For as little as $0, writers can now have professional screenwriting software with no script limits, watermarks, or feature restrictions.
SC: Since you wrote the first line of code for your screenwriting software several years ago, how has WriterDuet evolved over the years? How have you approached the development process and how have you chosen the features to focus on? 
GG: WriterDuet started as the solution to a major need of screenwriters, which other software didn't address: real-time collaboration. But as soon as we launched WriterDuet, we started getting feedback from writers of all levels, and based our development on other unaddressed needs: great outlining tools, a screenplay time machine, ability to filter to specific storylines or characters' dialogue, etc.
Almost every feature we've added has been suggested by a writer, and as writers ourselves, we're able to translate what may seem like a minor feature request into an extremely valuable tool.
SC: What are some of your biggest mistakes and learning moments over the years as you've grown this software business and large community of users? 
GG: We are devoted to iterating the product at a breakneck pace, and unfortunately that has led to some necks being broken. Growing from a team of 1 to 10+ employees, we've had to put systems in place that allow us to sprint much more elegantly. 
Pricing has been another area where we learned a lot. Not every writer can or should pay for expensive software. With FreeScreenwriting.com, our goal is to provide professional tools to as many writers as possible. And we'll use all the feedback we receive to continue elevating the industry.
I'd say the biggest lesson is that writers (including us personally!) have a really good idea what they want, and by understanding the daily challenges encountered within the creative process, we can improve everyone's writing experience.
SC: What are some of your proudest moments as you've grown WriterDuet over the past several years?
GG: Seeing (many) movies and TV shows written on our software has been pretty thrilling, but honestly, writing great content isn't dependent on what software you use so we can't take much credit. What I'm actually most proud of is when we hear from writers of all levels, saying WriterDuet helped them enjoy the writing process more and focus on their craft instead of fighting with software.
Learn the best way to structure your screenplay with this free guide.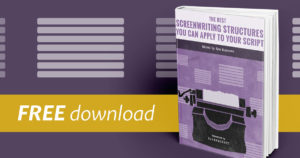 SC: Some people might say that screenwriting software is just a tool to help make conventional script formatting easier, and that it doesn't matter what software you use. What makes WriterDuet uniquely valuable for writers? 
GG: Those people are right! It doesn't matter what software you use, as long as your personal needs are addressed. WriterDuet's unique value has always been to put writing first, and focus on a creative experience that isn't distracting but has everything available when you need it. I believe WriterDuet has far and away the most advanced technology of any screenwriting software, but is also the simplest and most intuitive.
SC: What can we expect from WriterDuet over the next year? 
GG: Simpler, faster, more user-friendly. Everything we're working on is designed with actual writers in mind, not a lot of "fluff" features to fill out marketing material. In the near term, we're focused on improving practical tools like time machine, outlining, and sharing.
Looking farther ahead is tough because we move so quickly, based on what writers tell us that they need. I think you'll see a lot of focus on early phases of the creative process (e.g. mind-mapping), as well as late (e.g. collecting feedback and rewriting).
We hope that everyone will try FreeScreenwriting.com and keep letting us know how we can make their lives better!
---
For all the latest ScreenCraft news and updates, follow us on Twitter, Facebook, and Instagram.