Timeless Screenwriting Wisdom from Quentin Tarantino
Quentin Tarantino is known for writing drafts of his screenplays in longhand and not outlining plot twists, setups and payoffs. But the writer-director has his own method of dramatic structure: He's used the script of one of his films to guide him as far as the length and dramatic flow of another.
"I didn't want to spend time shooting scenes that I didn't think were going to make the cut," he told a live audience on the podcast The Q&A with Jeff Goldsmith about writing his 2009 film Inglourious Basterds. "I knew I just didn't have that kind of latitude either as far as money or time or, even more important, running time. I didn't want to fall in love with a bunch of shit I couldn't use, and so it just required me to be more disciplined. I didn't go off on wild tangents—not tangents. I like my writing; they're not tangents. But it's just … I didn't go prose-crazy and get inside their heads and describe to the reader everything that was going on. I kept it a little bit more, you know, to the point."
So he referred to the script of his 1994 film Pulp Fiction, checking what the audience and characters would know at different points in each story so he could keep Inglourious Basterds to a reasonable running time of 2 hours and 33 minutes.
"I wanted to know how I was doing page-count-wise so I could adjust it as I go. … Just kind of gauging it like that," he said. "That was big. I hadn't applied any kind of anything remotely called discipline to my writing in that regards in a decade."
Have you written the next great action film? Enter the ScreenCraft Action & Adventure Competition here.
Goldsmith posted the interview this month, calling it a "lost episode" because it was taped in 2009 during awards season. It now coincides with the ten-year anniversary of Inglourious Basterds in August and the upcoming nationwide release of Tarantino's latest project, Once Upon a Time … in Hollywood. Opening July 26, the movie co-stars Leonardo DiCaprio (Django Unchained), Brad Pitt (Inglourious Basterds) and Margot Robbie (I, Tonya) and focuses on the final years of the film industry's Golden Age in 1969 Los Angeles.
The wide-ranging discussion offers a peek at the creative process of the onetime video-store clerk turned two-time Oscar-winning screenwriter (Inglourious Basterds, Pulp Fiction). Read on for more excerpts from the podcast, which was sponsored by ScreenCraft.
Listen to the full interview here:
Let your story take you where it wants to go…
Tarantino starts writing in longhand without much of a plan because he wants the characters to dictate the action. "I'll do a little like, 'This thing goes into this thing goes into this thing,' maybe for, like, the first half or something, just to get a sense of how I'm starting, and I have an idea where I'm going to go with it," he said. "I'm trying to get to that place where now the characters are telling me [the story] and the characters are exciting me. … It's the characters who really write the piece."
Planning too much doesn't work for him, he said, because the story evolves while he's writing. "I've just learned that by the time I actually get to the middle of the story … it's become something so completely different than what I could have imagined before I actually started writing," he said. "Things have dropped away, and bad ideas have come and gone. Now you're here. Now it's this."
…but don't be afraid to give it focus.
Inglourious Basterds took a long time to reach the screen. Tarantino started writing it almost like a novel in 1998, crafting hundreds of pages with no ending, just scenes and characters he adored. "I was doing the exact opposite of suffering from writer's block," he said. "I just couldn't shut my brain off, like, a new twist, a new character, a new sub-story to throw in there just kept coming. … I couldn't even figure out what the mission was going to be because I just couldn't stop introducing everybody." 
He set that project aside to work on others, then considered adapting it as a TV miniseries—an idea he brought up over dinner with friend Luc Besson (Léon: The Professional, The Fifth Element). Besson said he couldn't help but be disappointed because Tarantino is one of the few filmmakers that makes him want to see a film in theaters. "Every once in a while, somebody fucking says some shit that you can't unhear once you hear it. This was one of those times," Tarantino said. "I decided you know what? Let me take one last crack at turning this into a movie."
Let your characters change.
In early versions of Inglourious Basterds, Shosanna (Mélanie Laurent, By the Sea) was far from the composed Jewish woman who hides her identity and plots revenge after Nazi Col. Hans Landa (Christoph Waltz, Django Unchained) kills her family. "She's throwing Molotov cocktails on troop trucks and getting into car chases through the streets of Paris with the SS and all this groovy shit," Tarantino said. 
Before completing that script, he wrote and directed Kill Bill: Vol. 1 (2003) and Kill Bill: Vol. 2 (2004), where many of the original Shosanna's qualities seeped into the vengeful Bride (Uma Thurman, Pulp Fiction). Once he resumed work on Inglourious Basterds, he didn't want to repeat that type of character, which made Shosanna more complex and compelling. "It all ended up, I thought, working out really great for the film because now Shosanna isn't a badass. She's not this comic book character. She's real. She's a survivor. It's not about her being the baddest-ass chick in Paris. It's about her surviving." 
Learn how to write great movie dialogue with this free guide.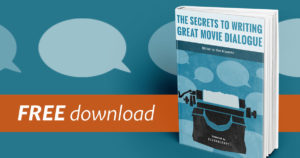 Know your readers.
Tarantino said he's included a lot of extra material, such as internal monologues, in his scripts because he loves the writing—and he's also directing his projects. "I always actually still say this, you know. Scripts are meant to be read. Movies are meant to be shot." You need to believe when you've written something good that inspires you. "I put it under the microscope to make sure that it's not indulgent," he said. "I don't know if I'd feel that way about if I was handing it to somebody else to direct, but since I know I'm going to direct it…"
He saw the value of what he called "the blueprint" when he worked on the Kill Bill films with no real screenplay, just a half-novel, half-screenplay hybrid. "It was like … going onto a set with a novel and adapting it every single solitary day." That said, he wrote out the fights for the stunt coordinators beat by beat. "I know I wouldn't have any authority with these guys if they could just, like, dream up a bunch of shit," he said. 
Learn how to edit yourself.
Earlier in his career, Tarantino would ask someone to type his longhand scripts into proper format. But by the time of this podcast, he said he felt like he was skipping an important step in his writing process. So he'd type his script himself on a Smith-Corona word processor from the 1980s (a typewriter-computer hybrid), then print out the work so far in addition to saving it on disk. It gave him a sense of accomplishment, reassured him he wouldn't lose his progress, and helped him rewrite and edit.
"When you write by hand, you're kind of vomiting on the page. … That's the good thing about it," he said. "But, you know, when you've got this giant fucking handwritten manuscript and you're typing it up with one finger, if this shit isn't Shakespeare, it can be cut. … If I don't want to type it up, if I'm dreading it, then that means I don't love it."
---
Valerie Kalfrin is an award-winning crime journalist turned essayist, film critic, screenwriter, and emerging script consultant. She writes for The Hollywood Reporter, CC2K, Script magazine, The Guardian, Film Racket, Bright Wall/Dark Room, ScreenCraft and other outlets. A member of Screenwriters of Tomorrow and the Tampa Bay Film Society, she's available for story consultation, script editing, coverage, and collaboration. Find her at valeriekalfrin.com or on Twitter @valeriekalfrin.
---
Photo credit: Deadline
---
For all the latest ScreenCraft news and updates, follow us on Twitter, Instagram and Facebook!
Tags