3 Achievable Networking Goals Screenwriters Can Accomplish
What's the key to networking as a screenwriter? Goals!
Building an actionable list of industry contacts is the key to making your own luck as a screenwriter by building relationships that can get you — and your screenplays — the necessary attention that is needed to break through those Hollywood walls.
The best way to accomplish this is by attending the networking events that attract industry power players — agents, managers, development executives, producers, and talent. And make no mistake, film festivals and writing conferences are often less about the films and the discussion of craft, and more about the industry mingling that goes on in between.
The films and the various panels are essential learning tools, but the real benefit of attending these events is the freedom to talk to those that can make a difference in your career.
With that said, sometimes screenwriters either go in with high expectations — expecting A-listers to read their scripts or buy their pitch — or they come out of those events feeling somewhat unfulfilled. Here you are surrounded by Hollywood and indie decision-makers, yet you get next to nothing out of the experience.
The key is to go into those situations with realistic goals. You need to ask yourself:
Who can I meet?
How can I meet them?
When is the best time to attempt that?
What can I accomplish during that interaction?
How can I follow up with them in the future?
Those are the five questions that you need to find answers to, and the five questions that will generate your game plan going into those events. But before you take action, you must understand that the goals you make for those events have to be achievable. You can't expect to make a sale that day. You can't expect to become Best Friends Forever with an A-list star, director, or producer. You can't expect to hand your script over and have them flip out over it, clawing at you to stop and consider their offer. It's not going to happen.
With that in mind, here are three achievable goals that you can realistically accomplish at film festivals and writing conferences.
Stop, Wait, Breathe
Before you start buying your event tickets, you need to make sure that you're ready to network yourself and your work.
All screenwriters tend to jump the gun because they're excited about the script they've just finished. Too many screenwriters try to go out and market that first one.
You're doing yourself no favors.
You need to stop, take a minute, and breathe.
Building a network in the film and television industry is about mutual benefits. There is no charity given, no matter how pleasant and approachable those industry insiders may be. Agents, managers, development executives, and producers will only connect with newcomers that have appealing projects and a clear sense of worth — business-wise.
Before you get cynical about that statement, remember that you are at these events to use those types of people the same way. You are trying to progress your own career, and that is why you are trying to network with those that can help you accomplish that. That's where the mutual benefit comes into play.
Mutually Beneficial Connections
You have to bring something to the table. And what you bring to the table has to be amazing. If you only have one script that you're marketing, that one script should be outstanding. The concept should be something that is going to draw their attention. If it's just another version of your favorite movies — another quirky drama, another quirky comedy, another bland action piece — the event you paid money to attend will prove to be a waste from a networking standpoint.
So make sure that what you're pushing is worthy, unique, and different. Something they haven't seen before or a new angle to what they have seen before that's proven to be a success.
Go in With a Stacked Deck
The best option is to go to these events with three to five amazing scripts already written. If you have to postpone going to an event to get to that point, it's well worth the wait.
It's not enough to have ideas for more screenplays other than a single one you've written, mind you. They have to be written and ready to go.
Here is a common discussion thread at film festivals and writing conferences. To set the stage, imagine that you've managed to accomplish one of the three goals we'll mention below. You're having a discussion with an industry insider, and you've found your opportunity to drop a quick pitch.
You: "So I've got this science fiction piece about a robot sent back from time to assassinate someone. It's Terminator meets In the Line of Fire."
Producer: "Oh, that's cool. What else do you have?"
Let's stop right here. Their question is the most common question you will receive in almost every interaction with a Hollywood insider. You've pitched them something, it obviously didn't make an impact on them as something they want to explore, but you've captured their interest enough for them to want to see what else you have in that screenwriting bag.
That's why you want to have at least three to five things to pitch or talk about when you are at a networking event. You never know what is or isn't going to pop for whoever you are speaking with.
Back to the conversation...
You: "Well, I've got some awesome concepts. I've been working on this one, a contained thriller, where a U.S. astronaut and Russian cosmonaut are the sole occupants of the International Space Station when World War III occurs..."
Producer: "Oh, I like that."
You: "Yeah. They're both patriots for their own country. But the thing is, Russia launched their weapons and the U.S. retaliated. The world as we know it is over, right?"
Producer: "I'm with you..."
You: "So the whole story is about how the politics and tensions that were evident down on Earth between those countries is now carrying over to these two sole survivors."
Producer: "Brilliant. Love it. I've been looking for something like that. Why don't you send the script over to me tomorrow? I'll check it out on the plane ride back."
You: "Oh, well, I actually haven't written it yet. It's just been... you know... swimming in my mind..."
The conversation regarding that project is over. Sure, they could leave the door open for you to send it to them when you're done, but that could be months later. And by that time, they've likely been to dozens of other events and have been working on dozens of other projects.
That's why it is so important to go into these events — or any marketing plan — well-prepared.
If it means going to the film festival or writing conference next year instead of a couple of months from now, take solace in the fact that you're going to go in there next year with everything you need.
Loglines and Short Synopsis Ready
You must have amazing loglines for all of those scripts ready and at your disposal. Loglines are your quick sell, and when you're at these events, you have to deliver that elevator pitch when opportunities within the conversation arise.
So before you go to these events, have loglines and a short synopsis ready for each of your scripts. Know them forward, backward, inside, and out. Practice alone. Practice with family, friends, and writing peers. Inject excitement with some emotion. Within a discussion, you can't just stop and recite a logline or synopsis. You'll sound insincere with a lack of passion. You have to have a performance ready that feels genuine — that showcases your passion for the story.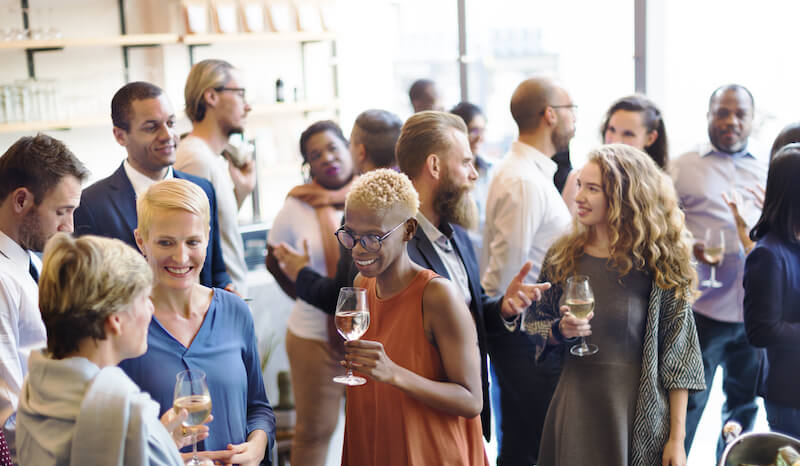 Okay, now that you're ready, here are those three achievable goals that we promised.
#1. Find the Bars and Mingling Areas
Film festivals and writing conferences aren't just about the publicized events and gatherings. You need to find the bars and areas that most of the real industry insiders go to. If you don't drink, have a glass of soda and act like your inhibitions are gone. You never want to overdo it if you do drink obviously. Getting drunk will often do you no favors. Have just enough to break the ice and loosen you up. And if you're not drinking — no problem. Just have something in your hand and be approachable and conversational. It always helps to have a friend there with you as well.
And then mingle. Be social. But do not, in any way, shape, or form, tell them that you are a screenwriter. If you mention that to any of them, the conversation instantly turns superficial. Wait for them to ask you what you do.
And give them their space. Trying to corner industry insiders in between screenings or panels is the worst time and place to attempt a conversation. They are likely on a tight schedule, and their only free time may be in between those events where they can take a breath, get a bite to eat, make some calls, check their emails, or go to the bathroom. Don't be the one to prevent them from doing that.
Bars and the designated mingling areas are the places to be.
Okay, your first goal has been achieved.
#2. Find Organic Opportunities in the Discussion
So, they've finally asked what you do — or you've found a subtle way to make that segue. Be humble when that happens. Be nonchalant. Don't go into your loglines and toss them out rapidly as most do. Just say, "Oh, I'm trying to shop a couple of projects. Specs." Then wait and see if they ask you about them.
If they do, recite your logline for the best one. Even better, use what you've learned in the conversation before that — where you ask them what they do — and ascertain what may be the best script of yours for them. And then take it from there. If they react and want to know more, great. If not...
#3. Leave with Business Cards or Contact Info
If they don't jump at the chance to hear more about your concepts — no worries. The last thing you want to do is blindly say, "I'd love to send you the script." You've immediately put them in an uncomfortable position. Just keep befriending them, and at the end of the night, ask for their card or something to keep in touch. Then you can perhaps hit them up later. Leave with some business cards to some industry insiders. People that can really make a difference or connect you somehow down the line. And keep those in your pocket for a while.
Your moment with them at that event is the equivalent of a free pass to contact them later — it's your in. You can email them and honestly say, "Hi John. We met at the festival last month..."
Whether they remember you or not at this point is out of your control. But you have their email and have given them a point of reference as to how you know them. That's more than you had before the event.
Read ScreenCraft's How to Network & Pitch at Pitch Fests, Film Festivals, and Industry Events for a more in-depth look at how to handle yourself in these situations.
---
There you have it — three achievable and realistic goals. You can now go to those film festivals and writing conferences with grounded expectations accompanied by three grounded goals. Everything else that happens beyond those three goals you achieve is icing on the cake.
If you need more motivation, assign a specific number of business cards or contacts that you want to leave with. The more you have, the better the odds of someone saying yes when you ask them to read your script.
Check out ScreenCraft's Writing the Perfect Query Letter for Your Scripts to prepare you for that email pitch!
---
Ken Miyamoto has worked in the film industry for nearly two decades, most notably as a studio liaison for Sony Studios and then as a script reader and story analyst for Sony Pictures.
He has many studio meetings under his belt as a produced screenwriter, meeting with the likes of Sony, Dreamworks, Universal, Disney, Warner Brothers, as well as many production and management companies. He has had a previous development deal with Lionsgate, as well as multiple writing assignments, including the produced miniseries Blackout, starring Anne Heche, Sean Patrick Flanery, Billy Zane, James Brolin, Haylie Duff, Brian Bloom, Eric La Salle, and Bruce Boxleitner. Follow Ken on Twitter @KenMovies
Tags