The Best Long-Term Screenwriting Advice You'll Read
What is the single best piece of screenwriting advice that screenwriters can benefit most from through their whole screenwriting career?
When you first begin your screenwriting journey, you need to stay away from the computer, laptop, or notepad. Too many first-time screenwriters jump into the writing process because they feel they have an inspired and engaging concept for a screenplay.
Knowledge is power. And when you first look out onto this vast world of screenwriting, ready to embark on your storytelling voyage, you have no power to wield. That inspired and engaging concept deserves the best that you can offer it, so you need to do whatever you can to do that concept justice.
The first step that every screenwriter should take in this venture is to read and study the art, craft, and business of screenwriting. And this process never stops.
Books, courses, YouTube videos, and screenwriting blogs offer you multiple perspectives of knowledge and experience within Hollywood and the cinematic storytelling realm.
Who You Can Learn From
These books, courses, videos, and blogs come from an array of individuals with their own unique perspectives.
Some are industry insiders that work on the studio-end of things — script readers, story analysts, assistants, and development executives can offer insight into the industry guidelines and expectations that all screenwriters should know as they navigate through the Hollywood system.
Others are proven industry talents — producers, directors, editors, actors, and, yes, professional screenwriters. Each of them has their own methods, processes, and beliefs.
Even managers and agents can offer vast knowledge of the film and television industry that you can apply to your writing and the way you market your screenplays.
What You Can Learn From Them
Screenwriting is a specific medium that requires its own mastering. It's not just about laying out a story with some characters on paper.
Novels offer you more freedom than screenplays. For a literary consumer, your story and characters are communicated through the direct read of your manuscript with no additional filter or device.
For screenwriting, you have to interpret your cinematic story and characterizations through a specific blueprint format that will then be reinterpreted through many different sets of eyes, talents, and abilities — development executives, producers, directors, editors, cinematographers, set designers, wardrobe designers, special effects coordinators, crew members, and actors.
Because of this, you need to learn a plethora of formats, methods, and processes just to write a cinematic-worthy story.
Studying the art, craft, and business of screenwriting offers you knowledge and experience that you can and need to apply to your own work.
Even experienced screenwriters can learn from others. The studying never stops as you always strive to learn new things and find ways to tell cinematic stories better.
Script readers, story analysts, assistants, and development executives offer inside information on how to best tip the scales in your favor when it comes to the odds of breaking through those Hollywood walls amidst an overly saturated screenplay market where tens of thousands of screenwriters are trying to do the very same thing you are.
Producers, directors, and actors can share what attracts them to screenplays.
Editors can offer their own unique approach to cinematic storytelling, primarily through the eyes of someone charged with the duty of compiling scenes, sequences, and moments that provide the most cathartic and visual experience for the audience.
Read ScreenCraft's Why Screenwriters Should Think Like Film Editors!
Produced screenwriters can share their experiences dealing with Hollywood. But even more important, they can share the many ways they've learned to craft compelling and engaging screenplays, from the inception of the idea to the rewriting process.
Managers and agents can help you through the business end of your journey so that you can get your stories in front of those that can make the necessary introductions you need to get your scripts considered, options, sold, and produced.
So What's the Best Long-Term Screenwriting Advice?
While knowledge is power and every screenwriter should do their continued due diligence to attain it in all of the shapes and forms mentioned above, it can also overwhelm and hinder you in your writing.
Different people have different perspectives. The advice that you hear and read can be contradictory. The secret formulas, secrets to success, and secret ways to conjure, develop, structure, write, and market your screenplays are not singular answers to your question of how to become a talented and successful screenwriter. They are based on specific experiences of individuals that have all had their own unique journeys.
Learn the best way to structure your screenplay with this free guide.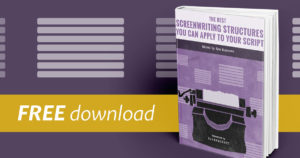 Those methods, habits, and processes worked within the context of their situations.
What worked in the 1960s, 1970s, 1980s, and 1990s may not apply to your situation. Even the first decade of the twenty-first century was a different time, in terms of how the film and television industry works.
One screenwriter may flourish with detailed research and outlines while another equally successful screenwriter swears against them, instead, trusting in their instincts as a storyteller.
But that shouldn't dissuade you from learning from everyone — from reading all of the books and blogs, watching all of the videos, and taking as many courses as you'd like.
So what's the best long-term advice?
Learn everything you can, and then dismiss it.
Hold nothing as doctrine, as so many screenwriters do.
You limit yourself by choosing to follow the beat sheets of Save the Cat! or methodology of The Hero's Journey.
You limit yourself by refusing to ever write outlines, relying solely on your instincts. And you limit yourself by overly relying on outlines and not trusting your instincts.
You've read the rules, the guidelines, and the expectations. So many of them contradict the other. And for every hindsight proof of their validity lies dozens of examples to the contrary.
But you do need to read, watch, and hear them. You do need to learn from any sources that you possibly can.
Your individuality — which every single screenwriter has — will pick and choose the elements of every piece of advice that you intake, and apply them to your mentality, your habits, your personality, your strengths, your weaknesses, your stories, your characters, and the types of screenplays you want to write.
All of this fantastic information out there is relevant. You must decide which is most relevant to you.
Learn everything you can, then dismiss it and see what sticks.
This piece of long-term screenwriting advice will free you as a screenwriter. It will take the pressures of keeping up with the pack away. It will lift that intimidating weight off of your shoulders when you know that nothing is doctrine, and you don't have to stress about deciding who is right and who is wrong when it comes to screenwriting advice.
Take a little from here. A pinch from there. A tip from him. A revelation from her.
And then create your own methods, habits, and processes for whatever you take on — and adapt them to each script you write.
Read ScreenCraft's The Best Screenwriting Books For Screenwriters!
---
Ken Miyamoto has worked in the film industry for nearly two decades, most notably as a studio liaison for Sony Studios and then as a script reader and story analyst for Sony Pictures.
He has many studio meetings under his belt as a produced screenwriter, meeting with the likes of Sony, Dreamworks, Universal, Disney, Warner Brothers, as well as many production and management companies. He has had a previous development deal with Lionsgate, as well as multiple writing assignments, including the produced miniseries Blackout, starring Anne Heche, Sean Patrick Flanery, Billy Zane, James Brolin, Haylie Duff, Brian Bloom, Eric La Salle, and Bruce Boxleitner. Follow Ken on Twitter @KenMovies
---
For all the latest ScreenCraft news and updates, follow us on Twitter, Facebook, and Instagram.
Tags