The Art of the Soft Pitch: 5 Questions Screenwriters Should Be Asking
You learn quickly as a professional writer that selling your stories is just as much part of the job as crafting them. 
Although we prepare like mad when we're taking official meetings, crystal clear about the stakes of the conversation, we rarely give strategic thought to the kind of conversation that gets us into the room.  The pathway to these official meetings often takes place in unofficial contexts from passing daily conversations to cocktail party banter. We need to game plan these unofficial "soft pitches" as much as we do our official pitch meetings. Strategize your "art of the soft pitch" using these 5 key questions.
1. Who are you talking to and why?

 
Don't make the mistake of every newbie writer chatting up anybody who will listen. Discover whether or not the person you're talking to can be valuable to moving you as a writer or your particular story along. Ask questions of the listener before you launch into the "you" centered discussion of your story. Who is this person? What do they do? And why are you talking to them about your project? How can this conversation help you sell yourself or develop your script?
Make the difference between chatting up your roommate's girlfriend about your latest screenplay with the potential opportunity latent in a conversation with a professional, e.g. Sam Martinez, in content development at Netflix, who can actually do something with the information.
2. Why would this person be interested in your project?
After you've discovered that the listener is someone who can help you, (our fictional Sam from Netflix who does content development), think through why and how your particular project is interesting to them. They key is to ask questions. What kinds of content are you looking for? If Sam or Netflix is interested in women's issues and you have a script about female empowerment, you've got something to talk about.  Always soft pitch from your audience's POV.
Learn how to train yourself to be ready for screenwriting success with this free guide.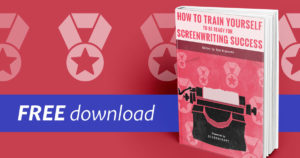 3. Just Enough.
Tell the person just enough about your project so that if they are interested or can help you, that you've whetted their appetite. Your job isn't to tell them the backstory of how you came to tell this story, or tell them every twist and turn of the plot, unless they ask.  Tell them just enough so that you are both clear that your listener is excited and wants to hear more. "Wow! Well if you're looking for female character-driven content, (insert title of your script here), is "#metoo" as a heroine's journey. From victim to victory, the script speaks to our moment."
4. Name the follow-up and call to action.
Once it's established that your listener is invested and curious, it's your job to ask for a follow-up conversation. You'll be throwing away the interaction if you don't lay down steps to more. Be specific in your ask. "Sam, is it alright for me to reach out to you to further about (insert name of your script here)." And be specific about how you'll be in touch. As basic as it sounds, here's where the exchange of information happens via an email address, social media, or a phone number. Follow up immediately. Be gracious in every aspect of your communication.
5. If not you then who?
If, after, the listener expresses genuine interest but they are not the person to help you move the project along, ask if there is someone they know who might be a good person to talk to about this project? "As I listen to the kind of content Netflix is looking to develop, it doesn't sound like, (insert the name of your script), is the right match. That said, this script deserves to be in the world. Is there anyone you can recommend I should reach out to who might be able to help?" 
You never know where this question can lead. This likely isn't a conversation for your first interaction but occurs after your contact engages with your concept a little more deeply. Get the feeling for whether or not they can be an ally or aid.
Remember: The purpose of the "soft pitch" is to open up the door to more. 
---
Neora Myrow, Ph.D. is a story doctor, communication strategist, and teacher. Her academic specialty is narrative theory + psychology. Neora's magical power, from over two decades in narrative research and story practice, is an ability to help folks develop and tell their stories across genres from screenplays to business story. When she's not on story solves for Storywell Creative, Neora's narrative design house, she teaches Resonate for Duarte, Inc. and writing process for an arts college in Los Angeles. 
---
For all the latest ScreenCraft news and updates, follow us on Twitter, Facebook, and Instagram.