Script Apart: The Daniels Unpack 'Everything Everywhere All At Once'
"Everyone is in their own worlds... The whole thing felt like an opportunity to show everyone that we already live in the multiverse."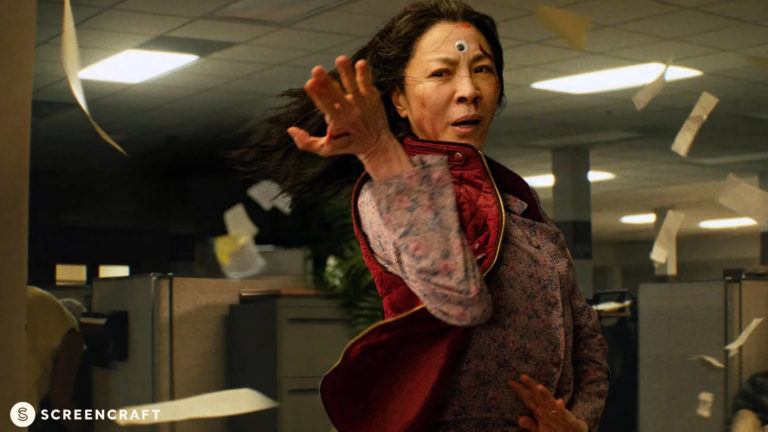 Everything Everywhere All At Once, written and directed by The Daniels (aka Daniel Kwan and Daniel Scheinert),  is both a film about the unpredictable nature of the universe and evidence of it. Who could have predicted that a movie containing characters with hot dogs for fingers would become one of the most emotionally devastating films of 2022? 
That a sci-fi drama involving mind-controlling raccoons and action scenes involving butt plugs would become one of the year's biggest box office successes?
No one, that's who.
The epic drama from writer-director duo the Daniels was a bolt out of the blue that defied all Hollywood logic to win over critics and audiences everywhere – leading many aspiring screenwriters to wonder: "How do you even begin to write a movie like that?" How did they manage to get the "multiverse movie" right?
The Daniels came on my podcast, Script Apart, to answer that very question. Each week on the show, acclaimed screenwriters revisit their first drafts of what became beloved movies. Breaking down an early draft of Everything Everywhere All at Once that involved a professional football-helmet tester in 1912 Pennsylvania, and many other strange twists that didn't make the final movie, they told me all about their storytelling inspirations, and how key scenes and characters came to be on the page. Here are a few things I learned speaking to the pair – listen to the episode in full below to discover other powerful pieces of screenwriting advice.
Everything Comes Down to Character – Even in the Multiverse
In the original opening to the film, a professional football-helmet tester named W.T Warren suffers a "quantum accident" and decides that God wants him to become a vigilante crime-fighter. So, he confronts three armed robbers, who promptly stab him to death. "It was very pretentious!" laughs Daniel Kwan. "Part of [the reason for that scene] was because, at the time, there were no other multiverse films – this was before Spider-Man: Into The Spider-Verse." The pair felt they needed a dedicated scene to explain to viewers the concept of the multiverse, in which infinite parallel worlds exist that are subtly and seismically different from our own.
Gradually, however, the Daniels realized that the scene delayed us getting to meet the movie's protagonist, Evelyn. Even in a story as far out as this one, it was imperative that the film zeroed in on the character whose emotional journey was going to make all the sci-fi hijinks matter. "We realized we had to get to Evelyn quicker," says Daniel Scheinert. "After all, it's her movie."
Ground Your Outlandish Ideas in Real-Life Feelings
Audiences could relate to Everything Everywhere not because they've ever had hot dogs for fingers or been transformed into a sentient rock with googly eyes (one of the best scenes in recent movie history, in my opinion). They related because the movie feels like life in 2022, capturing the frenetic feel of our internet age, in which life is moving so fast and everyone exists in their own bubbles, that connecting with people (even the ones you loved most) becomes difficult. "We wanted it to feel chaotic, before the sci-fi [element]," says Daniel Kwan. "Everyone is in their own worlds. All the characters are speaking past each other. They're talking different languages. The whole thing felt like an opportunity to show everyone that we already live in the multiverse."
"Basically, [in the opening act] we were setting up the problem for our character – this idea that in a chaotic world pulling your attention between different things, it becomes impossible to just look at the people you love and see eye to eye with them. And that accidentally hurts people," adds Kwan. By channeling the 100mph pace of recent years, in which the internet and political news cycle have accelerated life to breakneck speeds, the Daniels crafted a movie that was simultaneously out-of-this-world and utterly cathartic. 
Their advice — don't lose sight of the human emotion and relatable emotion behind your ambitious sci-fi concept. What other gems of wisdom did you learn from the episode? Let us know in the comments below.
---
Al Horner is a London-based journalist, screenwriter and presenter. His work has appeared in The Guardian, Empire Magazine, GQ, BBC, Little White Lies, TIME Magazine and more.
Tags