Screenwriting Wisdom from Sofia Coppola
What screenwriting lessons can we draw from the words of one today's most celebrated female auteurs — Sofia Coppola?
Sofia Coppola — daughter of iconic auteur Francis Ford Coppola — made her feature-length debut with the coming-of-age drama The Virgin Suicides in 1999.
In 2004, she won the Academy Award for Best Original Screenplay for the comedy-drama Lost in Translation and became only the third woman in history to be nominated for an Academy Award for Best Director.
Coppola followed up that film with the historical 2006 drama Marie Antoinette.
In 2010 she became the first American woman (and fourth American filmmaker) to win the Golden Lion, the top prize at the Venice Film Festival, for her drama Somewhere.
Coppola then wrote and directed the satirical crime film The Bling Ring, which was based on a real-life crime ring of the same name.
In 2017, she wrote and directed the adaptation The Beguiled.
Here we feature some of Sofia Coppola's best quotes on directing, writing, and cinematic storytelling as a whole — followed by our own elaboration.
"I try to just make what I want to make or what I would want to see. I try not to think about the audience too much."
It's impossible to determine what an audience member is going to like or not like. You're better off writing for yourself and understanding that chances are millions of people out there love the same types of movies and cinematic stories that you love. The odds are in your favor.
If you cater to any one demographic, you're not putting in the passion that is necessary to write a compelling and engaging story — especially when you're trying to cater to the audience. Don't worry — so many of them are just like you in their tastes.
Write what you love and let that passion and dedication show in your stories and characters.
Learn how to master character names and movie titles with this free guide.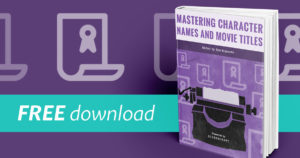 "Whenever I finish a movie, I usually go through a period where I think I'll never have another idea. And then, somehow, you get another idea."
Too many screenwriters obsess about finding that next great concept for a screenplay. The truth is, ideas find you.
You can certainly explore options in various ways, but the ideas that you're passionate about will surface on their own. Just watch a lot of movies, read a lot of books, and experience life. The stories will come out of nowhere — that's the magic.
Read ScreenCraft's 101 "What If…" Story Writing Prompts!
"I try to imagine what I would like to see."
Before you type a single word, you need to see the scene, moment, or majority of the movie in your head. It's a visual medium. You need to see that visual before you can possibly describe it to the script reader.
"With writing, I need a lot of time to sit around and do nothing. But now that I have kids, I just don't have that luxury. I have a babysitter for three hours a day, which is how long I have to write."
While it's great to read writing process advice from professional authors and screenwriters, it's illogical to apply their process to yours when so many of them go on and on about how they get up in the morning, have some coffee, write for four hours, break for lunch, then come back and write for another four hours.
Most of the time, their bullshitting. And when they're not, well, most writers looking for advice don't have that luxury because they're not full-time writers yet. Or, like Sofia, they have families to take care of.
Find whatever process and schedule that works for you, even if it means that you only have a couple of writing sessions per week. Then make the best of that time when it comes.
And remember, writing isn't just about typing. Most of the writing takes place without any movement of your fingers to keys. Let your mind wander. Visualize scenes and moments. Work out the story and character arcs during the hustle and bustle of life.
"[For my writing process] I don't know how many pages a day or how long it takes. I think once you kind of get excited about it then I get excited to go back to it and become obsessed with it."
Forget about the writing advice that stipulates how many pages you need to write per day or per writing session. Yes, you need to be disciplined, but the most important aspect of your process is that you're excited and obsessed about what you're writing about. — and that starts with choosing your concepts wisely.
"Always leave at the part that you like so that you're excited to come back to it. Don't exhaust the good parts. Leave at a part when it's going well."
The most common mistake that screenwriters make is writing until the point of exhaustion where they have nothing left. If you find yourself on a roll, cut that writing session short and keep that excitement as fuel for the next writing session. Then you don't have to worry about finding motivation.
"Writing original is always harder for me. I have to put myself into it, but it's daunting. Adapting you have something to work from. It's like a puzzle. I enjoyed working on this because [I got to] pull the book apart."
Much is written about how difficult it is to write adaptations. If you find yourself on assignment or tackling an adaptation on spec, think of the adaptation process from Sofia's point of view.
You have a roadmap. You have plenty of twists, turns, story arcs, character arcs, and plot points to choose from. It's just your job to find which ones fit the cinematic narrative.
"With my work I try to finish one thing because the next one is usually a reaction to the one before.

Marie Antoinette

was so decorative and complicated and

Somewhere

was so minimal in reaction to that one. I feel like there's always kind of a shift, but it's all very mysterious to me too."
Choosing your concepts — or waiting until they choose you — all ties into what you've written prior. You'll find yourself making decisions based on the writing experience of the last project.
Listen to those voices in your head.
If you're not wanting to tackle another tough script that's going to require a lot of research, pick something more simple and straightforward.
If you just finished a very simple and straightforward story, consider challenging yourself a little more with the next one.
"There are so many more female directors than when I started. That's encouraging."
Back when Sofia was writing and directing The Virgin Suicides and Lost in Translation, she was only one of a few. During Oscar season for the latter, she was only the third female director nominated for Best Director.
But the times are changing. More and more female writers, directors, and auteurs are making waves in Hollywood with amazing stories.
We look forward to hearing more and more female voices in the theaters and on television. Let's keep this progress moving forward.
---
Ken Miyamoto has worked in the film industry for nearly two decades, most notably as a studio liaison for Sony Studios and then as a script reader and story analyst for Sony Pictures.
He has many studio meetings under his belt as a produced screenwriter, meeting with the likes of Sony, Dreamworks, Universal, Disney, Warner Brothers, as well as many production and management companies. He has had a previous development deal with Lionsgate, as well as multiple writing assignments, including the produced miniseries Blackout, starring Anne Heche, Sean Patrick Flanery, Billy Zane, James Brolin, Haylie Duff, Brian Bloom, Eric La Salle, and Bruce Boxleitner. Follow Ken on Twitter @KenMovies
---
For all the latest ScreenCraft news and updates, follow us on Twitter, Facebook, and Instagram.
Tags