Screenwriting Wisdom From J.J. Abrams
What screenwriting lessons can we draw from the wise words of screenwriter and director J.J. Abrams?
Jeffrey Jacob Abrams was born in Long Island, New York on June 27th, 1966. Son of television producer Gerald W. Abrams and executive producer Carol Ann Abrams, he spent most of his life in Los Angeles, idolizing filmmakers like George Lucas and Steven Spielberg.
As we all know, he would later call them friends and frequent collaborators.
His father gave him a Super 8mm camera when he was thirteen-years-old. Many home movies followed. A coming-of-age experience that Abrams would homage in his own Steve Spielberg-produced film Super 8 in 2011.
Have you written a great Sci-Fi script? Enter the ScreenCraft Sci-Fi & Fantasy Screenplay Competition here.
Long before that dream collaboration, Abrams graduated from Sarah Lawrence College in 1988. Rather than attending film school, he took the advice of his father — "It's more important you go off and learn what to make movies about, than how to make movies."
While Abrams is now known as a prolific genre show creator and cinematic director, he actually began his roots as a prolific Hollywood screenwriter.
He sold his first Hollywood sale, Taking Care of Business, during his senior year of college. It was first sold as a treatment with co-writer Jill Mazursky. The eventual script would go on to be produced as a major Hollywood comedy starring James Belushi and Charles Grodin in 1990.
He then hit a hot streak as a solo writer with Regarding Henry and Forever Young, both of which would go on to star Hollywood's most successful leading men at the time — Harrison Ford and Mel Gibson.
He partnered with Mazursky again with Gone Fishin', which later starred Joe Pesci and Danny Glover. In 1997, he was hired to work on the script for the 1998 Michael Bay hit Armageddon.
Shortly after, Abrams made his way into television with Felicity, which ran for four seasons on the now-defunct WB Network. He served as the series' co-creator (with Matt Reeves) and executive producer. Abrams even composed the opening theme music.
With his career in high gear, in 2001 he created his production company Bad Robot, which he founded with producing partner Bryan Burk in 2001. Under that banner, Abrams created and executive-produced the hit show Alias and became the co-creator (along with Damon Lindelof and Jeffrey Lieber) and executive producer of one of television's most iconic genre shows, Lost.
And here's a little more trivia — Abrams also composed the opening theme music for both of those shows.
Abrams jumped into the directing chair with Lost, writing and directing the two-part pilot. He produced additional shows and movies until he finally made his feature directorial debut with Mission: Impossible III. The film was well-received and later relaunched the franchise.
His second feature directing job was a big one — the rebooted Star Trek feature. He directed the aforementioned Super 8 in 2011, with Steven Spielberg co-producing, and followed that up with a return to the Star Trek franchise for the sequel Star Trek Into the Darkness.
But it was his next directing project that would launch him into a galaxy far, far away.
In 2013, Disney and Lucasfilm announced Abrams as the producer and director of Star Wars: The Force Awakens, the direct sequel to the original Star Wars Trilogy. He would go on to write the screenplay with Lawrence Kasdan as well.
Abrams stepped away from the director's chair for the sequel but returned to close off the Skywalker Saga with the ninth and final installment, Star Wars: The Rise of Skywalker.
He's a prolific and iconic screenwriter, producer, series creator, and director.
Here we share some of Abrams's best quotes on writing and filmmaking, accompanied by some of our own elaboration on how screenwriters can apply his words of wisdom to screenwriting.
"I hate to look at the stuff I've written and consider what it means or why I do it."
You don't have to overanalyze your work. You write what you write because there's something inside you compelling you to do so. Sometimes it's best not to search for answers and figure out what makes you tick. Leave it as a mystery — as magic.
"I don't try and write strong female characters or strong male characters. I just try and write, hopefully, strong characters — and sometimes they happen to be female."
No matter what the gender, each and every character that you develop should be shown the proper treatment. Character depth is the core of great storytelling. If we don't care about the characters, and if their arcs aren't engaging, the rest of the story doesn't matter because the audience isn't invested.
"The goal is always to do B material in an A fashion."
When you're a professional screenwriter, you're often forced to dabble in what most would consider B material.
To get noticed in this business, genre-writing is often the go-to key, whether it be horror, action, or contained thrillers. And many of those concepts are simple and straight forward.
But it's the fashion at which you write them that matters.
Take the concepts and the characters seriously. Find ways to mix strong themes and characterizations into the fluff and the fun. Create the ultimate hybrid of entertainment, high concept, and brilliant storytelling.
"I think that even if you're wondering if two characters are ever going to kiss, drawing out the inevitability is part of the fun. Whatever the genre happens to be."  
Building anticipation is a screenwriter's greatest tool, whether you're building to a dramatic and exciting kiss or a thrilling and enthralling climactic sequence.
Keep the audience in check. String them along. Promise something, but delay it until they can't take it anymore. And then that's when the characters kiss or the buildup to a sequence explodes in cinematic fashion.
"I feel like in telling stories, there are the things the audience thinks are important, and then there are the things that are actually important."
Your job as a screenwriter is to take the audience on a ride. It can be an emotional ride or entertaining ride — preferably both. And to accomplish that at a high level, you need to be able to balance the sharing and withholding of information. That's how you keep the audience guessing.
Misdirects, red herrings, false endings, twists, and turns are the best tools you'll use as a storyteller. Use them wisely. Use them often. Use them well.
Learn the best way to structure your screenplay with this free guide.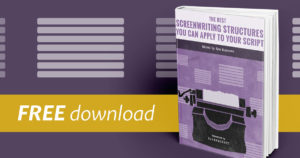 "You can never guess or assume what anyone is going to think."
Don't worry about predicting what concepts will work and what concepts won't. It's impossible to guess who is going to respond and who isn't. And you certainly can't expect to please every single person.
Just write what you love and what you know. Entertain yourself. Surprise yourself. Challenge yourself. Chances are many people out there share the same passion for your kind of stories.
"What's a bigger mystery box than a movie theater? You go to the theater, you're just so excited to see anything — the moment the lights go down is often the best part."
Cinema is magic. Don't ever forget that. Don't ever forget the child you were, sitting in the dark theater waiting for a cinematic tale to appear before your eyes. That's the magic you want to capture in your writing. When you first begin to conceptualize the concepts you're going to write, picture yourself during the moment the lights go down in the theater... when anything is possible.
Then write with that in mind.
"What I'm still grappling with and learning how to do is to be looking and thinking cinematically."
You're not writing a novel. You shouldn't be focusing on that type of storytelling. Every word that you write within a screenplay has to be cinematic. Every description, every action, and every sequence needs to be conceptualized through the camera and what it can pick up.
Don't tell us — show us.
"When I was a little kid — and even still — I loved magic tricks. When I saw how movies got made — at least had a glimpse when I went on the Universal Studios tour with my grandfather — I remember feeling like this was another means by which I could do magic."
Once again, cinema is magic. Screenwriters and filmmakers are magicians. We create worlds and characters out of thin air. We use sleight of hand to misdirect, drawing the audience's attention to one thing as we prepare something even better to follow.
Every great magic trick has misdirects, red herrings, false endings, twists, and turns. So does every great screenplay.
"When you go to commercial, you want something to call the viewers back, and if you don't have a decent act out, the audience probably won't be there in the numbers you want when the show returns."
When you're writing your pilot, make sure each act break leaves the audience wanting more. End on a cliffhanger, a posed question, an emotional reveal, or whatever you can conjure to make the reader turn the page and the audience to stay tuned on the edge of their seat.
Read ScreenCraft's The Screenwriter's Simple Guide to Formatting Television Scripts!
"Pitching is always a weird, difficult thing."
It's never easy — even when you make it to the top of the Hollywood totem pole. But it's a necessary evil because you need to convey your vision to those that can bring it to life.
Just focus on using your passion for the story to drive the pitch. Pitch your projects as if you're standing above a group of children gathered around a campfire.
"The magic that works, to me, is the magic that feels completely grounded and real and tangible."
If your screenplays are dealing with fantasy and science fiction elements, ground them into the reality that the audience is familiar with. That's how you capture their awe.
Showing a unicorn in a faraway world of hundreds of fantasy creatures and beings is one thing. Having a child discover a unicorn in their back yard amidst the unmowed grass, the rusty swingset, and their unbelieving parents calling for them from inside is a far more cathartic experience for the audience.
"To me, the interesting main character is never the one without flaws."
Give your heroes flaws. Why? Because every single member of the audience has them and can identify more with any lead character that does. Empathy is something the audience needs to feel for your characters.
"I've always liked working on stories that combine people who are relatable with something insane."
What's more engaging — watching a few characters go through the motions of an everyday life struggle or seeing characters you relate with dealing with something out of the ordinary?
"People never know what they want, though everyone says they do. If they did, nobody would ever be surprised."
Make no mistake, Hollywood doesn't know what they want. They think they do. Actually, they try to believe that they do. But they don't.
Your job as a screenwriter is to give them what they didn't know they've been looking for.
"All I know is that I've made some big screw-ups, and I've done some things that have done all right. I just keep trying to learn from the mistakes I've made."
You have to fail before you can prevail. And even after you've prevailed, you have to fail again to grow as a writer.
"There are always a bunch of ideas floating around and I do the best that I can to try to not do them. The ideas don't go away and, over time, are finally like, 'Okay, it's been around so long, I have to get this thing out,' and it somehow ends up coming to some version of fruition."
Let the ideas, the seeds, and the characters that are floating around in your head linger. Don't write them down. Don't record them. Don't develop them. Let them linger.
The ones you're not truly ready, willing, able, or wanting to write will disappear. The ones that stay won't ever go away until you get them onto the page and discover even more about them.
Read ScreenCraft's Screenwriting Wisdom from Steven Spielberg!
---
Ken Miyamoto has worked in the film industry for nearly two decades, most notably as a studio liaison for Sony Studios and then as a script reader and story analyst for Sony Pictures.
He has many studio meetings under his belt as a produced screenwriter, meeting with the likes of Sony, Dreamworks, Universal, Disney, Warner Brothers, as well as many production and management companies. He has had a previous development deal with Lionsgate, as well as multiple writing assignments, including the produced miniseries Blackout, starring Anne Heche, Sean Patrick Flanery, Billy Zane, James Brolin, Haylie Duff, Brian Bloom, Eric La Salle, and Bruce Boxleitner. Follow Ken on Twitter @KenMovies
---
For all the latest ScreenCraft news and updates, follow us on Twitter, Facebook, and Instagram.
Tags