Screenwriting Wisdom from AVENGERS: ENDGAME Writers Christopher Markus & Stephen McFeely
San Diego Comic Con 2019, Hall H: sitting onstage at one of Comic Con's largest venues, screenwriters Christopher Markus and Stephen McFeely (Avengers: Endgame) talked to the audience about being tasked with the mammoth undertaking of writing Marvel's Avengers: Infinity War and Endgame. The topics discussed included locking down the rules of time travel in the Avengers universe, using story structure to their advantage, resolving the multitude of storylines in the third act and more. 
Listen to the podcast below.
The panel was moderated by Q&A Podcast host Jeff Goldsmith – here are some highlights from their conversation. 
Stick the Landing…
"You get handed these two movies and your first reaction is panic because that's a lot of work. If it's bad, you'll be very embarrassed one year and then you have to wait around because you know you're going to be embarrassed next year… But there's also this great potential for it to be a gigantic moneymaker and cultural moment. Kevin Feige (the film's producer) doesn't want to hear any of that… he wants to make a good movie… he doesn't want to hear you talking about box office or pressure; he just wants to hear you talking about story. [Feige] said, just stick the landing…"
In other words, there will be ups and downs, but never be afraid of doing what you need to do to ensure your script is the best it can be. 
Have you written the next great action film? Enter the ScreenCraft Action & Adventure Competition here.
When in doubt…
"There was a point in mid-to-late 2016 where no one liked what we all had… the Thor storyline sucked rocks… it was much too adventure-related and very much insufficiently character-based… it was a dark time because it felt like we had been on it for a long time and we hadn't done well enough. And for any aspiring writers out there… we still feel that way… but it's the nature of writing: you cannot push the whole thing forward all at once.
You're going to push this sequence forward; this character forward – they'll get good, but the ones you haven't done yet will still be bad. You can't allow that to undermine your confidence in the whole thing… you just have to go back and push that forward."
When in doubt, push through. Although writing can sometimes be viewed as a solitary endeavor, filmmaking is undeniably a collaborative effort. Be sure to surround yourself with people who will foster your creative side. Markus and McFeely found that in both Feige and Marvel and were able to push past the darkest of times in the writer's room – or a Marvel conference room.
Manage Audience Expectations…
As Goldsmith states, Markus and McFeely had a structural advantage when writing Endgame: "Fans hadn't seen Infinity War in a year; there was a sense of wish-fulfillment… and you literally kill Thanos nineteen minutes and three seconds into the movie… it's crazy because it's an empty death and it doesn't solve their problems… but it's brilliant because it gets what everybody wants out of the way. Then it leaves them in their seats saying wait what's the other two hours of this movie going to be about?
"We wanted to take your expectations away early – that comes from Thanos being an omnipotent and omniscient villain. No one in their right mind would create a villain who can do anything at any time… weirdly enough, killing him helps him as a character because it cements the fact that he really is doing this for his stated purpose. He's done. That's the most shattering thing to the Avengers – not that he won, but that he really did mean what he said."
It's important to note here that post-Thanos' death, Endgame jumps ahead five years. 
"We're telling a real story; this is not we're going to get out of jail fast. It's a chance to really see what happens – all of Endgame is about the effects of the last movie and to really put these people through something; to put failure dead-center in the lives of the superheroes… for five years they have lived with failure."
Building tension, heightening the stakes of the drama and toying with audience expectations are what make good stories resonant. Don't be afraid to use audience expectations against them and always bring your characters down to their lowest points before building them back up. 
Learn the best way to structure your screenplay with this free guide.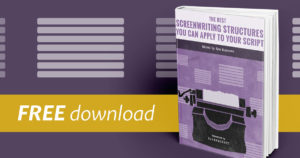 Emblazon Your Story with Emotion…
Even those who haven't seen an Avengers film can assume there's going to be a fair amount of action sequences throughout the story. But a key ingredient of what makes these movies so universally appealing is how Markus and McFeely never lose sight of their characters' emotional arcs. Markus injected some of his own personal dealings with death and fatherhood into his script, and the emotional impact is palpable for anyone.
"Once we figured out the track that we wanted Thor to be on, we really wanted him to crumble. The only person who could put him together… is his mother."
The scene with the mom gave him the line everyone fails at who they're supposed to be; the measure of a person and a hero is how they succeed at being who they are. Moments like these make the story film relatable; inject some of your own experiences into your characters' and the magic of raw storytelling will do its part to captivate audiences.
---
Andrew Schwartz is a marketing professional and script reader working in the entertainment industry. He has written and read for outlets such as The Blcklst, BlueCat Screenplay, Final Draft and more. Find him on Twitter at @writingshorts or his Instagram page dedicated to The Sopranos, @sopranosgram.

---
For all the latest ScreenCraft news and updates, follow us on Twitter, Facebook, and Instagram.
Tags