Screenwriting Basics: The Nuances of the Title Page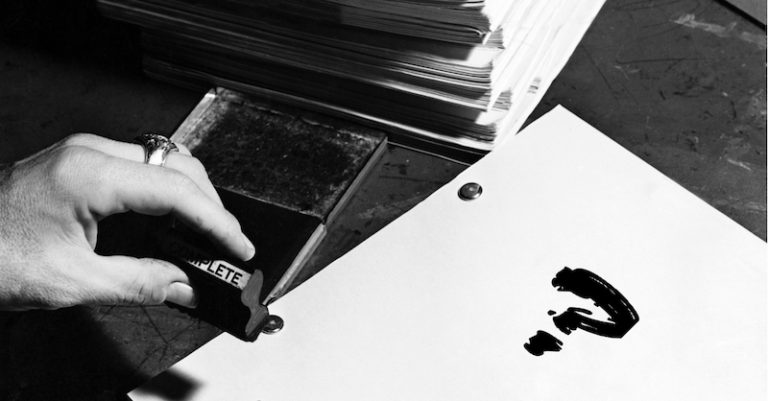 What should and shouldn't be on your script's title page — and why?
The title page of your screenplay is the first thing an industry insider sees when they receive your script. That first impression sets the stage for what they are about to read.
Will the title page make or break the read of your script? No. But when you're dealing with an industry that is looking for any and all red flags that make your script stand out in a negative way — primarily as a filtration method — it's best to take everything into account and do your best to avoid even the smallest of red flags.
Learn the best way to structure your screenplay with this free guide.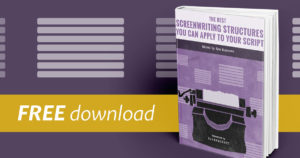 In our latest installment of Screenwriting Basics, we cover, well, the cover of your screenplay — the title page.
The Purpose of a Title Page
A title page offers general information regarding the screenplay.
The title announces the identifier of your screenplay — no different than your given name that people use to refer to you. It's important because a great title is also a key marketing factor of your script. It can win someone over right away or turn them off instantly.
Read ScreenCraft's How to Write Screenplay Titles That Don't Suck!
The general information that goes along with that title, including the name of the writer(s) involved, their representation, and their contact number, are essential for networking and contact information.
Written By
This information is used when the writer or writing team is entitled to both the "Story by" credit (see below) and the "Screenplay by" credit.
If there is ever pre-existing source material for the screenplay — short story, novel, graphic novel, etc. — this credit cannot be used because it refers to the fact that the credited writer(s) is the originator of the film's story. Research material, depending upon how much is used, does not deprive the screenwriter of this credit.
Overall, this is what most title pages should have under the actual title of the script (see example at end of this article). Variations include "By" or "Screenplay By"
Story By
If someone provided the concept for the story of the screenplay but didn't actually write the script, this information should be provided.
Read ScreenCraft's How to Understand Confusing Screenwriter Onscreen Credits!
Name of Writer(s)
Any writers that contributed to at least 33% of the screenplay (Writers Guild of America standards for onscreen credit) should be listed under the "Written By" and "Story By" line, whichever is applicable and any variations thereof.
& vs. And
When the word and is found in between the names of two or three different screenwriters, that credit is identifying two or three different writers that were attached to the project during separate drafts. In some cases, those writers could have worked together to form the final draft, but usually, this points to different screenwriters attached at different times for different drafts.
When you see the ampersand symbol between screenwriter names, that symbol is connecting them as a writing team.
Order of Names
The most substantial contributors are usually featured first unless the prearranged order is dictated by the screenwriters' contracts beforehand. When in doubt as to the exact percentage of contribution, or if that percentage is deemed as equal, the names are listed chronologically.
Representation 
If an agent or manager represent you, their contact information should be shared in the lower left-hand corner of the screenplay. This gives the reading individual or company an instant reference to contact.
You always want to be sure not to falsify this information. Don't make the mistakes that many screenwriters have made, as far as creating fake representation contacts or including real names of esteemed companies, agents, and managers that have not signed you as a client.
Including your representation's name, company name, email address, and phone number suffices.
Note: If you have representation, their contact information takes the place of your personal contact information (see below). 
Personal Contact Information
If you do not have representation, you should include your personal contact information so that anyone who reads your script can contact you at any time.
Your name, email address, and phone suffices.
There is never any need for you to include your mailing address. In fact, it can hinder your chances of being taken seriously if you include an out-of-state address that doesn't fall within the geographical reach of Los Angeles. In short, you don't want to give them a reason to pass. Let them fall in love with your script before you break the news to them that you don't actually live in Los Angeles.
While not living there isn't a deal breaker, it can affect the priority of the read. Most companies, agents, and managers want or need to work with writers that are available for meetings at the drop of a dime. There are certainly workarounds for out-of-town screenwriters, but, again, let them fall in love with your script first.
Regardless, there is no need for your mailing address to be on that title page. It's the sign of an amateur, and that is not the first impression you want to make.
Before the internet and email were prevalent, yes, there was a viable reason to include your mailing address. But the industry doesn't use snail mail anymore to ship scripts or send correspondence.
Don't Include Personal "Production Company" Names
This is a common mistake that we see not only on title pages but also on social media accounts, resumes, and LinkedIn profiles.
A production company is a production company when they are producing and releasing actual movies and shows. It doesn't automatically qualify you as the owner of a production company when you just name drop it on scripts and profiles.
And it certainly doesn't help your situation by including a production company name on the title page to make it seem official and vetted when the industry insider looks up the production company on IMDBPro and sees no official credits.
Even if you've produced some short films, or maybe even a no-budget feature, it doesn't do you or your script any good to include an unestablished production company name on the title page.
No Need For WGA Registration Numbers or Copyright Numbers
These are more signs of an amateur. There is no applicable use for including Writers Guild of America or U.S. Copyright registration numbers on the title page of your script.
The industry insiders don't care if the material is registered or not.
Those numbers are only used for court or arbitration purposes. They hold no legal meaning on your title page.
Don't Include Draft Dates on Spec Script Title Pages
The only reason you should have a script draft date on the lower right margin of your title page is if you're writing on assignment and need to denote when the latest draft was written.
Spec scripts — screenplays written under speculation that they'll be sold — shouldn't have any draft dates. Why? Primarily because it takes so long for most spec scripts to get to industry insiders that you don't want to date your script in any way, shape, or form. If you wrote the script in 2008 and it's now 2020, that's a minor red flag that could make the contact ask themselves, "Why has this script not been picked up in 14 years?"
And even if it's just a couple of years from the present date, it's just information that is not necessary to include. In short, it's a waste of space.
No Loglines or Taglines
A logline is a selling tool for your screenplay — a one-sentence outline of your film using only 35-45 words.
A tagline is short (three to ten words) and is used as a tool on posters and advertisements, always written by the marketing staff of the producing studio, or a professional copywriter from an ad agency.
The tagline for Alien is: In space, no one can hear you scream. 
The logline for Alien is: After a space merchant vessel perceives an unknown transmission as a distress call, its landing on the source moon finds one of the crew attacked by a mysterious lifeform, and they soon realize that its life cycle has merely begun.
Neither a logline nor a tagline should be present on your title page.
The tagline isn't your job to write, and the logline is something they already have within the query email you sent or through the correspondence of your representation.
No Images 
Even though most contacts within the industry don't print scripts regularly — printing title pages with images takes up a lot of ink — you should still never include pictures on your title pages.
There is certainly evidence to the contrary, but very well-established screenwriters wrote most of those successful screenplays that utilized images on their title pages.
There's no reason to include images.
But, You CAN Use Creative Title Fonts
Contrary to popular belief, you can be creative and offer a stylistic font choice for your script's actual title.
The only concern is that it must be legible. Most readers appreciate a cool font. It represents a break from the monotony of what they look at day in and day out. And it is the only opportunity for creativity on the title page. Just make sure the size isn't overbearing, and the font type isn't outrageously challenging to read.
When In Doubt, Keep It Simple, Screenwriters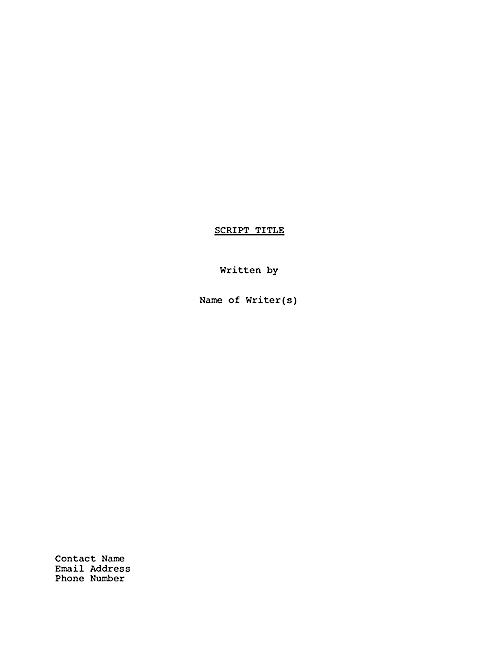 ---
Ken Miyamoto has worked in the film industry for nearly two decades, most notably as a studio liaison for Sony Studios and then as a script reader and story analyst for Sony Pictures.
He has many studio meetings under his belt as a produced screenwriter, meeting with the likes of Sony, Dreamworks, Universal, Disney, Warner Brothers, as well as many production and management companies. He has had a previous development deal with Lionsgate, as well as multiple writing assignments, including the produced miniseries Blackout, starring Anne Heche, Sean Patrick Flanery, Billy Zane, James Brolin, Haylie Duff, Brian Bloom, Eric La Salle, and Bruce Boxleitner. Follow Ken on Twitter @KenMovies
---
For all the latest ScreenCraft news and updates, follow us on Twitter, Facebook, and Instagram.
Tags