ScreenCraft TV Pilot Launch Contest Winner Jeff Bower Signs With Pathfinder Entertainment
Jeff Bower's spec script Halycon Falls won the ScreenCraft TV Pilot Launch Screenplay Competition. Already represented by Abrams Artists Agency, ScreenCraft introduced him to manager Alex Creasia at Pathfinder Entertainment, who signed him as a client. He was also a runner-up in the ScreenCraft Screenwriting Fellowship.
Read about more ScreenCraft success stories here.
We recently had a chance to chat with Jeff about his ongoing success. His answers are below.
1. Congratulations on signing with your manager! Can you tell us how that came to be and what that process was like? 
Thanks so much. I'm ecstatic. I've been repped by Abrams Artist Agency for a couple of years and I wanted to add a manager my team to have another set of eyes to help develop my work. So I reached out to a few people (my agents, Cameron at ScreenCraft) and asked if they would pass along my material to managers they thought would be a great fit. I met with a few people and then Tom Dever at ScreenCraft introduced me to Alex Creasia at Pathfinder Media. The meeting was a blast and we connected on shows we love and why they speak to us. After that, Alex read my most recent pilot, gave me notes, and asked me to do a re-write. I nailed the re-write for him and I thought his notes improved the script immensely. So it was a no brainer that we should start working together.
2. How did you get your start and how did you get your first break in the industry to draw the attention of reps?
When I first arrived in LA, my primary focus was comedy. I finished the improv program at UCB and was on a mainstage sketch and improv team at iO West for over two years. I garnered some interest with my comedy pilots (a general meeting at Amazon based solely on a cold submission) and had done well in several competitions. Then, inspired by my years of running active shooter drills as a teacher, I wrote an hour-long drama about a town recovering from a school shooting, Halcyon Falls. Everything changed. The script placed in several contests and I won the ScreenCraft TV Pilot Launch Competition. After repeatedly seeing my name on the competition lists, I was approached by several agencies and eventually signed with Abrams.
3. How did you find contests such as ScreenCraft to be a valuable resource in the process?
When you ask most people in the industry how they got their careers started they can't give you a simple, concrete answer. I can. It's because of contests like ScreenCraft's. When I moved to LA I had ZERO contacts in the industry. I used the competitions to gain confidence, get reps to read my scripts, and find my way into rooms. It's why I have representation.  It's why I have a career. ScreenCraft has always been especially kind to me as I've have had about a half a dozen different scripts make the semifinals or beyond. Halcyon Falls had advanced in a few other ScreenCraft competitions before winning.
4. How many years have you been writing and how many scripts have your written? 
Before I moved to LA, I was a playwright and artistic director of a theatre company (along with teaching). So, I had been writing plays for about five years and had one of my works published by Samuel French. I've been writing television scripts for the last six years. I've written seven comedy pilots and eight hour-long dramas I'd be willing to share with people. Then I've got a whole bunch of first drafts, false starts, and semi-completed material I horde away like J.D. Salinger. I wrote two screenplays last year that not even my wife has read. I like to get my stories out and onto the page, even if it is only for me.
Learn how to train yourself to be ready for screenwriting success with this free guide.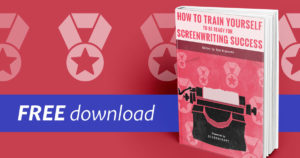 5. From a craft standpoint, what do you feel is the hardest part about getting a screenplay ready to share with industry professionals?
I am not sure if I ever feel like something is ready to share. It's the scariest part. I write it, read it, edit it, rinse and repeat, think it's done and give it to my wife. After she reads it I'll end up editing it a ton more. I'll think it's absolute garbage one minute and the best thing I've ever written an hour later. At some point, you have to let go and tell yourself (and more importantly your reps) that you'll send what you've been working on by such and such date. Luckily, I trust Paul and Manal at Abrams and Alex at Pathfinder and they always have outstanding notes and ideas to share with me. So I probably shouldn't let it stress me out as much as it does. But I think it always will.
6. From a career standpoint, were there any challenges that were much harder than you anticipated? Anything that was easier?
The most difficult thing is the waiting. It will drive you insane if you let it. You wait to hear what people think of the script. You wait to hear if you're getting staffed. You wait, wait, wait, wait… and you can't control it. The only thing you can control is what you do during that waiting time period. I fill it with writing other things and spending time with my wife. It's the only thing you can do. But it still drives me a little nutso.
The thing I find easier than I expected was performing well in meetings/pitches. I love going to my first general meeting at a production company. I love trying to impress them and using my improv training to handle any and all questions thrown my way. I always try and find a natural moment in the conversation to drop the info that I have a Bachelor's in Mathematics and an MFA in Theatre because it's such a weird part of who I am as an artist. Meetings are a fun little dance, one that's nearly impossible to replicate and practice. You just have to do it and luckily, I love it.
7. What do you think you were you doing around 10 years ago today, and if you could give your past self one piece of career or craft advice, what would it be? 
Ten years ago I was teaching high school theatre, working to make other people's dreams come true. And although I did enjoy my time as a teacher, I'd tell myself to get the hell out of that classroom ASAP and start writing all the time. Accumulate scripts and hours spent writing like it's currency, because it truly is. Honestly, I think all writers would tell themselves to start writing more at a younger age. But you can't get too mad at yourself. After all, what's the best time to plant a tree? 20 years ago. What's the second-best time? Today.
8. What are you currently working on that you're excited about?
Well, I'm really excited that my pilot Fix, a grounded sci-fi I pitch as Dexter meets Quantum Leap, just finished in the Top 3 at the Cinequest Film Festival. I've got a kick-ass show bible and script and we're looking for the right partner to make it happen. I am over the moon excited about my current pilot The Line. The script is a blue-collar Mad Men set in the 80's, inspired by my father and uncle who worked 30 years on an auto assembly line so that their children wouldn't have to. I worked two summers on the line myself and it was brutally destructive to your mental and physical health. It's an investigation into a world of middle-class jobs that no longer exist in this country and the greed and incompetence that saw them destroyed. We're going to be sending it out to production companies soon and I can't wait to get into rooms and pitch it.
---
For all the latest ScreenCraft news and updates, follow us on Twitter, Instagram and Facebook!
Tags