How to Write a Hollywood Horror with A QUIET PLACE Screenwriters Scott Beck and Bryan Woods
A nineteenth-century prospector chipping underground with a pickaxe might seem an unlikely influence on the indie horror smash A Quiet Place, but screenwriters Bryan Woods and Scott Beck love finding inspiration outside their genre.
The two drew from the suspense and monster scares of Alien and Jaws when writing their 2018 film about a family forced to live in relative silence as sound-sensitive creatures stalk the earth. But they also pulled from storytelling techniques absorbed over decades of knowing each other, from college classes on nonverbal communication to silent films and quiet moments, such as the opening minutes (watch below) of 2007's There Will Be Blood. There, prospector Daniel Plainview (Daniel Day-Lewis) mines for silver, breaks his leg, and hauls himself aboveground without any dialogue.
"We always wanted to make a modern-day silent film," Woods said recently on The Filmmakers Podcast, where he and Beck spoke with hosts Giles Alderson and Christian James.
"Even though the films that are on our filmography are very horror-centric, the stuff that we love is usually all across the gamut," Beck added.
A Quiet Place (watch first 10 minutes below) was a big break for the writing duo, grossing $340 million worldwide on a budget of $17 million. They earned a Saturn Award nomination for the screenplay, along with co-writer John Krasinski (Tom Clancy's Jack Ryan), who also starred as patriarch Lee Abbott and directed the film. Co-star Emily Blunt (The Girl on the Train) won a Screen Actors Guild Award for her performance as matriarch Evelyn Abbott. The film also earned an Oscar nomination for Best Achievement in Sound Editing.
The next film from Woods and Beck, Haunt, features an all-too-real haunted house but again blends a variety of influences. The two, who co-wrote the screenplay as well as directed the film, said they wanted to work with as many "non-horror people" as possible, such as editor Terel Gibson (The Kings of Summer, Sorry to Bother You) and production designer Austin Gorg (Her, La La Land, Ready Player One). Horror filmmaker Eli Roth (Hostel, Death Wish) is a producer on Haunt, opening Sept. 13.
"We felt those extra perspectives would help offer something interesting," Beck said on the podcast. "We didn't know exactly what it would lend to it, but we wanted to try that alchemy of everything."
Here, we've highlighted six insights from the podcast's lively conversation with these longtime writing partners about creativity, dealing with rejection, how humor breeds persistence, and keeping your ideas fresh.
Listen to the full episode below.
1. Be a Sponge
Woods and Beck have known each other since they were eleven and making stop-motion movies with action figures. They really fell in love with film as an art form in 1999, when they were about 14, soaking up films such as The Matrix, The Sixth Sense, Magnolia, and The Insider. They later took courses in world cinema, which introduced them to filmmakers like Jacques Tati and Francois Truffaut. 
"All of a sudden getting the appetite to just watch those versus what America was making felt like … it enriched the filmmaking so much more," Beck said. 
2. Go Beyond Concept: What's Your Story About?
A Quiet Place has monsters, but Beck and Woods said they couldn't move forward past the concept until they figured out what really drove the plot. "It can't just be about 'you make a sound, you die,' because that's a gimmick. That only lasts for five pages," Beck said. Once they honed in on the idea of a family that suffers a tragic loss and then can't communicate well, the story unlocked.
"It was a metaphor for broken communication in the family, and we designed that very matter-of-fact because we were like, if you took the monster out of this story, the family would still be dealing with the same issues," Beck said.
Production company Platinum Dunes responded to that underlying theme instantly, as did Krasinski and Blunt, who are married in real life and had a newborn child when they read the script. 
3. Hang in for the Long Haul
Woods and Beck have made shorts and features together since the early 2000s, but Woods said they've written at least thirty screenplays before they were paid to do so. In between, they had day jobs, with Beck doing graphic design work and Woods shooting wedding videos. 
It's also amazing how you coast on the enthusiasm of, 'This is going to be the next big thing. This is going to make our careers; we're going to get representation, and this movie is going to get made,' and how often that never pans out," Woods said. 
At one point after college, they worked at a movie theater. Woods laughingly remembered serving renowned composer Hans Zimmer (Gladiator, Inception, Dunkirk) popcorn one day. "I was like, 'Are you Hans Zimmer?' And he was like, 'Yes.' And I'm like, 'I'm such a big fan.' And he's like, 'Cool. Can I get my change, though?'"
4. Roll with Rejection
The two honed a sense of humor that's helped them laugh at disappointment, such as when they thought they had representation several times, or when their 2015 thriller Nightlight disappeared from select theaters in a blink. "You can give up or you can be like, 'No, that's just part of the job.' You're going to hit your head against the wall. Otherwise, everybody else would be making it in Hollywood if it were really easy," Beck said. "And so we let ourselves like wallow in that failure for maybe like a week, and then we started talking like, 'All right, well, that's over because we need to make this our career. What do we write next just to push ahead?'" 
They've learned to embrace the process as well as laugh about it, Woods added. "You have to be ready for the failure more so than the success because the success is really fleeting. And as many people say, you rarely learn anything from success. It's really just the failures. And so we really, really take that to heart at this point." 
Learn the best way to structure your screenplay with this free guide.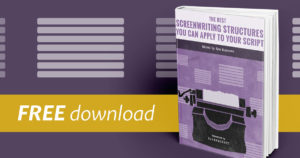 5. Find Your Advocates—and Trust Them
The cowriters found an agent after they made a short film, just to show what they could do, and entered it in festivals. Before that, they'd tried to connect with the managers of their idols, like M. Night Shyamalan. "You need to find the agents or managers that are at your level, where they may be just getting started," Beck said. "They may even be assistants at that point. But if they actually really believe in you, they're probably going to be better than the other agents that have been in the business for twenty years."
Hearing feedback on your work all the time can give you a negative world view, where you don't trust yourself that something's good, they added. They wrote A Quiet Place in one back-to-the-drawing-board moment, thinking of a contained story they could make themselves. "We wrote that script in general because we thought we would never get to make another movie again. So let's write a script that we could go off and produce on our friend's farm for $50,000, and just do the low-budget version of that. We're always preparing for Plan B, essentially," Beck said.
The script wound up in a drawer for about a year. "Finally, for whatever reason, we're just like, 'Let's just send it to our wives and see if they have an opinion on this project.' And immediately, they both had the exact same reaction. They were like, 'Drop everything you're working on, and just focus on A Quiet Place. This is a cool idea. It's really special.' We're like, 'Oh, is it?' We almost weren't sure; we didn't trust it," Woods said.
6. Don't Sit Still
Beck and Woods have worked together for so long that they've developed a rhythm. One will write one version of a scene and send it to the other, who adds his changes, then kicks it back. They also like to alternate between a few ideas at a time to keep from hitting a wall. They actually worked on editing Haunt at the same time that A Quiet Place was premiering at the SXSW Film Festival and elsewhere.
They have a couple of other projects on their slate, including an adaptation of Stephen King's short story "The Boogeyman" and another with Sam Raimi that they declined to discuss in detail. (Although they're not involved with the screenplay for the sequel to A Quiet Place, due out in 2020—Krasinski has writing and directing duties—they said they're "happy to see it have a continued life.")
"I think if we've learned anything, it's to just enjoy the experience of getting to make something, let alone get eyeballs on it, whether it does great or whether it doesn't. At least you get to make something, and that's something rare that not everybody really gets the chance to [do]," Beck said. 
Don't be afraid to "take chances on yourself," he added. "Again, you may fail, but roll the dice. As long as you're really believing in what you're putting forward, hopefully only good things can really happen."
---
Valerie Kalfrin is an award-winning crime journalist turned essayist, film critic, screenwriter, and emerging script consultant. She writes for The Hollywood Reporter, CC2K, Script magazine, The Guardian, Film Racket, Bright Wall/Dark Room, ScreenCraft and other outlets. A member of Screenwriters of Tomorrow and the Tampa Bay Film Society, she's available for story consultation, script editing, coverage, and collaboration. Find her at valeriekalfrin.com or on Twitter @valeriekalfrin.
---
For all the latest ScreenCraft news and updates, follow us on Twitter, Instagram and Facebook!
Tags