Hollywood Stories From Journalist-Author Gavin Edwards
"There's less time to wool-gather [these days]. And it's really important to just be able to free-associate for a while and not be able to read anything or write anything down and just see where your brain goes," says Gavin Edwards, journalist and author who has spent decades writing about Hollywood. It's a solid piece of advice for any kind of writing — or, for that matter, any kind of work. Edwards offered this tidbit when he recently paid a visit to Yale Podcast Network's To Live and Dialogue in LA.
The insightful conversation delved into a number of topics including Edwards giving the scoop on the behind-the-scenes stories he's picked up from his many years as a celebrity profiler. Having written for New York Times Magazine and Rolling Stone, among others, Edwards has culled enough material for a number of books, three of which have focused on big Hollywood stars: Bill Murray, Tom Hanks, and River Phoenix. Below are some snippets from stories Edwards shared on the podcast.
Beware Screenwriters: Bill Murray Does What He Wants
When asked if he was able to talk with any screenwriters who worked with Bill Murray, Edwards mentions a couple but says the really interesting tidbit he gathered was from Jason Reitman, son of Ivan Reitman, who worked with Murray on a number of projects, including Ghostbusters.
"[Jason Reitman] does these wonderful live reads of screenplays," Edwards says. "And when he did Ghostbusters, he said that all of Bill's lines were improvised. It was remarkable. He's looking at the screenplay and… Bill's dialogue was just not there. And he went through a DVD [of the film] and transcribed it to be part of what they did. And he said it was basically like a mumblecore tone poem."
Edwards continues, talking about Murray's approach with scripts, "[Murray] got the idea of the scene, he knew what he was supposed to do and he sort of hit the plot marks and emotional marks but it as just one hundred percent his own language… Many movies he's done, he just shows up, looks at the screenplay for the first time… and says, "'OK, I get what you're trying to do here but now let's make it good.'"
Since Bill Murray can't be on everyone's set, let us help you write great movie dialogue from the get-go with this free guide.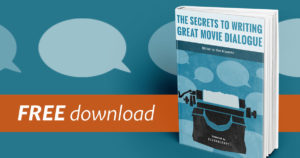 Learning About Life From Bill Murray
When starting his book on Bill Murray, Edwards was trying to decide what his approach would be, the thesis of it all. He had all of these fun and, perhaps, juicy wild tales of Murray but he wanted his project to be more than just a bunch of anecdotes.
"The thing with the Bill Murray book was that it's organized around… all these crazy Bill Murray stories," Edwards says. "He shows up at your party and washes the dishes or he steals a golf cart at 3 AM in Stockholm and drives around the city."
He continues with a laugh, "And everyone treasures these stories. And the more I looked into it, and eventually got to talk with him about it, it was like oh, he's not just doing this to be wacky, it's actually reflective of a philosophy. That he's secretly teaching us all how to live."
The Trick to Profiling
Edwards job has a bit of a detective-vibe to it; he's there to ask questions on a subject and dig deep. But all writing is writing, we're all coming at it from the same place, and Edwards role as a journalist/profiler is similar to a screenwriter tackling a biopic or true-life story. His advice on research is one to keep close to the chest.
"Ideally, I spend a good amount of time with somebody. I ride the tour bus for a couple of days. Or I sort of sit in the corner of their office while they're putting together a new TV show and just watch them taking phone calls and seeing what they're doing. Like when Stephen Colbert was first doing The Colbert Report, like, he's on the phone with Cheap Trick, explaining this is what I want out of the theme song."
Granted, Edwards has the luxury some writers won't have: an all-access pass, so to speak. But it's his philosophy on the material he gathers that really rings true for all. He says, "You know, ninety percent of it ends up not being useful but you get a moment that's really telling and really adds up to something."
First Impressions: The Importance of Your First Question
Say you're lucky enough, as a screenwriter aspiring to write a biopic or a film that involves events that happened to actual people, to be able to actually talk with someone involved. Perhaps even the person involved the most in what you want to write about. Edwards advice for approaching that interview: obsess over your first question. It's all in that first ask.
"When I'm sitting down talking to somebody," Edwards says, "The sort of rules of thumb — do as much homework as you can, so by the time I walk in, I should know everything that there is to know. If I could have seen all of somebody's movies… as much as that as I can. Let's not rehash what's already been done… let's have a deeper conversation than what we've had previously. So part of what that means [is] spending so long just figuring out what my first question is going to be. Because I feel like if you're a Hollywood actor, you do a lot of interviews. And I do a small number of interviews just as an author and I know how quickly it can get… on autopilot, when you get asked the same five questions over and over.
Edwards reiterates, "The first question… more than anything signals you can't do this one on autopilot."
---
Travis Maiuro is a screenwriter and freelance film writer whose work has appeared in Cineaste Magazine, among other publications.
---
For all the latest ScreenCraft news and updates, follow us on Twitter, Facebook, and Instagram.
Tags