From a Producer's Perspective: The Visual Deck
Now that we've covered how to find an idea, build relationships and develop an elevator pitch, it's time to consider how to build your visual deck. 
At its core film is a visual medium, so it makes sense that the best way to draw interest in your idea or screenplay is by using visual storytelling. When executed successfully, a great visual deck can establish the tone, characters and world of your project in a way that a solely written document cannot. As they say, a picture is worth a thousand words. 
David Kaufmann goes even deeper in his book, The Producer's Brain. Get it on Amazon now.
As a producer, your deck should include the following basic elements:
Cover Page: Think of your cover page as the beta version of what you'd like your movie poster to look like. In addition to choosing a great image, be sure that your cover includes the title of your project along with your name and contact information.  
Logline: A great logline is an important element of any project. Hopefully, in your creative development process, you've nailed it. There are many resources to help you write a logline, but it should summarize your project and its core dramatic elements in a sentence or two. 
Comps:  This is your opportunity to compare your project to those that are already in existence. Choosing good comps is the easiest way for a buyer or executive to understand how you envision your project. In addition to listing your comps, be sure to pull the movie posters and some screenshots from the projects mentioned to really drive the point home. 
Tone and Style: Your tone and style page is your opportunity to visually explain how your film will look and feel. Will it be bright and happy or dark and ominous? Will it be funny or serious? Using your comps as a guide, think about scenes in films and TV shows you've seen that will help you to visually tell your story. Find and include them in your layout.  
Whatever the tone and style of your project is, your deck should have a consistent look throughout that exudes it. If your project is an 80's period piece, consider using fluorescent colors throughout. If it's a horror project, consider a darker look. This applies not only to your color palette, but to the style of your fonts as well. 
Plot Summary: If you are pitching a film, your plot summary should be as short as possible. Shoot for 500 words or less. The summary in your deck should serve to whet the appetite for an executive to either hear your verbal pitch or read your screenplay. 
If you are pitching a TV series, this section may be a bit longer as you'll want to include a summary of your pilot as well as of your season one arc and beyond.
For the visuals within your plot summary, choose images that equate to what's happening. If there's a car crash in your cold open, find a great photo of one! 
Characters and Casting Ideas: Choose 3-5 main characters to highlight, focusing on your leads. Create a short description of each of them that allows a reader to get to know them. Think about what drives each character's decisions. What are their ultimate arcs and what do they learn along the way?  
If you are working on a true story, include photos of the real people and then include a separate page with casting ideas. If you are working with fictional characters, include photos of your top casting choices along with the character descriptions. 
Learn how to master character names and movie titles with this free guide.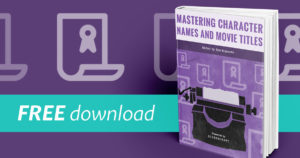 Target Audience: Think about who will come out to the theater to see your film. Focus on your core audience and explain why your film will appeal to them. Look up the box office totals for similar films and include them here to give a general sense of the marketplace. 
Potential Directors: If you don't have a director attached yet, consider 5-6 people that you'd love to bring on board. Providing a director wish list will further explain the tone and style of your project and give your potential partners ideas. 
Production Notes: Think about the basics of how the production will come together and include them here. This includes your estimated budget, filming locations, shoot days, and tax incentives.
Bios: Last but not least, be sure to include the biographies of your creative team. This is your opportunity to explain your backgrounds and why you are the ideal group to tell this story. 
Once you've compiled the above, it's time to think about building your layout.
If you've ever made a presentation using Powerpoint for school or work, congrats! You've got the skills to create a basic deck. Many more artistically minded people like using the Adobe Suite (InDesign/Spark), but Powerpoint works just fine. 
Your deck should be image first, meaning that the key component to each of your pages should be visual storytelling, followed by text. The best place to find pictures is through a simple Google Image search. 
It may take you some time to create a deck that looks and feels the way you want, but it's a game of trial and error. Use different images and move them around on the page until you like what you see. 
Don't be afraid to get feedback from friends and family as you work on your drafts. As a writer, you've likely gone through countless drafts of your script…your deck is no different. 
If you are intimidated by building a deck yourself, you can always hire a professional designer and provide them with all of the elements that you've compiled so that they can create a deck for you. 
Putting together a deck that really pops will allow a busy executive to quickly understand your film and why it matters. This will go a long way towards building the excitement and momentum that you'll need to achieve success.  
In the next and final blog on pitching, we'll explore how to prepare for when you are about to get in the room with a decision-maker. 
---
David Kaufmann is an independent film and television producer living in Los Angeles. He began his career as an NBC Page at Saturday Night Live. He spent over nine years handling film and television licensing and development at Major League Baseball where he helped create critically acclaimed films like Moneyball and 42. He has an undergraduate degree in Journalism from the University of Richmond and holds an MBA from NYU Stern with a focus on the media business and creative producing. He is an active member of the Producers Guild of America. For more on David, please visit his IMDB or LinkedIn.
---
For all the latest ScreenCraft news and updates, follow us on Twitter, Facebook, and Instagram.
Tags