From a Producer's Perspective: Relationship Building
In my previous blog, Finding An Idea, we discussed the elements that make up an undeniable concept. Once you've found your idea, it's time to think about the best ways to get it out into the world. The first thing you'll need is a strong set of relationships to help you on your travels. 
The old cliché that everything in life is about who you know holds a lot of truth. This can be discouraging to those who feel like they don't know the right people, but our relationships change and grow every day. You never know when you'll meet someone new.
There are lots of places to develop new industry connections, from conferences and film screenings to social media and universities. We live in an interconnected world. The concept of six degrees of separation is real. It's amazing how far a series of warm introductions will take you. 
Relationships are always a two-way street and successful collaborations come from shared goals and mutual respect. It takes time to develop a rapport with people and build a strong creative circle. To do so, hold tight to your core principles and be the type of partner that you'd like others to be for you. 
An introduction from a friend or agent, or a business card exchanged over a cocktail is just the start of your journey with a potential collaborator. Ideally, it will lead to a strong connection built on trust that elevates both of your lives and careers. In many cases, it's the partnerships created through the support of each other's goals during the hard times that are the strongest.
David Kaufmann goes even deeper in his book, The Producer's Brain. Get it on Amazon now.
Here are a few tips to consider when approaching a new professional relationship:  
1. Don't Lead With A Pitch
Unless your meeting has been set up by representation with the specific intention to pitch a concept, it's best not to begin your initial interaction by trying to pitch your idea. When you lead with a pitch, you are communicating that your primary purpose in getting to know someone is so that they can help you. This feels disingenuous. 
If an executive or new connection wants to hear about what you are working on, they'll ask. Your initial conversation should be about getting to know one another. Once that happens it will feel natural to start bouncing ideas off each other. 
2. Show Your Commitment To Your Craft
Success in creative fields comes from staying in the game and being committed to getting better every day. Everyone who has found a way to make a living in entertainment has had to struggle at some point. We all face problems as we try to push our projects to the finish line. 
If you successfully communicate that you are in this business for the long haul, others will be much more willing to spend time with you and help out. 
If you show that you are a hard-working, kind person with talent, you'll soon be the one overwhelmed with phone calls!       
3. Differentiate Yourself
There are a lot of outsiders looking into competitive industries like entertainment. Before you approach a new contact or begin a meeting, think about what makes you a new and unique voice. 
We all come from different places and live different lives, think about what makes you special and destined to be successful.  
4. Put Yourself In Their Shoes
Before you interact with anyone, think about what they might be dealing with. Consider what their ambitions are and how you fit in. Strong collaborations occur when goals and incentives align. 
The best way to find this type of fit is to think about what others are seeking and try to find ways to match your hopes and dreams with theirs. Develop a mutual support structure. 
Start by thinking about their needs ahead of your own and trying to find shared interests. If you become friends as you attack your creative pursuits together, that's even better.
Learn the best way to structure your screenplay with this free guide.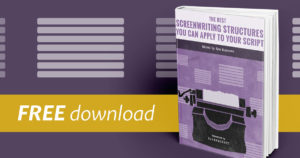 5. Be Respectful of Their Time
In modern society everyone is busy, so if you request time from someone be sure to use it wisely. Don't overstay your welcome or talk their ear off when you first meet. 
As P.T. Barnum said… "Always leave them wanting more."
6. Keep in Touch and Be Helpful
Great relationships are formed over time. No one becomes best friends over a cup of coffee. If you hit it off with someone, be sure to follow up in a thoughtful way (for more tips on how to do this, check out my blog of follow-up strategies). 
If you find a way to be helpful to your new contact, be sure to do it. The more favors you do for others, the more favors they'll do for you.
Every relationship is different and there are no universal rules for how best to get to know someone. By being considerate and emotionally intelligent in all of your interactions, you'll be well on your way to developing a great network. 
Next time, we'll dive into how to build and deliver your elevator pitch.
---
David Kaufmann is an independent film and television producer living in Los Angeles. He began his career as an NBC Page at Saturday Night Live. He spent over nine years handling film and television licensing and development at Major League Baseball where he helped create critically acclaimed films like Moneyball and 42. He has an undergraduate degree in Journalism from the University of Richmond and holds an MBA from NYU Stern with a focus on the media business and creative producing. He is an active member of the Producers Guild of America. For more on David, please visit his IMDB or LinkedIn.
---
For all the latest ScreenCraft news and updates, follow us on Twitter, Facebook, and Instagram.
Tags