From a Producer's Perspective: Finding an Idea
In my last blog, Pitching Your Story, I walked through the various stages of the pitch process. Over the following weeks, I'll break down each one in more detail, starting with the primary element of your pitch… your great idea. 
David Kaufmann goes even deeper in his book, The Producer's Brain. Get it on Amazon now.
Without a great idea, you will likely fail. It's the most core element to any project. So how do you find one?
In my experience, it's extremely difficult to go searching for an incredible idea. The best thing you can do is to keep your antennae up and pay attention to things that inspire and excite you. Be curious. If you live an interesting life, you'll be more likely to find cool things. When something strikes your interest, explore it. Research it and continue to learn until you have a creative vision for a story.
Once you think you've found something, you can analyze it by asking yourself the following questions:
Are You Passionate About It?
If you decide to take on a film project, you'll be committing years of your life to it. It's hard to push an idea to the finish line and you'll need to be the driving force behind it to get it made. The first person you need to sell on your idea is yourself. If you aren't 100% committed and ready to be told "NO" 100 times while waiting for a "YES," keep looking for something you feel more strongly about. 
As you look inside yourself to determine if you truly believe in your idea, think about why you are the right person to tell this story. Why will your creative voice elevate your idea to a place that no one else will reach? 
Consider if you have a personal connection to the material. If you do, it will help you keep going when times get tough. A personal connection will also pay dividends as you start to pitch your project to others. It will allow them to see your passion and understand why you are the unique creative voice to make it a reality. 
Learn how to write great movie dialogue with this free guide.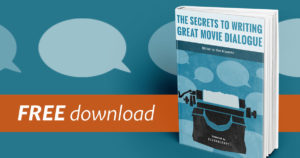 Does It Have an Audience?
Simply being passionate about an idea is not enough. We make films for others, not ourselves, so it is important to determine if your idea will be exciting to an audience. 
Think about who would choose to watch your film or TV show and analyze how it might be marketed. If you have a friend who fits your target demographic, mention your idea and see how they react. Consider other similar projects and do a search to see how they did at the box office or their ratings.
Analyze the budget of your project balanced against the size of your potential audience. Do a quick back of the napkin calculation. If the numbers seem like they add up, ask yourself the next question…
Does It Fit the Zeitgeist?
Now that you've determined that your idea is both exciting to you and a potential audience, it's time to think about how it fits into the general state of the world. Why is this an important story to be told now? 
Is it because it tackles an important social issue, or will it serve as escapism for a wary public? How will your audience feel after they've seen it? Why does your idea matter in 2019 and beyond? 
These can be difficult questions to answer. My personal feeling is that in order to sell your idea, you need to make sure that you have something to say that matters, even if it's just in subtle subtext.  
Does It Have Great Characters?
Successful projects have great characters. I'm a big believer that we choose to consume film and television programs to feel less alone in the world. We all have characters that we relate to on screen. This helps us to understand that others are dealing with the same problems and moments in life that we are. 
Think about who your characters are at the start of your story and what they might learn by the end. Do the characters in your story change and grow over the course of the narrative? Do they have the potential to? Are they interesting? Will they be appealing parts for actors? 
Fully developing and nailing your character's journeys will be the core point of execution as you develop your idea. You don't have to have all the answers to these questions at the idea stage. You just need to know that they exist within your story. 
Is it Cinematic?
There are a lot of interesting stories in the world about great characters. For your idea to become a film or television show, you need to determine if it makes sense as one. 
Film is a visual medium, so it's important that your story will be elevated through this particular art form and not as a podcast, novel, or magazine article. Think about what your idea will look like on film and why audiences will be excited to watch it on a large screen. Where will it take them visually that they've never been before?
If you are passionate about an idea that's relevant and cinematic with strong characters and audience appeal, you've probably found something great. This doesn't happen often so don't be discouraged if it takes a while to check all of these boxes. After all, it just takes one amazing idea to change your entire career!
Next time, we'll examine how to build the relationships you'll need to have your undeniable ideas heard. 
---
David Kaufmann is an independent film and television producer living in Los Angeles. He began his career as an NBC Page at Saturday Night Live. He spent over nine years handling film and television licensing and development at Major League Baseball where he helped create critically acclaimed films like Moneyball and 42. He has an undergraduate degree in Journalism from the University of Richmond and holds an MBA from NYU Stern with a focus on the media business and creative producing. He is an active member of the Producers Guild of America. For more on David, please visit his IMDB or LinkedIn.
---
For all the latest ScreenCraft news and updates, follow us on Twitter, Facebook, and Instagram.
Tags