From a Producer's Perspective: Following Up
Whether you've just finished an interview, a pitch, or a general meeting, the end of that dialogue is just the beginning of what will hopefully be a new and fruitful relationship. In order to keep the conversation going and to continue to build upon your discussion, it's important to develop a sound follow-up strategy, especially when you don't receive a response right away.
The faster that you can move from the preliminary stage of getting to know someone to collaboration, the better your new relationship will develop and the closer you will come to landing a job, selling a pitch, or simply earning a new friend.
Here are some tips on what to do after you've nailed your initial meeting.
1. Record Your Thoughts
When you return home, take a few moments to write down some notes about what was discussed. Did you agree to provide any deliverables or speak about next steps? Were there any particular points of interest that came up in conversation or commonalities that you shared?
By keeping a record of the conversation while it is still fresh in your brain, you will have lots of information to harken back to during a second meeting or within your follow-up note.
2. Write a Thank You
It's a blessing whenever someone agrees to gift you with their time, especially in the entertainment industry where schedules are often tight. This is why it is important to always write a thank you note after a meeting.
In addition to being courteous, your thank you note is also an opportunity to clarify things that may have come up in the conversation, provide an answer to a question, or send over a deliverable that was discussed. Your thank you note should also include a next step to help you keep the conversation going.
Your thank you note and any correspondence going forward should always be about how you can help them and not the other way around. Also, remember to be as concise as possible.
Learn how to train yourself to be ready for screenwriting success with this free guide.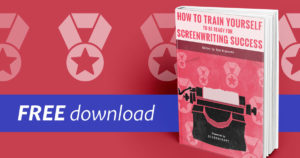 3. Mark Your Calendar
Depending on the nature of the meeting, you may or may not receive a response to your thank you note. For job interviews, you often won't. Regardless, after you've sent your note, make a notation in your calendar of a date to send a second follow-up in the case of a non-response. I usually target 10-14 days from the initial meeting also taking into account holidays, travel schedules, events, or other timing issues that might come up in the meantime.
The important thing for a second follow-up note is not to send it too soon or too late. If you are incessantly following up with someone before they've had a chance to read your deliverable or have an internal conversation, you can undue a lot of goodwill. At the same time, if you wait too long to follow up again the moment may pass. It's very much a Goldilocks scenario and about two weeks always seems like a right timeline to me.
4. Write a Second Follow-Up
When it comes time to write your second follow-up, don't simply restate the points in your thank you note or write something like "checking in," especially if it is after a job interview.
Go back to your notes and think further about what was discussed and make a new point or ask another question. If you make your second follow-up message add value, you'll be more likely to receive a response.
After writing your second follow-up, mark your calendar again and plan for a third value-adding note.
5. Read the Tea Leaves
Hopefully, you'll have had some successful back and forth shortly after your meeting. If after three attempts you aren't getting anywhere, it's time to read the tea leaves.
Before you totally give up hope, consider if the person that you are trying to reach is an email or a phone person. Sometimes if you've sent multiple emails, it might make sense to try calling once. Some people simply don't manage their email inboxes well and your notes may have fallen through the cracks.
If you are inquiring about a job interview or a pitch and you haven't received a response after three emails and a call, it's safe to assume the answer is no. Many people don't like to deliver bad news, so they choose simply not to respond.
6. Let Time Pass
If nothing has come after your meeting and you'd still like to try to continue the relationship, it's time to let it go for now. Allow a few months to pass so that both sides can clear the air of any perceived rejection.
Once time has passed, if you'd like to try to reach out again keep your eyes open for the right opportunity. Perhaps there is a piece of exciting news about their company or a news article they might find interesting. This is a good opportunity to reach out to try to rekindle the relationship.
Often times by reaching out with new information or to discuss good news, it's an easy way to convey "no hard feelings" about a job rejection or pass on a project. This will allow you to start again from square one.
In a best-case scenario, you'll always have a scintillating back and forth right after your meeting, but if not, these follow-up strategies should help to ensure you give yourself the best chance to kick off a great new relationship, even if it takes some time to move the conversation forward.
---
David Kaufmann is an independent film and television producer living in Los Angeles. He began his career as an NBC Page at Saturday Night Live. He spent over nine years handling film and television licensing and development at Major League Baseball where he helped create critically acclaimed films like Moneyball and 42. He has an undergraduate degree in Journalism from the University of Richmond and holds an MBA from NYU Stern with a focus on the media business and creative producing. He is an active member of the Producers Guild of America and is the author of the book The Producers Brain. For more on David, please visit his IMDB or LinkedIn.

---
For all the latest ScreenCraft news and updates, follow us on Twitter, Facebook, and Instagram.
Tags