Comedy Writing Wisdom from Mindy Kaling
What can comedy writers learn from the screenwriting wisdom of prolific comedy writer, showrunner, producer, and actress Mindy Kaling?
Born Vera Mindy Chokalingam, Mindy Kaling (as we know her now) was born in Cambridge, Massachusetts June 14th, 1979.
Kaling was never referred to as Vera. Since her mother was pregnant, she's been called by what they felt was a cute American name, Mindy, inspired by the classic sitcom Mork & Mindy.
She graduated from a Cambridge private school — Buckingham Browne & Nichols — in 1997, and then entered Dartmouth College. It was there where her comedy roots truly started. She became a member of the improvisational comedy troupe The Dog Day Players, as well as the a cappella group The Rockapellas.
Kaling created The Dartmouth (the school newspaper) comic strip Badly Drawn Girl and was also a writer for the Dartmouth Jack-O-Lantern, which was the college's humor magazine.
When she was just a 19-year-old sophomore at Dartmouth, Kaling interned on Late Night with Conan O'Brien.
She graduated from Dartmouth in 2001 with a bachelor's degree in playwriting and moved to Brooklyn, New York where she would delve deeper into comedy by becoming a stand-up comedian.
She created her stage "Mindy Kaling" when she saw emcees having trouble pronouncing her last name Chokalingam — they'd sometimes even make jokes about it.
In August 2002, Kaling portrayed Ben Affleck in a celebrated off-Broadway play Matt & Ben. She co-wrote it with Brenda Withers, her best friend from college. Brenda took on the role of Matt Damon.
Time magazine named the play as one of the Top Ten Theatrical Events of The Year. It was also "a surprise hit" at the 2002 New York International Fringe Festival.
Some of her early comedy influences were Dr. Katz, Saturday Night Live, Frasier, and Cheers.
When Greg Daniels was developing an American version of the BBC TV series The Office, he hired Kaling as a writer-performer based on a read of a spec script she wrote.
Kaling was just 24 years old st the time and was the only woman on a staff of eight. She also took on the role of Kelly Kapoor in the series's second episode, Diversity Day.
The writing staff and producers of The Office — including Kaling — were nominated five consecutive times for the Primetime Emmy Award for Outstanding Comedy Series. She received a nomination for Outstanding Writing in a Comedy Series in 2010 with Greg Daniels for the episode Niagara.
After her run in The Office came to a close, Kaling pitched a single-camera sitcom to Fox entitled The Mindy Project, which she would go on to write and produce. The series went on the air in 2012.
The critically-acclaimed series was canceled by Fox in May 2015 but was later picked up by Hulu for a 26-episode fourth season and a 16-episode fifth season. The series ended on November 14, 2017.
That same year, NBC ordered the show Champions, with Kaling as a co-creator, writer, and producer. The series would only last one season.
In 2019, Kaling created the Hulu series Four Weddings and a Funeral, based off of the 19994 iconic romantic comedy feature of the same name.
Beyond her writing and acting work in TV and movies, Kaling is also a best-selling author for her memoir, Is Everyone Hanging Out Without Me? (And Other Concerns), and her second book Why Not Me?. Both were on the New York Times best-seller list with the second launching at the Number One spot.
Here we feature some of Mindy Kaling's best quotes on writing, along with some of our own elaboration on the wise points she makes.
"I'm not good at anything except writing jokes. I wasn't good at sports, I wasn't good at anything artsy, ever. I think there was a real worry for a while about what I would be good at. I was just this chubby little Indian kid who looked like a nerd."
No matter what you look like or how the world is making you feel, there's a place for you in life. If you're good at writing comedy, drama, action, suspense, or horror, roll with it. People will tell you how difficult it is to make a living as a writer, but it's the ones who know what they're good at and reject the outside warning voices that make it in the end.
"I never want to be called the funniest Indian female comedian that exists. I feel like I can go head-to-head with the best white, male comedy writers that are out there. Why would I want to self-categorize myself into a smaller group than I'm able to compete in?"
Comedy isn't about race or gender. It doesn't matter what your background or heritage is — when you write comedy, it's for the masses. We all laugh the same. We all find different voices from different walks of life funny. Why categorize anyone's comedy? Just write what you think is funny and the audience — of all race and gender — will follow.
"Live performance really terrifies me. I haven't done it, really, in years. I think that's why I retired from my brief career in stand-up."
Not every great comedy writer comes from a successful stand-up career. This is perhaps one of the biggest misconceptions of the comedy writer — the notion that you have to build your way up through the stand-up comedy circuit.
If stand-up isn't your thing, don't worry. All that you need to do is write excellent comedy samples for the industry so that they can gauge your comedic voice.
"It used to be that you had to make female TV characters perfect so no one would be offended by your 'portrayal' of women. Even when I started out on

The Office

... we could write our male characters funny and flawed, but not the women. And now, thankfully, it's completely different."
The best and most hilarious characters — male or female — are flawed. And thankfully the changing times have offered writers more freedom with their female characters, leading to some of the most dynamic performances delivered by talented actresses working from brilliant comedy writing.
Learn how to master character names and movie titles with this free guide.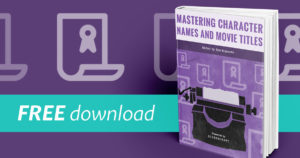 "I feel like the high-concept shows that have some kind of gimmick tend not to be the hit classic shows of all time."
Gimmicks only last so long. They grow tired. It's well-conceived and well-written characters that elevate gimmicks into classic shows.
"I regard romantic comedies as a subgenre of sci-fi, in which the world operates according to different rules than my regular human world."
Ah, the art of writing romantic comedies. Too many forget that the rules of those worlds are different from the rules in our regular human world. That is what is so great about the subgenre — when done well.
"I have a thick skin, which comes from being a not-really-skinny, dark-skinned Indian woman. I haven't fit in every place, and so I'm kind of used to resistance."
You have to have a thick skin as a comedy writer — or any kind of writer. We all have unique traits, and some of those traits may seem like setbacks to others.
Your skin thickens because of those viewpoints, allowing you to move through the adversity you must face because of race, gender, age, class, or geographical location as a writer.
Get used to the resistance because it's going to be aplenty. Embrace it and let it fuel you to want to prove every naysayer wrong.
"Comedy writers have the most fragile egos."
Comedy is the most difficult genre to write. Different audience members have different types of humor that they respond — or don't respond — to.
So you may write what you believe is a hilarious feature, skit, or pilot episode, only for it to be received coldly by those that read it.
Don't worry about pleasing others. Write what makes you laugh and keep getting your work out there until someone starts laughing. Once you find your comedy voice's champion, the rest will work itself out.
"I just have my characters say my controversial opinions and then hide behind them."
You can use your characters as avatars for your own voice, your own opinion, and your own perspective. That's one of the great freedoms of being a writer.
And since the world needs to hear from a wide variety of people, with varying beliefs and outlooks, film and television are vital to that global need.
"I was always a silent comedy nerd. I would stay up late and sneak downstairs to watch

Saturday Night Live

and

Kids in the Hall

, and things like that. Very early on, my parents realized that I was not going to be an engineer or a doctor. I just don't have those inclinations, at all."
Embrace your passions, even if they go up against what others around you believe is best for you. If you're a comedy nerd that loves to write funny stories, just focus on being you and trust that the universe gave you this passion for a reason.
"It would be disingenuous of me to blanket-ly love everything a woman has produced simply to make a statement that we're all in this together. No. We're in Hollywood trying to be competitive, and get numbers, have our eyes on the Nielsens, and things like that."
While all writers need to champion the many examples of diversity on the rise, just being part of one group isn't good enough to warrant a chance in film or television. The work has to be amazing. The work has to stand out. Writers aren't entitled to a chance because of whatever group they identify with — the work has to be outstanding, so push yourself to be the best possible writer you can be.
"Write your own part. It is the only way I've gotten anywhere. It is much harder work, but sometimes you have to take destiny into your own hands."
If you're talented enough to be both a writer and performer, write something for yourself. So many talented writer-performers have gone on to succeed because they wrote something for themselves.
Hollywood is always looking for the next great voice and the next great character. Why not shock the world and be both?
"I think luxuriating and thinking that you feel successful feels like a little bit of hubris. And in comedy, the minute a character starts thinking they're celebrated is the minute when something terrible happens to them."
Remain humble. When success comes and your star seems to be on the rise — and when you're getting the meetings, getting representation, and getting the notice that you've craved for — always remain humble and expect that it all could fade away as fast as it came.
This keeps you level-headed and keeps your head out of the clouds. It's very easy to take contest wins and positive response for granted. Don't fall into that trap.
Be confident, but void of ego. And always hope for the best but expect the worst. That's what will help you survive the grind of being a writer.
"I went to Dartmouth and I took playwriting, but I felt that I pretty much learned nothing from playwriting in college. I think the classes I took in terms of writing didn't help me. It's not that the classes were bad. It's just that wasn't the experiences that helped me. It was writing short plays for my friends to perform, because that's when I got to see, 'OK, what do actors like to say. How do actors do well?'"
Classes can only take you so far. And in Hollywood, degrees in writing or screenwriting don't matter.
You learn best by writing and experimenting with your writing.
Read ScreenCraft's Screenwriting Wisdom from the Late Nora Ephron!
---
---
Ken Miyamoto has worked in the film industry for nearly two decades, most notably as a studio liaison for Sony Studios and then as a script reader and story analyst for Sony Pictures.
He has many studio meetings under his belt as a produced screenwriter, meeting with the likes of Sony, Dreamworks, Universal, Disney, Warner Brothers, as well as many production and management companies. He has had a previous development deal with Lionsgate, as well as multiple writing assignments, including the produced miniseries Blackout, starring Anne Heche, Sean Patrick Flanery, Billy Zane, James Brolin, Haylie Duff, Brian Bloom, Eric La Salle, and Bruce Boxleitner. Follow Ken on Twitter @KenMovies
---
For all the latest ScreenCraft news and updates, follow us on Twitter, Facebook, and Instagram.
Tags