8 Big Takeaways from BLACK PANTHER Screenwriter Joe Robert Cole
On a recent episode of The Q&A podcast, Jeff Goldsmith interviews Joe Robert Cole, co-writer of Black Panther, the first comic book movie ever to be nominated for a Best Picture Academy Award. 
Cole wrote the screenplay for Black Panther with the film's director Ryan Coogler, based on the comic book characters created by Stan Lee and Jack Kirby. But getting the job writing this groundbreaking script wasn't easy. 
His first career break was writing the shooting draft of ATL in 2006. But due to WGA arbitration, he is uncredited. His official writing/directing debut was 2011's experimental film Amber Lake he made on a budget of just $50k. 
Cole was then invited to join the Marvel Writers Program, he calls, "Kind of like a development deal," where he wrote three scripts in two years. Black Panther was not one of them.
Listen to the podcast here:
1. Lessons from studio system.

 
Surprisingly, Cole found the people at Marvel to be, "Quite open-minded, smart note givers. [Producer] Kevin's [Feige] notes were, 'Be more personal. Tell the story you guys want to tell.'" Cole adds there was no mandate of what characters he and Coogler could use. 
But it was the concept of "wish fulfillment" that most influenced Cole. "[Wish fulfillment] is this idea that you come to a movie with a certain expectation as a viewer, particularly with a superhero movie. Whatever version or type of movie you're making, it's about trying to satisfy that wish fulfillment within the parameters of what you're working on. That allows you to have a level of creativity where your movie doesn't have to be the same movie over and over again. If you look at Marvel movies, they're all different types but they all trigger that wish fulfillment."
Cole says "wish fulfillment" came up in the notes from Marvel. "When you get notes you have to look at the note beneath the note and go, 'Oh, I get where they're directing me,' It was always to experiment with this."
2. Getting the job.
Cole says Marvel reached out to him along with several other writers to pitch their take on a possible standalone Black Panther movie. He was thrilled to get the chance to pitch his ideas, but the call came a pretty busy time in his life. He was co-producing and writing for The People vs. O.J. Simpson: American Crime Story.
"Truthfully," says Cole, "I really wanted an opportunity to write [Black Panther] and was really excited about the chance to do it." He says he didn't mention the possible job to anyone because he's superstitious and didn't want to jinx his chance. It worked!
3. Writing process.

 
Once he was hired Cole says he had lots of conversations with Coogler about Wakanda as both a concept and cinematic world.
"How do we show what Wakanda is? We do it through characters and relationships. How do we want to describe T'Challa? Let's do it through the family. How do we want our villain or antagonist to affect him? How can we do that in personal ways? So it was a lot of conversations that started with these overarching themes that we wanted to explore."
Once he and Coogler felt they were on the same page about Wakanda, Cole created a beat sheet. "I like to have order. I like to know what my scene list is and have my tent posts that I want to try and hit. Then I do a vomit draft."
He said the whole process took a good amount of time because, "We were world building." He and Coogler also didn't always work in the same room together. "We Facetimed and sent stuff to each other. [Coogler] would write the first act and then I would take a crack at 2a and we'd send them back and forth." He gives Coogler a lot of credit, saying "There was no hierarchy – you just work on it. There were no egos. We were writing all the way through preproduction." 
4. The women of Wakanda.

 
Cole says her took inspiration for characters like Nakia, Okoye, and Shuri from real women he knew.  
"Ryan and I have both had wonderful women in our lives and that resonated with us on a personal level. We also leaned on the women that were part of the production. [Producer] Victoria Alonso, our actresses. We asked questions – know what you don't know. Also our family, my grandma's my idol. So much of the man I am comes from trying to emulate the woman she was. But we didn't do it alone. Those actresses who breathed life into the characters had a tremendous amount of input." 
Will you be nominated for an Academy Award one day? Learn everything you need to know about screenwriting contests, competitions and fellowships with this free guide.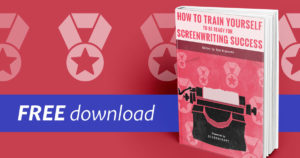 5. An antagonist called Killmonger.

 
Through Killmonger, Cole says he wanted to explore the relationship between Africa and African-Americans. 
"African-American men feel disconnected from the continent and often our history is misrepresented. Frustration, anger, confusion – we wanted to explore what the dialogue between Africa and African-Americans is. Search through that terrain. We wanted to find a version of our antagonist that could really affect our protagonist in a meaningful, personal and emotional way. The best villains can really affect your hero. Making it family – what's more personal than that? You get those little pieces and try to find the connective tissue. We knew we were going to start in Oakland as a bookend. They didn't give a mandate that we had to use the characters as they are in the canon."
Because of that, there were able to choose which characters to include and even reimagine them. Most importantly, they wanted to create an antagonist the audience could connect with and understand why Killmonger feels the way he does. 
6. Finding the right ending.
For Cole, the ending had to be part of the wish-fulfillment factor. "You want to have the action and fighting, but the most effective films have the emotional battle. The one-on-one battle is the one that affects us the most. We tried to balance the two and there were a lot of characters to service. You want to give everyone their moment." 
One question Cole asked himself was, "What version of this heroic character is too much? We knew that T'Challa and Erik were going to be battling in the mine. It's really [figuring out] the mechanics of getting them down there and [getting] everyone else there. 
7. Most personal moment.
Cole says he loved writing the scenes that take place in the "ancestral plane." It helped him to connect with his ancestors whose identity he didn't know, but also, "I didn't grow up with a father so those scenes were very emotional for me."
8. Toughest scene.

 
Though he couldn't choose the one scene that was most difficult to write, he did say he put a lot of time and effort working through the ending. "Those later debates and the philosophical nature of those scenes that need to also be emotional. [I was] really trying to make that work. [It was] trial and error, keep working at it until you get it."
Tune in to the Oscars on Feb. 24 to see if Black Panther wins the Best Picture award.
---
Shanee Edwards graduated from UCLA Film School with an MFA in Screenwriting and is currently the film critic for SheKnows.com. She recently won the Next MacGyver television writing competition to create a TV show about a female engineer. Her pilot, Ada and the Machine, is currently in development with America Ferrera's Take Fountain Productions. You can follow her on Twitter: @ShaneeEdwards
---
Photo credit: Alberto E. Rodriguez/Getty Images for Disney
---
For all the latest ScreenCraft news and updates, follow us on Twitter, Facebook, and Instagram.