6 Filmmaking Lessons from THUNDER ROAD Writer/Director/Star Jim Cummings
Jim Cummings, whose film Thunder Road is somewhat-inspired by the Bruce Springsteen song of the same name, isn't the first person to romanticize the Boss and allow his words to fuel his creativity. (Take it from me as someone who was born and raised in Jersey, romanticizing the Boss is like an unwritten law.) But Cummings, though he may be one of many inspired by Bruce, uses his inspiration in one of the more unique ways, which is all on display in the film. But the movie manages to hit you in the same way Springsteen's songs hit you: funny and tragic, just like real life.
Cummings recently sat down for an interview with The Filmmakers Podcast, hosted by Giles Alderson and Christian James, during which he discussed a number of topics and the making of his film (both short version and feature). Below are some stand-out moments.
ScreenCraft is proud to sponsor this episode of The Filmmakers Podcast, which you can listen to, subscribe and learn more about here.
1. Collaboration can spark your career.
Film, of course, is a collaborative art form. But most artists can be insular by nature. But it's worth stepping outside your comfort zone and not just meeting other filmmakers but putting your heads together and creating — as Cummings found after college.
"I had taken directing classes at a college in Boston for four years and graduated and realized that no one was going to hire a 21-year-old to direct anything," Cummings remembers. "And so I started producing for friends of mine who were doing hand-drawn animation and sketch comedy that was doing well on Vimeo or YouTube… and I was doing stuff for very terrible rates, very small budgets but we ended up making a kind of studio. I was able to jump between different productions and we were making music videos for this rapper named Lil Dicky in Los Angeles and then making animations that would do the festival circuit. We were very lucky; we ended up betting on ourselves, focusing on the craft, doing cool stuff. And in doing so, we met filmmakers all around the world who were making bigger stuff like feature films and giant commercial campaigns and so I was able to make ends meet that way."
2. Casting the best person for the role — even if it's you.
"I was planning on just directing it," Cummings says of the short and feature that he stars in. "There was another actor who I was buddies with who looks a lot more like a police officer than I do… and I workshopped with him for a bit and when he was doing it I realized it just wasn't funny. It was just really tragic. And I was like… I think it could be kind of funny, kind of Alan Partridge-style, interrupting himself and non-sequiturs and being able to see how the cogs work inside this character's brain. And so I filmed myself on an iPhone and was like I'll just show you kind of what I'm thinking and I sent it to the cinematographer and the producer for the short and they cut out the actor from the email and were like, no dude, you have to do it, this is great… and I started to grow my mustache out the next day."
3. Navigating the challenges of acting-directing.
Cummings is hardly the first director who also has stepped in front of the camera and he won't be the last. It was only last year that Bradley Cooper was wowing us as a multi-hyphenate. For Cummings, the challenge of balancing multiple gigs wasn't that daunting. In a way, it was almost natural.
"I just feel like acting is self-directing anyway," he explains. "It's like anytime I'm in the frame, I'm thinking about how much I should turn so the camera can see me and if somebody's walking in front of me how much they're gonna block… and you know, I really trusted people behind the camera and so that's really helpful… I can trust them to make it great so when I come back behind the monitor and I'm like, I think I got it, I think that was the best performance I'll do, and they go, 'I think we got it', then I'm like 'cool, we can move on, we don't have to watch playback, that's good.' It's taken years to do that, but it's nice to have that now."
Learn how to write great movie dialogue with this free guide.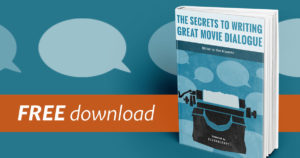 4. Using Pixar as inspiration for tone.
Cummings' film walks a fine line between tragic and comic and manages to weave seamlessly between the two — kind of like real life, in a way. The filmmaker credits Pixar movies, particularly Inside Out, for teaching him that art of tonal balance.
"I write it out loud and the goal is to make the audience laugh and cry at the same time or like weave between the two of them," says Cummings. "That's like getting the full breadth of the brain. It's like tapping different lobes of the brain and engaging audiences completely… Pixar movies do that really well. There's this great scene in Inside Out that I won't ruin for most people but there's a really wonderful scene of self-sacrifice and it's a set-up and a payoff like a punchline, except it's incredibly emotional and then it ends with one of the characters saying, 'Good-bye, Bing Bong!' And it's the dumbest name ever, so you're like crying your eyes out and then… this line… and you're laughing again… That's so difficult to craft… And you see that in Pixar movies. So I was like, cool, I'm gonna make little live-action Pixar movies."
5. A Populist financing.
"Winning Sundance with the short film it didn't qualify us in Hollywood at all," Cummings admits. It wasn't the big break he was hoping for. At least not in the way we've read about since the '90s when ultra-low budget films were making splashes and catapulting directors into stardom and success.
"People didn't take us seriously," Cummings goes on to say. "We knocked on doors… trying to get financing to make the feature for very little money… $200,000 that we were trying to raise. And people said, well, make it a six million dollar movie and come back to us — for whatever reason… I guess when we were no longer their subordinate, nobody wanted to help us. But it really qualified us as creators with the public… We had put the short film on Vimeo and it had gotten a decent amount of viewership and so like the public really loved it and so we were able to raise what we were asking for on Kickstarter in the first 24 hours… Because of the success of the Kickstarter, we had strangers reach out to buy percentages on the back-end… and so we sold off percentages of the movie for twelve grand a piece… and that's how we gap financed the movie."
6. The blessing of Bruce — the film's ultimate inspiration.
Not only was the film (both short and feature) named after one of Bruce Springsteen's more well-known songs, but the song itself features heavily, as the main character does a sort-of eulogy karaoke to it. Cummings initially went the "ask for forgiveness later" route, using the song and then contacting the necessary people later.
"It was mainly social censorship," he explains. "It was mainly friends and family and the public being like 'this is the dumbest thing that you could do, you didn't get permission… you should've gotten permission beforehand, this is what they teach you in film school, you're an idiot.' I was like, 'okay, yeah, I get it, I'm an idiot, but I've made the thing and it's doing well at this film festival and I don't know what to do.' All I wanted was this thing to be online for free… And so I called [Bruce's] lawyer and talked to her. And she wasn't upset at all, she got it. And she was just kind of like, 'Oh, I see. Yeah, I wish you had reached out beforehand.' And I was like, nobody would talk to me beforehand… and then he eventually saw it and was fine with it. And I wrote an open letter and they said yeah, you can put it online, just give us a $1,000 and just put it on Vimeo and you can only have it on Vimeo… It's a love letter to the guy's music."
Listen to the podcast below.
---
Travis Maiuro is a screenwriter and freelance film writer whose work has appeared in Cineaste Magazine, among other publications.
---
For all the latest ScreenCraft news and updates, follow us on Twitter, Facebook, and Instagram.
Tags