6 Features That Started Out as Short Films
How does a short film turn into a feature-length film? These six films did it right.
Short films are an accessible way to tell stories and develop filmmaking craft before committing to a financial investment like a feature film. A great way for emerging filmmakers to build interest or bring investors on board for a project is to create a proof of concept. A trailer could work if you've already got a few projects under your belt, but a short film could show the industry what you're made of.
It's also a great academic exercise to compare short films with the feature films they inspired. Let's take a critical look at what was essential to the story and characters in short form and compare it to what was done with a bigger budget (see: Whiplash below). 
Here are 6 short films that became awesome features.
Whiplash
Written and directed by Damien Chazelle, Whiplash started out as a 2013 drama short film that premiered at the 2013 Sundance Film Festival where it won the Short Film Jury Prize. The feature film adaptation won three Academy Awards. You could say it captured some attention.
Both films star J.K. Simmons — in fact, the short is a scene nearly word-for-word from the feature script. Watch a comparison of the two side-by-side to see how similar and how different they are, from lighting and location to shot selection.
Whiplash is a great example of how a short film should start late and leave early. It doesn't require the same conclusion that the feature film needed to satisfy audiences. It's also a great example of how feature films often contain segments within them that could be their own individual story.
Read More: Write Your Short Film in 7 Days
Obvious Child
Gillian Robespierre first made the Obvious Child short film in the winter of 2009. "​​We were frustrated by the limited representations of young women's experience with pregnancy, let alone growing up. We were waiting to see a more honest film, or at least, a story that was closer to many of the stories we knew. We weren't sure how long that wait was going to be, so we decided to tell the story ourselves," she wrote on the Kickstarter page for her feature film in 2014.
The short starred Jenny Slate (as would the feature) and did well online — sadly it is now password protected on Vimeo — and in a festival run. "But what was even cooler were the conversations the movie ignited," Robespierre reflected. "That truly encouraged and inspired me to expand to feature-length, to share this film and these conversations with even more people around the world."
The short served as a proof of concept that earned the filmmakers some funding from producers and grants. The crowdfunding campaign covered the rest. The feature film would go on to enjoy its world premiere at Sundance and earn a Critic's Choice Award for its lead, Jenny Slate (a loving reminder to actors to take a chance on short filmmakers — you never know where the road may lead).
Diversion → Fatal  Attraction
In 1979, writer-director James Dearden made waves with his short film Diversion. It resulted in a commission from Paramount to create the feature film Fatal Attraction — 1987's second-highest-grossing film and the recipient of six Academy Award nominations. In April 2023, Fatal Attraction will debut as a television series, proving that you can't keep a compelling story down. 
Read More: 10 Great Short Films You Can Watch Online Right Now
Marcel the Shell with Shoes On 
Marcel started out as a series of short films in 2010 about an endearing little shell and his curious life. Written by director Dean Fleischer-Camp as well as Jenny Slate (who voices Marcel's tiny, precious little voice) and Nick Paley, the mock documentary became a feature film in 2021 that rose to critical acclaim and was nominated for the Academy Award for Best Animated Feature.
Monster → The Babadook
Jennifer Kent's first feature film, The Babadook, was another Sundance premiere — and a critical and commercial hit. Inspired by her 2005 short film, Monster, which Kent has referred to as her "baby Babadook."
The short has similar themes and concepts as the feature would later display, but it's much more simple in its execution (including the black and white cinematography).  
The passion for horror films is alive and well, unlike many of the villains and victims in them — and you can tell a scary film in under a minute (watch this nightmare fuel) — so if you've got a scary feature on the brain, a short version of it might be the best way to sell it (just ask the creators of Saw).
Read More: How I Learned to Stop Worrying and Love Horror Movies
Shiva Baby
Writer-director Emma Seligman's 2018 short film about a girl running into her sugar daddy (and his family) at a shiva was her thesis project while studying film at New York University Tisch School of the Arts. The short film premiered at South by Southwest in 2018, motivating Seligman to adapt the film into her directorial debut in 2020. 
The feature received a very positive critical reception and received many notable awards and nominations, including the Independent Spirit John Cassavetes Award.
---
Shorts aren't just great proofs for features — they can also be developed into television series. Broad City and Insecure both started out as online web series — and let's not forget where Ted Lasso began. With filmmaking equipment becoming so accessible, it's a great idea to create your own content to get some traction going. Writing and filming (and, honestly, editing) a short will also make you a better writer, so grab your phone and some friends and get cracking.
Read More: 101 Story Prompts to Kickstart Your Short Film
---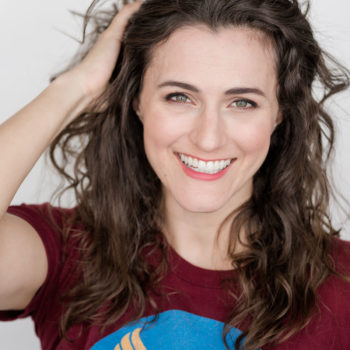 Shannon Corbeil is a writer, actor, and U.S. Air Force veteran in Los Angeles with appearances on SEAL Team and The Rookie. She was also a 2023 DGE TV Writing Program Finalist, and her screenplays have placed in various contests. You can read more about her on her website or come play on Instagram and Twitter!