5 Serious Takeaways From SPIDER-MAN: INTO THE SPIDER-VERSE Co-Writer Rodney Rothman
Spider-Man: Into the Spider-Verse was always expected to find some success with moviegoers — after all, it's Spider-Man, one of the most beloved comic characters ever, so the money-making stakes were pretty high. But given that the film is animated, isn't directly affiliated with the juggernaut that is the Marvel Cinematic Universe, and also features Miles Morales — not your go-to Peter Parker — not many people saw this kind of success coming. The film has made over $175,000,000 and counting, has picked up a Golden Globe for Best Animated Film and could very likely find itself with an Oscar, as well.
So it was clearly very exciting for Jeff Goldsmith, host of The Q&A with Jeff Goldsmith podcast, to recently interview Rodney Rothman, co-writer and co-director of the hit film. The two discussed not just the ins and outs of the Spider-Verse but what it's like to script animation, as well as creativity and writing habits. Below are some snippets from their conversation.
Listen to the podcast here:
1. Not Taking What You Enjoy For Granted
"Writing kind of found me, quote-unquote, in the sense that it was like, I was an okay student but I wasn't setting the world on fire," Rothman says. For him, writing was something he for which got encouragement. "Specific teachers gave me positive reinforcement for writing, or for being funny."
Rothman goes on to say that nothing would have happened for him if he hadn't just pursued things that he enjoyed doing. For instance, he worked small jobs at a comedy club because he loved comedy. But he met people there by doing that. He elaborates, "My break was a result of weird little things that I'd done because I was interested in stuff. I got a lucky break but it was a lucky break that came out of me doing stuff that I was interested in."
Do you love animation? Enter the ScreenCraft Animation Screenplay Competition here.
2. We All Have Our Own Writing Process
Rothman admits to having writing habits that seem a bit weird, even neurotic. "My habits are pretty neurotic," he says. "I find I do this very productive procrastination these days… I'll do research, I'll make notes, I'll draw weird maps of ideas, like diagram the story in some weird way that only I understand."
Rothman sees it as his own "crazy language" but one that makes sense to him. He goes on to say, "It's often a process of rewriting. I also have like Memento problems with my brain and every day I wake up and don't remember what I did the day before and what I'm writing and I almost have to re-do everything… It's all crazy but it kind of works for me. And it helps me write things that are richer for me…"
3. Working In Public Versus Working In Private (Public Wins)
Once Rothman's writing flow begins, he finds he falls into the same routine. "Personally, every project I work on, it's always the same process of learning the same lessons… I tend to work in coffee shops, tend to leave my phone in my car, tend to turn my internet off — that's after sometimes weeks of 'I can work in my office' or 'I can work with the internet.'"
Rothman admits to preferring writing in public because he has "to be normal in public. I have to be normal. Like, privacy is bad for my writing, unless I have such a crazy deadline and I'm like jacked on coffee then all bets are off."
4. Conquering Writer's Block
Writer's block is unavoidable — so it's best to find, if not foolproof, then a solution that tends to work for you. Rothman has such a solution. He finds it helps to just, in a way, doodle-write. "I get out a pad and I start to write [it] and I don't even write real scenes," he says. "I might even write shorthand and write a little scrap of a line and write what I want it to be."
For Rothman, it's all about erasing the pressure. "I stop putting it in script form and I start just putting it down the side. What I do is I take away the pressure that it has to look like a script or it has to be polished — I just make it pieces and chunks and I get the shape of a scene down… and after that's down I might go through and write the scene off of that."
Learn the best way to structure your screenplay with this free guide.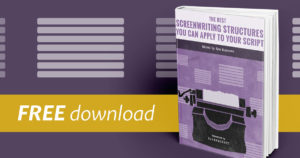 5. Experimenting With Spider-Verse — And Loving It
From its inception, Sony saw Spider-Man: Into the Spider-Verse as a way to branch out and experiment. The goal was to tackle Spider-Man in fresh and interesting ways. So from the get-go, there was a sense of freedom — and with the film being animated, that freedom was heightened. As Rothman explains, "The goal from the beginning was to try to do something really new and immersive in terms of the visual storytelling and the cinematic experience."
What was exciting for Rothman was embracing the cinematic aspects a movie provides while embracing the comic book roots. "A big thing was, how do we transpose things from comic books to cinema? And it's not just because we want it to be a living comic book, it's because… part of the pretentious goal was… we want to recreate what it feels like to read a comic book or… the way you have this intimate experience with a comic book… so certain rules emerge: okay, we can express lighting in this movie with Ben-Day dots… an audience can get used to anything."
Read More: Why Legends Never Die in 'Puss in Boots: The Last Wish'
---
Travis Maiuro is a screenwriter and freelance film writer whose work has appeared in Cineaste Magazine, among other publications.
---
Photo credit: Gage Skidmore
---
For all the latest ScreenCraft news and updates, follow us on Twitter, Facebook, and Instagram.