5 Screenwriting Lessons From Veteran TV Writer Nell Scovell
Nell Scovell has her keystrokes on dozens of jokes, plot twists, and characters, thanks to more than thirty years of TV writing.
"I love absurdity, but I like absurdity that's rooted in reality," Scovell said recently on the To Live and Dialogue in LA podcast. Screenwriter Aaron Tracy (TV's Sequestered) hosts the podcast, sponsored by ScreenCraft.
Scovell created and executive produced ABC's family comedy Sabrina, the Teenage Witch, which aired from 1996 to 2003. A writer for Spy magazine before breaking into TV, she's written for Newhart, Murphy Brown in the 1990s, Coach, Space Ghost Coast to Coast, Providence, Charmed in the early 2000s, NCIS, Monk, Warehouse 13, and Mystery Science Theater 3000: The Return.
"I wrote a Muppets episode for the revamp, which was about Miss Piggy having a wardrobe malfunction on the red carpet," she said. "Her tail popped out, and it was the first time the audience had ever seen Miss Piggy's tail. It became a body-shaming episode."
Scovell is also a trailblazer. One of the few women to write an episode of The Simpsons in its early years, she was the second female writer hired for Late Night with David Letterman in the 1980s. In 2009, she called out that show as "a hostile work environment" and advocated for more women writers in late night.
Want to blaze trails like Nell Scovell? Learn how to train yourself to be ready for screenwriting success with this free guide.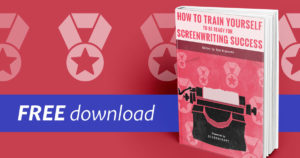 Her book, Just the Funny Parts: … And a Few Hard Truths About Sneaking into the Hollywood Boys' Club, was published last year, a mix of memoir and insights into the creative process. "It's like Unbroken, but funnier and with slightly less torture," she's said.
Here are five tips from this TV veteran.
1. Writing is an act of choice.
Scovell's mentor Barry Kemp, who wrote for Taxi and created Newhart and Coach, was a funny and polite man open to ideas from anyone. "He wasn't just a writing mentor but a 'human' mentor. And one of the pieces of advice that he gave me, which I put in the book, is that writing is not an act of creation; it's an act of choice. What he meant by that is, an episode or a book, it doesn't just flow out of the pen or keyboard fully formed; each work is built concept by concept, beat by beat, word for word. It's a process of discovery," Scovell said.
"I compare it to being when you're in the optometrist's chair, and they're trying different lenses and they're saying, 'Is this better? Is this better?' And that's what a writer does constantly."
2. Find viewers a reason to care and propel the story forward.
Scovell said NCIS co-creator Donald P. Bellisario often would tell the writers, "Who do I care about in this episode? It can't be the victim." A spouse, a parent, a child, someone who's grieving, or a connection between one of your characters and the victim is the story that needs to unfold—with something happening in every scene. Specifically, Bellisario wanted a plot twist, something really funny, or something really emotional. "[E]ven if it was sort of a fun character moment or gave you a little clue, that wasn't enough. He would cut that scene," she said. 
"There needs to be a drive because the point of writing is not at the end for someone to look back and say, 'Oh, I see how clever they set that up in the first act and they paid it off in the fourth.' You've gotta grab the viewer and propel them along the story."
3. Find the real within the fantastical—and your own experiences.
Scovell loves magic—her friends include comedic magicians Penn and Teller—so she adored working on ABC's Sabrina, which has a lighter tone than the current version on Netflix. ("These are chilling times, so we get the chilling adventures," she said of the update.)
Her Sabrina took the title character on adventures like a ski trip to Mars and cooking with "truth sprinkles" that accidentally caused everyone at school to blurt out their innermost thoughts. But she often worked in a moral naturally, such as how "the world would be kind of a terrible place if everyone blurted out the truth all the time."
"I really wrote Sabrina as the show I would've liked to watch when I was a teenager," she said. She compared that to Wizards of Waverly Place, which in its early years had no female writers and scenarios like the young wizard (Selena Gomez, whom Scovell liked well enough) using her magic to get to the mall to buy a cute shirt. 
"I just felt like that's what men think teenage girls are all about," Scovell said. "What I tried so hard to do with Sabrina was … Sabrina didn't care about being popular; she didn't care about clothing. She wanted to be a good person. She wanted to be a good student. She wanted to be a good witch. … Again, going back to the absurd and reality, we have this witch and that's absurd, but to ground it always in what is really going on in a high school."
4. Humor has value, no matter the genre.
Scovell prefers working in comedy but says a sense of humor is appreciated in all writers' rooms. "I really believe that drama and comedy are not as separate as they seem. I just feel like the good times slam into the bad times. Some of the funniest people I've worked with were in drama rooms," she said.
5. Enjoy the ride.
Scovell started her writing life on the sports desk of The Boston Globe before graduating from Harvard University. In addition to Spy, she's written for Vanity Fair, Vogue, Rolling Stone, Self, and The New York Times Magazine.
Aside from her TV work, she's also written short stories and webisodes.
"I think one of the great things about a career as a writer is that you can move into so many different genres. The basics remain the same, but I feel like I keep learning about how to write," she said. 
"I do love writing. I still get excited when I sit down. I'll never understand writers who don't like the blank page. To me, it's all possibility."
---
Valerie Kalfrin is an award-winning crime journalist who now dives into fictional mayhem as an author (Quicklet on The Closer: Season 1), essayist, film critic, screenwriter, and emerging script consultant. She also writes for The Guardian, Bright Wall Dark Room, ScreenCraft, Hazlitt, Signature, and the blog for Final Draft, the top-rated screenwriting software used by the filmmaking industry. A member of Screenwriters of Tomorrow, she's collaborated on short films and features, and she's affiliated with the Tampa Bay Film Society. She lives in Florida. Find her online at valeriekalfrin.com.
---
For all the latest ScreenCraft news and updates, follow us on Twitter, Instagram and Facebook!
Tags