5 Screenwriting Lessons From Oscar-Winning Screenwriter Paul Haggis
Academy Originals' Creative Spark Series features Oscar-winning screenwriter Paul Haggis as he takes viewers inside his screenwriting process.
Haggis moved to California from Canada in his twenties and eventually became a prolific television writer, director, and producer. His early television work included writing stints on classics like The Love Boat, Diff'rent Strokes, Who's the Boss?, and The Facts of Life. He was also a producer on the latter two of those shows.
He went on to write, direct, and produce episodes of Thirtysomething, The Tracey Ullman Show, Due South, The Black Donnellys. He also created the acclaimed CBS series EZ Streets, which The New York Times cited it as one of the most influential shows of all time.
Haggis then made his way into features.
In 2006, he became the first screenwriter to write two Best Film Oscar winners back-to-back — Clint Eastwood's Million Dollar Baby and Crash, which he directed himself. Crash won Academy Awards for Best Picture and Best Original Screenplay.
Haggis also wrote the screenplays for Clint Eastwood's Flags of our Fathers and Letters from Iwo Jima, where he earned his third screenplay Oscar nomination.
His film The Next Three Days — which he wrote, produced, and directed — is arguably one of the best cinematic examples of how to keep an audience guessing while on the edge of their seats.
Here are five screenwriting lessons that screenwriters can learn from Haggis, accompanied by my own elaboration on his advice.
1. The Secret Behind Creativity: Ask Ridiculous Questions
"[Creativity], I guess, to me, it's the freedom to think ridiculous things. To ask ridiculous questions."
The concepts that you create are often subjects and topics that are fantastical in one way or the other. If you're writing a horror movie, science fiction, suspense thriller, or any cinematic genre story, you're truly thinking about ridiculous things and coming up with ridiculous questions that you have to answer.
"How is this man stuck on Mars going to get back home?" (The Martian)
"How is this husband going to break his wrongfully accused wife out of prison?" (The Next Three Days)
"How are the lives of two hitmen, a boxer, and a gangster's wife intertwined?" (Pulp Fiction)
"How is this teenager going to get his parents back together after accidentally traveling back in time and interrupting their courtship?" (Back to the Future)
"How is this family going to survive in a world overtaken by creatures that are attracted to even the quietest of sounds?" (A Quiet Place)
No matter what the premise, the secret behind creativity is taking what would normally be thought of as absurd or unreal scenarios and making it seem real and honest. When you can answer those "ridiculous" questions, you're well on your way to becoming an excellent, and very creative, screenwriter.
"The most important thing to do is find something that really troubles me, a question I can't answer, and then explore that."
2. How to Find Ideas: What Keeps You Up at Night? 
"For me, it's just things that keep me up at night. Things that wake me up at two in the morning."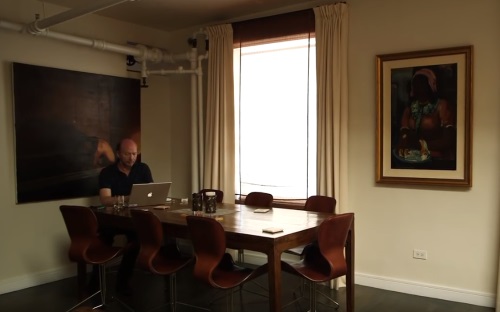 One of the most common questions people pose to screenwriters is, "Where do you get your ideas?" Most screenwriters can't answer that. Creativity is very difficult to communicate. The ability to answer those tough questions (see above) is the work, but there's something so instinctual as to where screenwriters get those amazing ideas for stories and characters.
In turn, one of the most equally common questions screenwriters ask when seeking out advice is, "What are the best ways to come up with ideas that will sell or get my work noticed?"
The same answer applies. There's no true, single answer.
Ideas come from your lives, your experiences, your curiosities, your turn-ons, your turn-offs, what makes you happy, what makes you sad, what makes you mad, what excites you, etc. They come from the influence of what you've heard, read, or seen as well — be it books, articles, news headlines, songs, pictures, TV shows, or films.
When you're a writer, you have a mind that wanders. When you're watching a movie, you may see a moment or concept that isn't explored. And then some question arises from that brief moment — a question that wasn't answered or explored — and your mind begins to wander. It may even come from a book or television series.
The point Haggis is making is that you'll know. You'll know what you're supposed to be writing because it will constantly bug you and keep you up at night. It will whisper to you.
One of the secrets is just to read a lot of books and watch a lot of movies and television series. This process feeds your brain with visuals, scenarios, situations, character types, story arcs, character arcs, and so much more — all of which will light that creative spark.
3. Style Serves the Story
"Style is really overrated. If you look at my films, the style of filmmaking is very different with each one. The style has to serve the story."
Far too many writers are overly concerned with creating a writing style that they feel stands for their unique and original voice — an element that is highly touted among pundits.
Yes, having a unique and original voice is essential, but that should always be secondary to the story you are trying to tell. Readers don't care about the style of the scene description you write, beyond it needing to be short, sweet, and to the point. They don't even care how stylistic your dialogue is. The only thing that matters is, "Are you telling a cinematic and engaging story?"
Don't worry about style to stand out. Just write in the style that serves the story and the characters the best.
4. Guilt Yourself Into Writing
"My daily routine. I wake up. I pull myself out of bed. I do my emails. And try not to write for as long as possible and then start to feel guilty. So usually around noon, I'm feeling really guilty, so I actually open the script and start to work on it."
One of the most common mistakes screenwriters make is jumping into the writing process too early. A secret to becoming a productive writer in every writing session you undertake is to delay the writing to the point where you are bursting at the seams to tell this story.
What you do in the meantime is the preparation. Before you type a single word within that script, you need to be able to have a good visual in your head, as far as what is going to happen in any given scene. You need to see a majority of the cinematic story in your mind's eye before you can expect to be able to communicate a visual to a reader.
So before you start the script, know the major story points from beginning, middle, to end. Then go on walks, drives, or daydreams and see those moments in your mind. Then envision how those moments are going to be connected. When you have a majority of those beats in your head, now it's time to break down specific scenes and sequences.
When you feel that itch to start, you know you're ready. And with each writing session, take the time to delay your writing by visualizing the scenes until you just can't take it anymore. When your fingers begin to move, the scene will write themselves.
5. Stay Hungry; Leave Yourself Wanting More 
"At the end of the day, I try not to end with something that is complete. If I have some really good ideas for the next scene, I try not to write it."
The concept of this approach is all about leaving you, the writer, with something that you're excited about. This carries over to the next writing session, as opposed to writing everything that is inside of you until there's nothing more, leaving you with nothing that next day.
Productivity is a writer's ultimate goal. And to be productive in this creative medium, you have to be excited about what you're going to be writing. If you leave yourself wanting more after every writing session, you'll never have a problem being productive.
---
Ken Miyamoto has worked in the film industry for nearly two decades, most notably as a studio liaison for Sony Studios and then as a script reader and story analyst for Sony Pictures.
He has many studio meetings under his belt as a produced screenwriter, meeting with the likes of Sony, Dreamworks, Universal, Disney, Warner Brothers, as well as many production and management companies. He has had a previous development deal with Lionsgate, as well as multiple writing assignments, including the produced miniseries Blackout, starring Anne Heche, Sean Patrick Flanery, Billy Zane, James Brolin, Haylie Duff, Brian Bloom, Eric La Salle, and Bruce Boxleitner. Follow Ken on Twitter @KenMovies
---
For all the latest ScreenCraft news and updates, follow us on Twitter, Facebook, and Instagram.
Tags