2018 Orb Media Group China-Hollywood Screenwriting Fellowship Winners Announced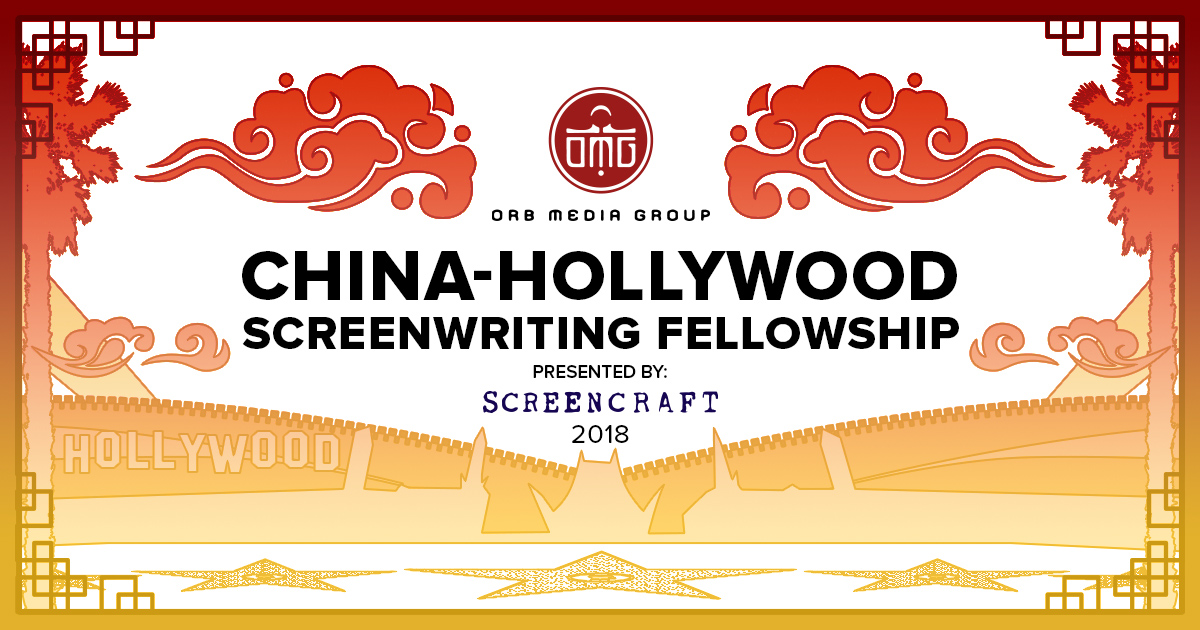 Orb Media Group and ScreenCraft are pleased to announce the two recipients of the second annual China-Hollywood Screenwriting Fellowship! These winners will each be offered an option fee, one of which will be at least WGA minimum (up to $13,374) against a six-figure purchase price at WGA scale contingent on production (up to $133,739 each, depending on the production budget of the film).
Orb Media Group and its partners will financially back and develop the projects for production and distribution with partners in China and the United States. The optioned recipients will be provided with round-trip travel to China to participate in special training and mentorship programs in partnership with Orb Media Group.
Without further ado, the winners are...
Grand Prize
#Cloudman by Craig Rosenthal
After a young American woman's phone starts receiving mysterious pictures from China, she goes on a road trip to track down the guy who shares her photo stream. Orb Media CEO, Peter Shiao, was "impressed with the concept of using technology as a thread to connect unlikely characters from disparate backgrounds in this romantic comedy that is uniquely positioned to be a potentially important and successful co-production between China and Hollywood."
Shiao added, "The writer, Craig Rosenthal, has also demonstrated his commitment to the space with a body of work and career choices that speak to his preparedness, passion and skill to undertake this journey."
Runner-up
Good Fortune by Camille Dunn
Set against the small town of Locke, California, this Chinese American coming of age story blends elements of horror and drama as it focuses on a group of friends and what they uncover one summer when children start disappearing. Shiao felt the film was "told with deep cultural resonance and a nostalgic sheen that charts new terrain in cross-border entertainment and introduces us to a new, fresh and nuanced voice."
Honorable Mention
Unjust Lands by Joshua Cavalier
After her mother's death, a teenage orphan in Song-dynasty China embarks on a journey to find her father. Accompanied by her younger brother and an errant soldier, the trio discover a new purpose in each other. Balancing the scope of the journey with the delicacy of a character drama, Shiao found the first feature script by Joshua Cavalier "evoked the early works of Fifth Generation Chinese filmmakers and portends a writer worth watching."
Congratulations to the talented winners and finalists listed above, and congratulations to the semifinalists announced here, and the quarterfinalists announced here.
Be sure to congratulate them and all who entered our Twitter and Facebook pages.
---
For all the latest ScreenCraft news and updates, follow us on Twitter, Instagram and Facebook!
Screenwriting Newsletter
Get weekly inspiration delivered to your inbox - including industry news, popular blog posts, sponsored podcast episodes, contest deadline reminders, and more!